ALBUMS
By Scott Heisel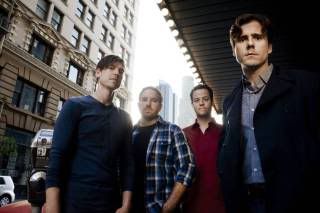 JIMMY EAT WORLD
Invented (DGC/INTERSCOPE)
OUT: Sept. 28
Jimmy Eat World and Mark Trombino: Two great tastes that taste great together. While longtime JEW fans were bummed to see the band acrimoniously part ways with their longtime producer before 2004's Futures, it appears all fences have been mended, as the former Drive Like Jehu drummer was back behind the controls for JEW's seventh album. Invented also features guitarist Tom Linton's return to the mic for the first time since 1999's "Blister" (he sings lead on "Action Needs An Audience"), as well as frequent Bleed American guest vocalist Rachel Haden, who sings a duet with frontman Jim Adkins on "Stop." So with all of these pieces lining up, should fans expect Clarity II: Electric Boogaloo? Not exactly, but those who appreciate the band's more lush, expansive work would do best to start listening to Invented's B-side before its A-side.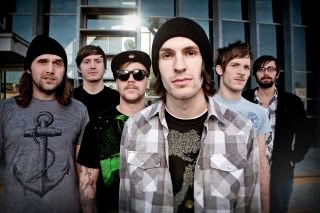 CHIODOS
Illuminaudio (EQUAL VISION)
OUT: Oct. 5
Sure, Chiodos have a new frontman (Brandon Bolmer) and a new drummer (Tanner Wayne) making their recorded debuts, but don't expect Illuminaudio to sound like a completely different band. "The album turned out sounding pleasantly different than our last ones, while still containing the music that identifies us as the same band," says keyboardist Bradley Bell. "I believe that we have all stepped up to new level of musical abilities, both the old and the new members." So how did Bolmer handle the recording session? "Our producer, Machine, and I really focused on not just singing a part well, but really feeling it and meaning it," he explains. "From the first recorded vocal, he was like a boxing coach, inspiring me to be the best I possibly could. He always made sure I meant every word that I sang—and that's something I will carry with me as long as I do this." (Photo: Tim Harmon)




TIM KASHER
The Game Of Monogamy (SADDLE CREEK)
OUT: Oct. 5
While Tim Kasher's been releasing music for more than a decade—first with Cursive, then with the Good Life—never before has he decided to go the straight-up solo album route. And while fans of his previous work will definitely find things to enjoy on Kasher's solo debut, you should definitely expect the unexpected—like a harp, for instance. "It's the first time I've ever written for the harp, which is the lone instrument for 'The Prodigal Husband' as well as the opening of 'Monogamy,'" Kasher explains. The singer decamped to a house in Whitefish, Montana, for recording, with Minus The Bear's Erin Tate contributing drum parts and Cursive touring trumpeter/keyboardist Patrick Newbery co-producing alongside Kasher. "The house I rented in Whitefish had excellent acoustics in the second-floor bedroom, so I bought a twin bed to take up less space and proceeded to record much of the album in that bedroom," he says. "It had a wonderful view of Big Mountain, which would have been more inspiring if I were interested in anything whatsoever related to mountains." (Photo: Jess Ewald)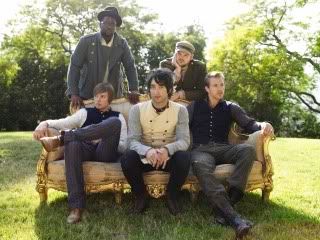 PLAIN WHITE T'S
Wonders Of The Younger (HOLLYWOOD)
OUT: Oct. 19
For Plain White T's fans wondering what the band have in store on their new album, Wonders Of The Younger, they already snuck a sample out to you back in March—all you had to do was go down the rabbit hole. "Wonders Of The Younger is a very rich, layered production," says frontman Tom Higgenson. "If you've heard our track 'Welcome To Mystery' from the Almost Alice compilation, you'll understand what I mean." He goes on to mention that bassist Mike Retondo plays (among other things) horns, xylophone and oboe on Younger, and that the album features "a lot of interesting vocal arrangements and harmonies." The 14-track disc, featuring first single "Rhythm Of Love" as well as "Welcome To Mystery," "Last Breath" and "Cirque Dans La Rue," very well could be the Chicago band's most ambitious work yet. As Higgenson explains, "It has some dark moments, it's adventurous, and it sounds like nothing you've heard before from the T's. It is a roller coaster ride through your dreams and your imagination. It will excite you." (Photo: Joseph Cultice)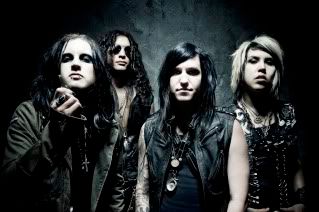 ESCAPE THE FATE
Escape The Fate (INTERSCOPE)
OUT: Nov. 2
When we asked Escape The Fate frontman Craig Mabbit what to expect on his band's third album (and major label debut), he shot back immediately with, "I hope you're hungry cause we're servin' up a hot fresh plate of kick-ass with a side of fuck you on this new record!" Well, if there's one thing Mabbit & Co. have never lacked (besides subtlety), it's confidence. Assisted by producer Don Gilmore (Atreyu, Linkin Park), ETF have created an 11-song album featuring such tracks as "Zombie Dance," "City Of Sin" and "Prepare Your Weapon," all continuing in the band's down-'n'-dirty punk-metal tradition. "All of us really stepped up and created the album we've always dreamed of making," says Mabbit. "It's something we step back and listen to and feel proud about. We know you're going to love every song as much as we do!"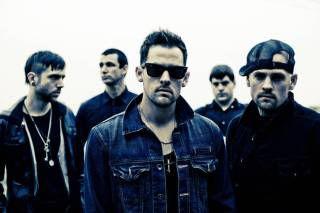 GOOD CHARLOTTE
Cardiology (CAPITOL)
OUT: Nov. 2
Good Charlotte will probably be the first to admit they lost the plot a little with 2007's Good Morning Revival. But following a few years slogging it out on the road and an aborted recording session with Howard Benson, GC got back to basics with producer Don Gilmore, the same guy they teamed with for their self-titled debut a decade prior. The result? Well, we'll let Benji Madden tell you. "Our favorite elements of every GC record can be heard on [Cardiology]—even a couple songs that sound familiar to GC's self-titled album," says the guitarist. "[Frontman] Joel [Madden] and I love singing together, and on this one we did some vocal parts reminiscent of the Beach Boys—check out 'Silver Screen Romance' and the title track. It was a lot of fun; we hope the true GC fans new and old will feel the connection we feel." But the band's fifth album isn't all fun-and-sun, either: According to Benji, "Cardiology is full of the most personal lyrics we have written since The Young And The Hopeless, and fans will get to know us better then ever through this record." (Photo: Ville Akseli Juurikkala)




UNDEROATH
Ø (disambiguation) (TOOTH & NAIL/SOLID STATE)
OUT:Nov. 9
After recovering from their near-breakup in 2006, Christian metalcore monolith Underoath seemed invincible. So when word suddenly broke earlier this year that drummer/vocalist—and last original member—Aaron Gillespie was leaving the band, shockwaves were felt throughout the scene. How would they recover from the loss of the charismatic firebrand responsible for some of Underoath's most memorable musical moments? First, they recruited former Norma Jean stickman Daniel Davison, truly one hell of a drummer (forgive the pun). Then they recorded their new album, Ø (disambiguation), with the production team of Matt Goldman (who also had a hand in producing the band's last two records) and Jeremy SH Griffith (who produced Norma Jean's Meridional). It's currently being kept under extremely tight lock and key, so we can't tell you exactly what it sounds like, but if the new material the band road-tested on this summer's Cool Tour is any indication, expect brutality.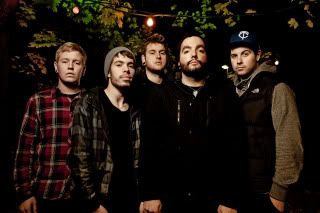 A DAY TO REMEMBER
TBA (VICTORY)
OUT: Mid-November
To describe Ocala, Florida, popcore unit A Day To Remember as "blowing up" severely overestimates the power of dynamite—ADTR are huge, and there's no way around it. In between appearances on Pawn Stars, frontman Jeremy McKinnon and his band holed up in Ocala with New Found Glory's Chad Gilbert for pre-production before heading north to Massachusetts to record the follow-up to 2009's smash hit Homesick with Killswitch Engage guitarist Adam Dutkiewicz. Initially scheduled for an Oct. 26 release, the still-untitled album has been pushed back a few weeks into November to allow the band ample time to complete this highly anticipated album—and to allow their fans to get their favorite pair of mesh shorts laundered for release day.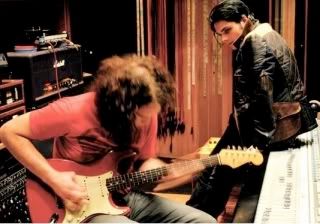 MY CHEMICAL ROMANCE
TBA (REPRISE)
OUT: Late November
A lot has changed on Planet MyChem since we slapped them on the cover of our Most Anticipated Albums of 2010 issue last December. Since then, the band have scrapped at least one album's worth of material (maybe more) and parted ways with drummer Bob Bryar, who had been with the group since mid-2004. Factor in Gerard Way's rumored throat issues (which supposedly kept the band out of Australia's Soundwave festival this past February) and a complete lack of any concrete album information, really, and it's a wonder the MCRmy hasn't completely revolted and jumped ship to an inferior band's fan club. But if there's one thing we learned by watching Gerard & Co. throughout The Black Parade's album cycle, it's that My Chemical Romance are all about perseverance. Have faith—we do.