You may not know the name Brian Ewing, but you probably know his work—especially if you've been to Warped Tour since 2004. His unique designs have been emblazoned on concert posters, T-shirts, backdrops and even tour buses, while creating the iconic artwork for the scene's largest touring festival for the past seven summers. Ewing is now on the brink of releasing the first book featuring his work, Don't Hold Your Breath: Nothing New From Brian Ewing, featuring a collection of his favorite pieces including preliminary sketches and behind-the-scenes information. We recently caught up with Ewing who shared stories about his rise to poster prominence and how his DIY approach to learning might have been the best thing to happen to him.

When did you decide to pursue a career in art?
I always wanted to be an artist. I think everybody wants to do something like art; they just don't know how to pursue it. I just kept at it until it eventually led to something. I had friends in bands when I was growing up. I couldn't play to save my life and I'm left-handed. Plus, I was really shy. So all that stuff pretty much worked against me as far as being in a band. So the next best thing for me would be drawing. I just kind of made my own job up. There's no real employment agency or anything to do rock posters. I realized I could get free booze and tickets to shows by doing it for my friends' bands. It dawned on me that I should do it more, so I just kept at it, talking to more and more people as I was going.

Did you have any formal training?
I went to a high school for the arts in Milwaukee. They had dancing, theater and art, and I went there for four years. I decided to go to art school in Chicago, but I only went for about a year and then dropped out because I couldn't afford it. I tried going back to school in Milwaukee, but I dropped out again because of the cost. At the time, [tuition] was about $15,000 a year, and I was trying to do it all myself. After that, I just started to teach myself whatever I could. If I had a day job, I would try to make the job relevant [to art]. So, I would get a job at a printer. I worked at a Kinko's for about five years and I learned how to use the computer there, instead of at school. I did what I could to get what I needed. I got a lot out of school, but I didn't stay long enough to get everything I needed.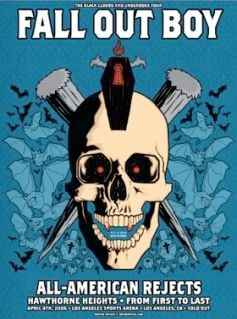 How did growing up in Milwaukee contribute to your style of art?
At the same time I was going to high school I worked at a comic book store, so I was really influenced by all of that. I was getting a fine art background with art history and drawing at school. We didn't really have a lot of music coming out of Milwaukee. I can't even remember some of the really bad bands that came out of there. We looked at other cities like Chicago and Minneapolis because there was a lot of music coming from there and they were so close. There wasn't a lot of poster art then. Record stores would buy posters from bands, venues and from the artists themselves in the '90s. That's how I got to see a lot of poster art. Juxtapoz [magazine] would feature a lot of poster art. I just was like, "Well, I'll give it a shot. If it doesn't work, I'll go back to being a janitor or something." I really didn't know if the thing had legs. So Milwaukee was really influential because we didn't have a lot going out. We tried to import as much as we could. We looked at everything and we weren't that jaded. My friends and I didn't listen to just one type of music. We listened to whatever we thought was good instead of just being full on metal or punk. I think that was a benefit.

Is there anything specific that you cite as inspiration? Is there a certain artist, comic book or band?
It's pretty much a combination of it all because it was all happening at the same time for me. You know, you're a kid and you finally brave going out and seeing a band play live or going to a record store. At the time I was really into skateboarding, so I was looking at a lot of the skateboard graphics. I also lived for comic books. It all worked together. Some of the people at the record store would go to the comic book store, and you see those people at a show and it all just blended together.

Was there a specific moment you consider your big break?
The first time I was really surprised was when I did something for Brand New. They asked me to design a backdrop for their tour, a poster and a shirt. I didn't get paid much, only a couple bucks. I was living in Los Angeles at the time and they were like, "Hey we're going to be at the House Of Blues. You should drop by." I really didn't think anything of it until after I turned in the artwork. I walked in [to the House Of Blues] and there was this huge backdrop [that I had designed]. I just never fathomed anything like that. Luckily, I took a camera that day and I was just taking photos and observing everybody. It was just the coolest thing in the world seeing people buy the poster and wear the shirt. I'm really surprised and humbled when I see people appreciate my work and take it further than what I intended it to be. I see kids with tattoos of the artwork now and its like, wow I never really thought about that.




What is included in Don't Hold Your Breath?
Basically, a lot of me rambling. I wanted it to be a book you looked at a couple times and every time you looked at it, you saw something different. It was a great opportunity for me to talk about [each piece and] what I was thinking [at the time], what I was going through, which girl dumped me, whatever. If I had a good story about meeting the band, I wanted to include that as well. I try to make light of it all, because the job is cooler than it looks. I also included sketches because, personally, I like seeing that from other artists, I like seeing the production of the piece, not just the final product. Dark Horse has published four other books about rock poster artists, and I just looked at what they did and I was like, "Alright, cool. I'm going to do the opposite now." It's important to look at what everyone is doing and take note of it and respect it, but not just do the same thing everyone is doing because it'll just blend in and get lost. Personally, I like a lot of information.

Did you have complete creative control over the book? How did you choose what went into it?
I had complete control. I laid the book out myself. I learned how to use [Adobe] InDesign [desktop publishing] to do it. I really enjoy learning new programs and techniques. I never feel like I know enough. Basically, if [the book] sucked, it would have been my fault. That's sort of how I looked at it. If I did a bad job, it wouldn't have been anybody's fault but my own. I was really excited to do it because I had never done anything like this before. It was something I had to check off my nerd list of things to do.

How did the project start?
Chris Warner, the editor of the book, contacted me. I had written the forward to a book on rock posters by an artist named Rich Black. He and I are buddies and he was like, "Do you want to write the forward?" and I was like, "That's a bad idea, but I'll do it anyway." So I did it, and I guess [Dark Horse Comics] were like, "Who is this joker writing the forward?" So they took a look at my work. They had seen my work at Comic-Con and Chris Warner is a huge music fan, so he had seen my poster work before. Either that or they just flipped a coin and I happened to win, I don't know.

We've heard many different release dates for it.
It was supposed to come out last year but, because of the economy, it got canceled. Every other month, the date would change as to when they were going to release it. I'm just going to say July 14. It's going to debut at Comi-Con [in San Diego in late July]. I'm going to be doing signings at the Dark Horse booth and my own booth. I'm putting together a box set. It comes in a screen-printed box with a shirt, and a new print that no one has seen before.

Where will the book be available?
There's a shop on Melrose Ave. in Los Angeles called 1Louder. It's owned by Atticus, and they'll be carrying it. [It'll also be at] Barnes & Noble and maybe Borders, too. You can also order it through your local comic book store and on the Dark Horse website. After Comi-Con, I'm going to be doing a book tour. I'll be doing a signing at 1Louder and we'll be doing [on-site] screen-printing. People can bring in a shirt, and they'll be able to get one of my designs printed for free. I'll be doing a signing and displaying art. I am still trying to nail down the details for New York.

Is there anything you wish you could have included that didn't make it into the book?
That's like leaving the house thinking, "Should I have worn this shirt or something else?" It's like, if you're already out, you just have to go with it. I had so long to work on [the book], it wasn't going to get any better. I haven't looked at it since they gave me [the final copy]. I was scared I was going to find all these errors and lose sleep, so I'm just going to let it happen.alt