The Devil Wears Prada are set to release the Zombies EP on Aug. 24 via Ferret Music. The EP is based on the concept of zombies due to frontman Mike Hranica's recent obsession with the subject. "The whole thing is just completely based upon zombies," he says. "Last fall, I was on a real zombie kick. I read The Zombie Survival Guide by Max Brooks, and I thought, "What if we made a zombie song?" Â All it took was me just saying that to the band, and we had our hearts set on doing this EP."Â The five-song EP deviates from the tongue-in-cheek titles on previous Prada releases and sticks to the theme, including "Survivor," which follows the story of a man who loses his lover to zombies and spends his life warding off the zombie plague. Other songs include "Outnumberd," "Escape," "Revive" and "Anatomy."Â 

The album also reportedly contains some of the band's fastest and heaviest work to date. "The sound is definitely The Devil Wears Prada, but so much more," says Hranica. "It's sinister and bad-ass."Â  Guitarist/vocalist Jeremy DePoyster says, "It's us, but it's more Hatebreed-influenced and just straight-up thrash metal-influenced with some serious Slayer riffs."

TDWP are currently on the Back To The Roots Tour featuring the band in smaller, intimate venues than they've played recently. Dates are below. You can pre-order the Zombies EP here.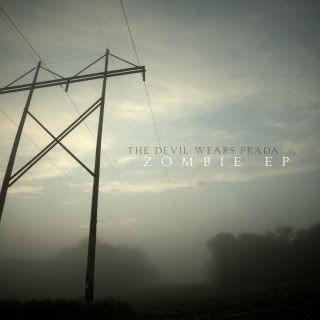 JULY
6Â Â  Â Â Â  Â The Shelter, Detroit, MI*
8Â Â  Â Â Â  Â Starland Ballroom, Sayreville, NJ*
9Â Â  Â Â Â  Â Valentine's, Albany, NY*
10Â Â  Â Â Â  Â Valentine's, Albany, NY*
11Â Â  Â Â Â  Â Xtreme Wheelz, Buffalo, NY*
13Â Â  Â Â Â  Â Vaudeville Mews, Des Moines, IA*
14Â Â  Â Â Â  Â Vaudeville Mews, Des Moines, IA*
15Â Â  Â Â Â  Â Pop's, St. Louis, MO*
16Â Â  Â Â Â  Â Bottleneck, Lawrence, KS*
17Â Â  Â Â Â  Â Sonshine Festival @ Willmar Civic Center, Willmar, MN**
19Â Â  Â Â Â  Â Mesa Theatre, Grand Junction, CO*
21Â Â  Â Â Â  Â The Underground, Reno, NV*
22Â Â  Â Â Â  Â The Boardwalk, Sacramento, CA*
23Â Â  Â Â Â  Â The Boardwalk, Sacramento, CA*
24Â Â  Â Â Â  Â Chain Reaction, Anaheim, CA*
25Â Â  Â Â Â  Â Chain Reaction, Anaheim, CA*
26Â Â  Â Â Â  Â Chain Reaction, Anaheim, CA*
28Â Â  Â Â Â  Â SOMA Sidestage, San Diego, CA*
29Â Â  Â Â Â  Â SOMA Sidestage, San Diego, CA*
31Â Â  Â Â Â  Â Heaven Fest, Union Reservoir, Longmont, CO**

AUGUST
 2        The Door, Dallas, TX*
 3        Emo's Alternative Lounge/Inside, Austin, TX*
 4        Emo's Alternative Lounge/Inside, Austin, TX*
 5        Rock The Desert Fest 2010, Midland, TX**
 8        Summer Sonic Festival, Marine Stadium, Tokyo, Japan**
11Â Â  Â Â Â  Â Orpheum, Tampa, FL*
12Â Â  Â Â Â  Â Orpheum, Tampa, FL*
13Â Â  Â Â Â  Â The Social, Orlando, FL*
14Â Â  Â Â Â  Â The Social, Orlando, FL*
15Â Â  Â Â Â  Â The 7 Venue, Atlanta, GA*
17Â Â  Â Â Â  Â The Brewery, Raleigh, NC*
18Â Â  Â Â Â  Â The Ottobar, Baltimore, MD*
19Â Â  Â Â Â  Â The Ottobar, Baltimore, MD*
20Â Â  Â Â Â  Â First Unitarian Church, Philadelphia, PA*
21Â Â  Â Â Â  Â First Unitarian Church, Philadelphia, PA*
22Â Â  Â Â Â  Â Highline, New York, NY*
23Â Â  Â Â Â  Â Gramercy Theatre, New York, NY*
25Â Â  Â Â Â  Â Harpers Ferry, Boston, MA*
26Â Â  Â Â Â  Â Harpers Ferry, Boston, MA*
27Â Â  Â Â Â  Â Crocodile Rock, Allentown, PA*
28Â Â  Â Â Â  Â Grog Shop, Cleveland, OH*
29Â Â  Â Â Â  Â Grog Shop, Cleveland, OH*

SEPTEMBER
 4        Revelation Generation @ Revelation Farms, Frenchtown, NJ**

* headline dates
** major outdoor festivals