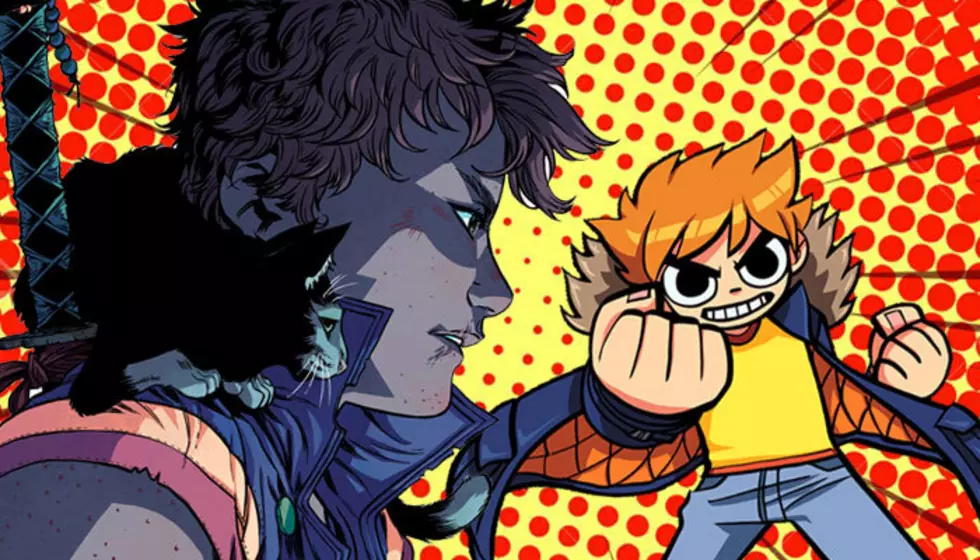 10 comic books that are just as punk rock as your favorite album
The first Saturday of May is held near and dear to the hearts of every comic book fan as Free Comic Book Day. Comic shops collectively open their doors to the legions of Marvel fanatics and DC devotees, offering exclusive issues for free in order to reward comic fans for their loyalty and to encourage new readers. Due to the COVID-19 pandemic, Free Comic Book Day has been indefinitely suspended, but we're still going to celebrate our love for comics...especially the ones that are more punk rock than Laura Jane Grace throwing bricks through Starbucks windows. 
The vibrant vigor of three chord punk songs has always paired well with dynamic four color comic book art. The topical overlap between the two mediums is undeniable. Comics and punk rock often deal with themes of alienation, revenge, and taking a stand against authority. This list showcases some of the best representations of punk spirit lettered into word bubbles and strung across splash panels.
The Umbrella Academy
My Chemical Romance frontman Gerard Way's first foray into comic books came in 2007 with the Eisner Award-winning The Umbrella Academy. Following the adventures of a dysfunctional family of superheroes, The Umbrella Academy is as heavy on angst as it is action. A live action adaptation of the series became a massive success for Netflix, with season two currently in production. 
Spider-Punk: The Anarchic Spider-Man
That's right. Your friendly neighborhood webhead had a short-lived stint as an Anarchist arachnid in 2015 as a part of the Spider-Verse. Touting the revised, and punk as fuck, mantra, "With great power comes no future," we were given a glimpse of a character that felt like Jello Biafra with a radioactive spider bite. In a perfect world, we would be treated to a lengthy Anarchic Spider-Man mini-series in which Spidey would not only go to battle against the Green Goblin on the rooftops of New York City, but he would also be belting out four chord protest songs against the corporate greed of Oscorp in the underground clubs of the NYC hardcore scene. 
Ghost World
Daniel Clowes' lovely coming-of-age comic, Ghost World, follows a pair of adolescent outcasts. During the summer after their senior year, they outgrow their hometown, and each other, with witty cynicism. If you attended prom to hang out in the corner and criticize the lousy music, this book is for you. Clowes' distinct art style captures the energy of a punk show flyer and perfectly aids in the growing pains and building existential dread of Enid Coleslaw and Rebecca Doppelmeyer.
GWAR: Orgasmageddon
Heavy metal shock-rockers, and notorious scumdogs of the universe, GWAR, give their diehards everything they could possibly want in a comic book that is so caked in blood and filth...it makes the pages tough to turn. This time-traveling adventure finds the members of GWAR rewriting history with brute force, gargantuan battleaxes and explicit, neon-colored savagery. Orgasmageddon is the perfect tableside companion for anyone who has pushed their way to the front of a GWAR gig in hopes of turning a fresh white T-shirt into a blood-stained mess and a sure-fire way to disappoint your parents. 
Scott Pilgrim VS. The World
Bryan Lee O'Malley's seminal celebration of video games, true love and fuzzed-out bass lines follows twentysomething Scott Pilgrim on a journey of soul searching and Super Nintendo. Lovesick in a local band, Pilgrim must defeat his dream girl's seven evil exes on a path to self-discovery. Full of arcade game Easter eggs and deep references to obscure indie-garage bands, Pilgrim pokes fun at militant veganism, douchey actor types and record store snobs while also following the main character's progression from self-involved latent adolescence to self-aware maturity. 
Polarity
Say Anything songsman, Max Bemis, has turned comic books into a second career. His first title, 2013's Polarity, follows Timothy Woods as he juggles uncontrollable mania and superpowers. Bemis has also penned several stories for Marvel, including arcs for Moon Knight, X-Men and Foolkiller. Polarity showcases Bemis' career-spanning exploration of living with a mental health issue that adds to the superhero genre. 
Nothing Nice To Say
Mitch Clem's webcomic, Nothing Nice To Say, sharply satirized every element of punk rock culture. From Straight Edges to sellouts, no punk was safe from parody as roommates Blake and Fletcher navigated the perils of being in DIY bands while building secret shrines to Henry Rollins.
The Crow
In James O'Barr's essential macabre-vengeance opus, The Crow, slain musician, Eric, returns from the dead to avenge his murdered fiance, Shelly. Blood-soaked and drenched in goth style, this comic digs its black-painted fingernails in deep. It effortlessly keeps the reader captivated in romantic layers of death-defying revenge from cover to cover.
The Amory Wars
The Amory Wars is the comic book adaptation of the story told through the lyrics of Coheed & Cambria. Penned by frontman Claudio Sanchez, this series is the perfect companion for any Children of the Fence. Secrets of the Keywork are revealed as the reader gains a more literal understanding of the prophecy of The Crowing that adds context to Sanchez's lyrics.
The True Lives Of The Fabulous Killjoys
Gerard Way has had an incredible career in comic books. From his prolific DC Young Animal imprint to dabbling in Batman lore, no other comic book writer or rock musician has ever merged the two worlds together with such a high profile while also retaining the underground integrity of each medium.
The True Lives Of The Fabulous Killjoys enhances MCR's Danger Days universe beyond the album. It also crafts a futuristic dystopian adventure that is essential reading for sci-fi comic fans. 2013's Killjoys series is co-written by Way and Shaun Simon and brilliantly illustrated by Becky Cloonan. This visually explosive sequel to Danger Days focuses on the red-haired revolution led by the disciples of the original Killjoys while also continuing the stories of the girl and Korse.