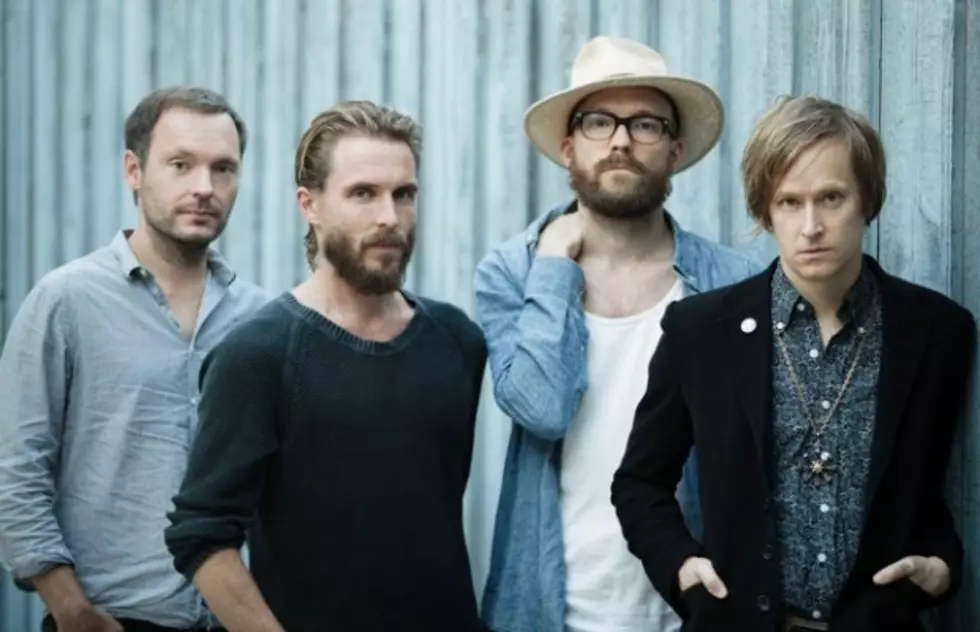 10 Bands You Need To Check Out At Amnesia Rock Fest
Photo by Dustin Rabin
This year's Amnesia Rock Fest features a ton of great acts, from young metalcore bangers to, well, Snoop Dogg. But most impressive is its selection of established metal, hardcore, and post-hardcore bands making tier long-awaited returns to the stage.. Maybe you're more into System Of A Down than Snapcase, or more into Pixies than Propagandhi (or maybe you just want to see Deftones performing Around The Fur). Regardless—if you like it loud, you're probably going to like Amnesia. The action goes down from June 18 to 21 in Montebello, Quebec; check out amnesiarockfest.com for more information.
Presented in alphabetical order…
Bolt Thrower
This crusted-over British extreme-metal institution have experienced a startling resurgence in underground popularity, and it's cool to see: They paid their dues years ago, son, so the least they could get is three cents royalty from that back patch your crust-punk pal just bought. Come watch them raze songs from any number of classic war-themed death metal albums, with songs that vary from sludge to death to grind, all delivered in that familiar Bolt Thrower fashion.Like a lot of these bands, it's been a while since Bolt Thrower released an album (2005's Those Once Loyal is their last document of brutality), but the band bulldoze on.
Carcass
When this classic English death metal band released 2013's Surgical Steel (their first album since 1996), they more or less blew everyone away. The album was classy melodic death metal that appealed to fans of their Heartwork masterpiece (I mean it: That album is definitely, most assuredly, a masterpiece) but had enough snarl to make those who liked their earlier, more grindcore-focused, material stand up and take notice, too. And it translates well live to boot. Carcass will be officially back— and somehow, all these years later, still at the top of their game.
Descendents
It's hard to imagine what melodic pop punk would be without Descendents, the band cited as a huge influence by basically everybody working the sound today. And while the legends haven't put out an album since 2004's Cool To Be You, that isn't stopping a single person from being incredibly stoked about their appearance at this fest. Melodic pop punk mixed with brisk hardcore and sugar-sweet vocal harmonies was, is, and will always be a very good idea. (And, hey, post-Descendents band ALL are playing the fest as well!)
The Dillinger Escape Plan
The leading champs of technical metalcore, the Dillinger Escape Plan last melted faces with their 2013 album One Of Us Is The Killer, but the band have never stopped in the live setting. Whether they're playing their earlier, more hardcore-based material, or the later melodic alterna-what's-it stylings of incredible albums like Miss Machine, the band's live performance annihilates everyone in sight.Our money is on Dillinger for stealing the show (for proof, see their tours with Megadeth and AFI).
Propagandhi
I don't normally associate Propagandhi with "rock fests", but the legendary Canadian punk band are playing on Amnesia's Fuck Sponsors Night, a tip of the hat to fest sponsor Budweiser. But pleasing corporations has never been high on Propagandhi's to-do list; they're more interested in creating some of the best punk rock of our time. We recently declared the band's Potemkin City Limits to be the best punk-rock record ever in our list of the top 10 Fat Wreck Chords albums of all time, and the band's most recent album, Failed States, is a complete scorcher, as well.
Raised Fist
We've run the numbers, consulted focus groups, and the results are in: No one does groove in hardcore as well as Raised Fist. The Swedish band released From The North this year, their first release since 2009's Veil Of Ignorance. We suspect the band have spent their downtime practicing whiplash grooves and studying how to make open spaces hurt. This album is nothing but huge, powerful, effective groove, and the band's live shows hammer that point home. Expect lots of big jumps from vocalist Alexander Hagman.
Refused
Speaking of Swedish hardcore, we realize that it's easy to approach any reunion with a bit of cynicism, but cynicism is lame, and Refused were always one hell of an exciting band. The Swedish boundary-pushers are back with Freedom, their first new album in 17 years, and based on what we've heard so far, it's exactly what the album that follows up 1998's game-changing The Shape Of Punk To Come should be. By the looks of things, the band's famous onstage energy is still intact. This will be a highlight performance.
Slayer
The legendary thrash metal band is releasing their 11th studio album, Repentless on September 11, and while some fans are worried because it's their first without guitarist Jeff Hanneman (RIP), other Slayer fans realize that Slayer are Slayer, and it's probably still going to shred pretty hard. Come check them out to see how many new tunes they debut—and how much time they spend on absolutely life-altering cuts from albums like Reign In Blood and Seasons In The Abyss.
Snapcase
Back in the early '90s, Snapcase brought a smart groove to hardcore without even making it sound like a groove, which is just one part of this early post-hardcore band's subtle greatness. Bringing brains to Victory Records' roster and infusing post-hardcore quirkiness into songs so simple, even the most easy-to-please hardcore pit-stormer could love them. We say again: Snapcase are together again. Holy shit.
Thrice
The Artist In The Ambulance. In a perfect world, I wouldn't need to say anything else. Those five words would just make everyone remember that no one does post-hardcore quite like Thrice. Sure, their later albums got more experimental and artistic, but good lord, The Artist In The Ambulance is a perfect album. The band are back after taking a few years off, and we're all better for it: Thrice are incredibly solid and powerful live, and the band, who haven't put out an album since 2011's Major/Minor, are going to absolutely kill it at Amnesia.
BONUS BAND:
Rancid (performing ...And Out Come The Wolves)
Quick, let me sneak this in before my editors realize I've got 11 in here! I still think that bands playing entire albums is not the most interesting idea ever created, unless that band is Rancid and that album is ...And Out Come The Wolves. In which case it's just iconic awesomeness. This will be a set to remember.