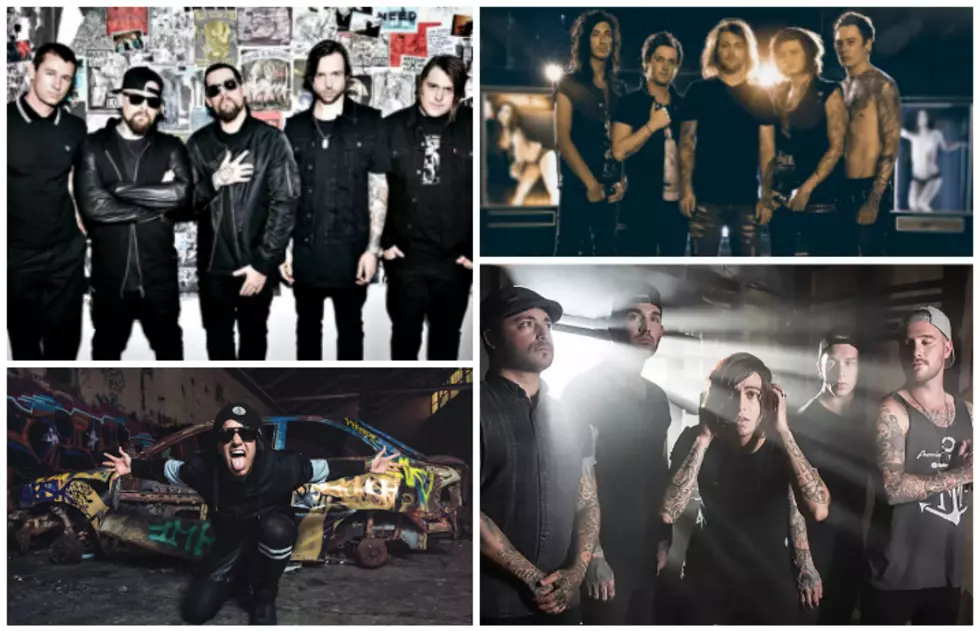 10 record labels you probably didn't know were started by bands
It's rare to find a musician who is just a musician in their own band anymore. Artists have doubled as everything from actors and models to producers and writers. But now more than ever, musicians are looking to circumvent a lot of major-label politics and headaches in order to get their music out into the world on their terms, while creating a safe space to champion and protect other artists they admire. Here is a brief list of record labels run by band members who have put their money where their musical tastes are, be it their own or someone they discovered.
PRETTY RAD RECORDS (KELLIN QUINN)

Sleeping With Sirens frontman Kellin Quinn launched his label Pretty Rad Records, but not much is known about its inception. However, he believes his first signing Vancouver-based pop-punk act Chase Your Words, exude a youthful attitude that's missing from the scene. The news came with AP's exclusive premiere of their new track, "Keep In Mind," (with a video featuring a Quinn cameo) on Feb. 1. The song appears on their Here To Stay EP, which dropped Feb. 24. Check out the title track as well, which features the participation of Mayday Parade frontman Derek Sanders.
RORY RECORDS (MAX BEMIS)
Say Anything frontman Max Bemis founded Rory Records in 2012 as an imprint under Equal Vision Records. His first signing was the Tampa, Florida-based Tallhart in February 2012 (their debut release Bloodlines EP dropped in April that year). Tallhart disbanded in 2014, but since then, Bemis has filled his roster with plenty of talent in the label's five-year existence. Two of his own projects—Perma with wife and Eisley frontwoman Sherri DuPree-Bemis and Two Tongues with Saves The Day vocalist Chris Conley—are signed to the imprint. Other current signees include Saves The Day, Matt Pryor (The Get Up Kids), Merriment (featuring Christie DuPree), Rising Fawn (featuring former Eisley frontwoman Chauntelle DuPree-D'Agostino), XO (featuring former Say Anything guitarists/vocalists Jake and Jeff Turner) and Museum Mouth. Bemis' most recent signing is Backwards Dancer, whose self-titled LP was  released March 3.
KBB RECORDS (BEN BRUCE)

Asking Alexandria guitarist Ben Bruce launched his own imprint,  KBB Records, with AA co-manager Kyle Borman in March 2014. Their first artist was Scare Don't Fear, who are listed alongside the Family Ruin, A Fall To Break, Run 2 Cover and Open Your Eyes. The label has been relatively quiet over the past year or so, with no announcement of new music from any of its bands on the horizon.
STAY SICK RECORDINGS (CHRIS "FRONZ" FRONZAK)

Attila frontman Fronz formed his Stay Sick Recordings in conjunction with Artery Recordings, the latter of which is an imprint of Razor & Tie. Stay Sick announced pop-punk act Old Again as its first signing in July 2014. But while Old Again disbanded and played their final show this January, Stay Sick's roster is still stacked with such iron-hard acts as Enterprise Earth, the Plot In You, Carcer City, Deadships, Redeem/Revive, Scream Blue Murder, Spite, Vesta Collide, Villain Of The Story, Afterlife, BackWordz and It Lives, It Breathes. BackWordz's deal with Stay Sick is unique in the sense that they consider the band a business, partnering with Stay Sick instead of signing the usual deal. The band own their publishing, maintain complete creative control and put much of their own cash into their promotion. BackWordz premiered the politically charged "Self Ownership" late last month, which features a verse by Fronz.
DCD2 RECORDS (PETE WENTZ)

Fall Out Boy bassist Pete Wentz founded his Fueled By Ramen imprint Decaydance in 2005, signing the then-fledgling Panic! At The Disco (after a bold move that landed them at Del Taco to discuss the signing) as one of his first acts and co-releasing their debut A Fever You Can't Sweat Out later that year. The label housed several other mid-2000s scene favorites including Fall Out Boy, the Hush Sound, Cobra Starship, the Academy Is…, Four Year Strong, the Cab, Gym Class Heroes, Travie McCoy, Hey Monday and the Ready Set. Decaydance also signed Tyga (who is responsible for the multi-Platinum single "Rack City" and constantly making headlines with his on-again-off-again girlfriend Kylie Jenner), releasing his debut album No Introduction in 2008. The album included "Coconut Juice," which featured McCoy on the track and Wentz in the video (as seen above). Decaydance later took an interesting approach to promotion when they created a game surrounding the Ready Set for his 2010 label debut I'm Alive, I'm Dreaming. Thanks to the wonders of the internet, it's still available to play on creator Jason Oda's website (who is also responsible for 2009's Fall Out Boy Trail). Decaydance underwent some changes and launched DCD2 in 2014. The current lineup still consists of Fall Out Boy, Panic and McCoy, but has since added MAX and New Politics to the roster.
MDDN (BENJI AND JOEL MADDEN)

Good Charlotte ended a four-year hiatus in November 2015, reuniting for a show at the Troubadour and releasing a new song, "Makeshift Love," that would appear on their sixth full-length, 2016's Youth Authority. The album, however, was technically self-released through members Benji and Joel Madden's company MDDN, which had launched in 2014 after the brothers chose to take the reins of their career and manage themselves. MDDN specializes in management, artist development and publishing, and they're doing it for a roster that includes  Sleeping With Sirens, Anti-Flag and Waterparks. The label's most recent release is the debut EP from indie-rock trio Groves, Not For Nothing, which dropped earlier this month.
PROCRASTINATE! MUSIC TRAITORS (BRAND NEW)

Brand New launched their label, Procrastinate! Music Traitors, in March 2008, signing friend Kevin Devine as their first artist. Devine was dropped by Capitol Records in 2007, and P!MT re-released his 2006 record, Put Your Ghost To Rest. The rest of the roster includes Brand New, Greater Pyrenees and Shone. Brand New's last full-length LP, Daisy, was released in September 2009:  The band caused a wave of speculation regarding new music in late 2014 after updating their website with cryptic material. Last year, BN released their own demos and two singles ("Mene" and "I Am A Nightmare"), the self-titled LP by Greater Pyrenees and Devine's most recent LP Instigator.
EVIL INK RECORDS (CLAUDIO SANCHEZ)

Coheed And Cambria frontman Claudio Sanchez launched Evil Ink Records in 2014 (taking the name from his Evil Ink Comics company that was founded in 2004). The first signee was Thank You Scientist, whose 2012 debut Maps Of Non-Existent Places was reissued as the label's first release. Other artists signed to EIR include Davenport Cabinet, Silver Snakes, Fire Deuce and Sanchez's side project the Prize Fighter Inferno. Some of its most recent releases are last year's Stranger Heads Prevail by Thank You Scientist and Saboteur by Silver Snakes.
HI OR HEY (5 SECONDS OF SUMMER)

The 5SOS boys were already having a blast and releasing their first full-length in 2014, but they decided to make their lives a tad more complicated—and satisfying. They launched Hi Or Hey in 2015 along with their first signing announcement, Hey Violet. From letting fans select the name (throwback to those 2012 interviews, am I right?) to continually asking who they should sign next, the guys want to keep everyone involved.
HEART & SKULL (ALKALINE TRIO) 

After plenty of experience with different labels, in 2009 Alkaline Trio opted to form their own, Heart & Skull, as an imprint on Epitaph. "We made the decision to form Heart & Skull to put out our own records after having been through every kind of label deal in the industry, big indies, small indies, majors," explained guitarist/vocalist Matt Skiba. "We knew it was time to adapt to the shifting tides of the music industry and we could not be more thrilled about doing that in conjunction with the team at Epitaph. Taking control of our own label situation was something we always wanted to do but never thought was possible, but now thanks to Brett Gurewitz and the fine folks at Epitaph, it is." And until last year, Alkaline Trio remained the only band signed to the imprint. Last June, they announced British/American punks Sharp/Shock would release their debut album Unlearn Everything through the label.
REVIVAL RECORDINGS (SHAWN MILKE) 
Shawn Milke of Alesana started Revival Recordings in back 2012 with a philosophy of "good people and good music." Based in North Carolina, the label has been growing its roster with an army of underground and DIY artists, including the likes of Famous Last Words, Funeral Portrait, Versus and, of course, Alesana.