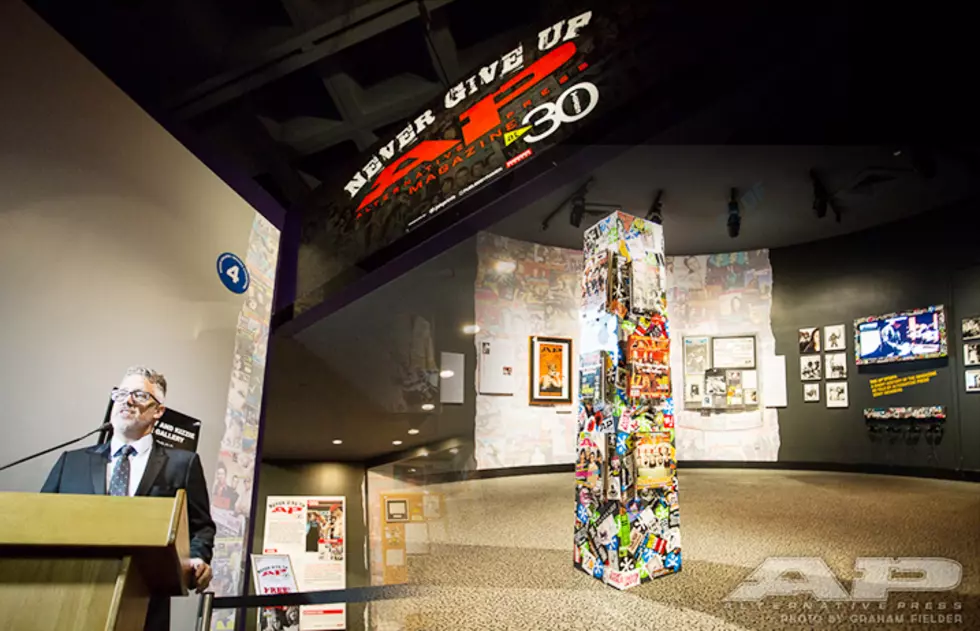 10 things you'll only see at AP's Rock Hall exhibit
[Header photo by Graham Fielder.]
Happy birthday to us! Alternative Press is celebrating its 31st year as a magazine, and we're celebrating by letting you in on some of the memorabilia that you'll find at the incredible Alternative Press exhibit at Cleveland's Rock and Roll Hall of Fame—no ticket fee required!
AP's run at the Rock Hall began right around this time last year, before the 2015 APMAs and in honor of our 30th birthday. Now it's 2016, and you can still check out the display. If you're in the area, make sure to check it out as soon as possible. And if not...road trip?
1. The very first issue
Alternative Press CEO and Founder Mike Shea started the mag out of his basement in 1985. The first issue's cover page is devoted to the Smiths' choice to skip over Shea's hometown of Cleveland on their US tour. Our look has changed quite a bit, hasn't it?
2. Pierce The Veil's award for Best Live Band
PTV won the Skully for Best Live Band at the inaugural 2014 APMAs, but they left it in our capable hands to be shown at the Rock Hall. You can see the band's Skully statue in the flesh, as well as the award card that revealed them as the winner.  
3. Issue proofs


There's a lot that goes on behind the scenes here at the AP office to create the issues that hit stands every month. At the Rock Hall, you can get a blown up look at one of our 2015 APMAs issues before the finals were sent off to print.
4. Brendon's jacket
This one's a biggie for P!ATD fans. Brendon Urie performed in this looker at the 2014 APMAs! The piece was a kind donation from Urie himself for AP's exhibit.
5. Mike Shea's old computer
[Photo by Graham Fielder.]
Back when AP was founded in 1985, we weren't using the fancy computers and design programs that we are now—we didn't even have an office building! Check out the actual desk and computer Shea used in his high school bedroom to create the first issue of AP that ever existed.
6. Joan Jett bra
"Bad Reputation" released in 1981, only four years before AP's founding, so we've had a long history with this rock icon. Jett was kind enough to donate one of her performance bra tops for display!
7. Backlog of issues
[Photo by Graham Fielder.]
We have literally hundreds of old APs to peruse, all stuck smack in the middle of the exhibit. There are some real gems hiding in there, like our "AP Recommends" features on Mayday Parade and The Academy Is….Just proof that AP was always ahead of the curve!
8. Good Charlotte guitar
Just another donation from one of AP's longstanding friends, Good Charlotte. The Madden brothers offered us one of their guitars to show in our exhibit at the Rock Hall in all its glory.
9. Cover wall
[Photo by Graham Fielder.]
Here in the AP office, we have every issue framed and displayed. We plucked some of our favorites right off the walls to share with public. You can check out classic covers from Nirvana, Fugazi, Smashing Pumpkins and more. Here's founder Mike Shea himself in front of some of our covers. 
10. Exclusive interviews
[Photo by Graham Fielder.]
It's not too often you get to hear from the men behind the madness here at Alternative Press. Inside the Rock Hall, you can listen to exclusive interviews with founder/CEO Mike Shea, Editor-in-Chief Jason Pettigrew and Creative Director Christopher Benton. Put on the headphones attached to the wall to listen to the interviews playing on the TVs. Here's Pettigrew (watching himself, probably!).
Have we sold you yet? If so, come visit us here in Cleveland! You can buy your tickets right now at rockhall.com, and celebrate our 31st birthday with us in the city where it all began.