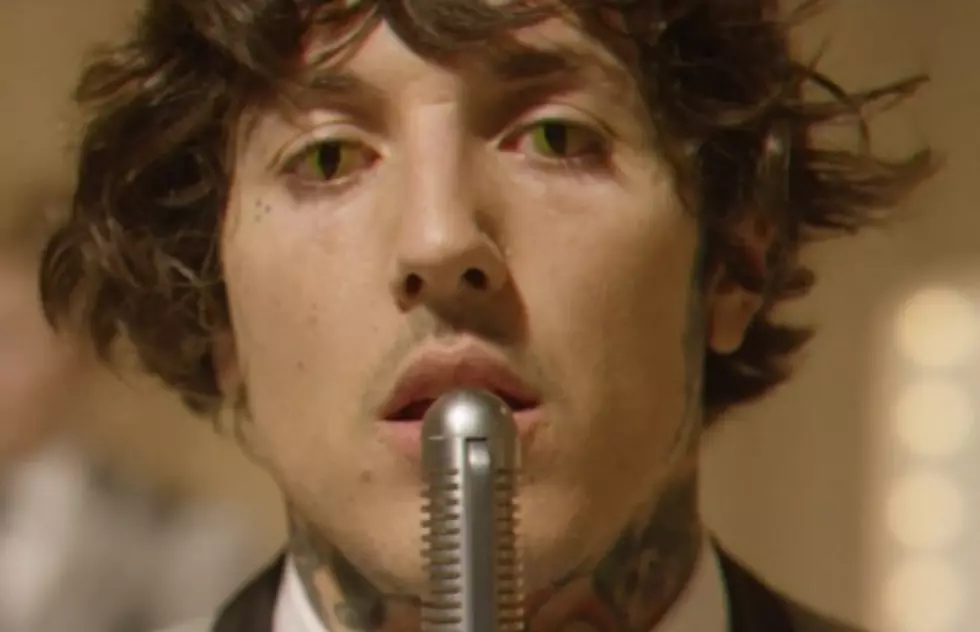 12 New Songs You Need To Hear Before October 2014 Ends
Sometimes the rock world can get noisy, and we don't just mean in decibels or fuzz. Often the signal-to-noise ratio is more noise than signal. But no worries: We read, listen to and watch everything so we can sort it for you. Here are some of our favorite new songs and videos of October 2014.
PAST RECOMMENDATIONS: 

September | August | July | June | May | April | March | February | January | December
At The Gates - "The Book Of Sand (The Abomination)"
This is the best death-metal song you'll hear all year. "The Book Of Sand" is one of the obvious highlights from At The Gates' comeback album, At War With Reality—an album that, for 20 years, no one even thought was gonna happen. The guitar tones are blistering and the craftsmanship is supreme. This is one of the band's least accessible tracks (the beginning is abrasively raw and thrashy), but it eventually pays dividends with an epic guitar-driven chorus. —Matt Crane
Bring Me The Horizon - "Drown"
"What doesn't kill you/Makes you wish you were dead/Got a hole in my soul growing deeper and deeper," Oli Sykes croons on Bring Me The Horizon's most honest track yet. With "Drown," BMTH have officially completed their transition from metal to rock. This is the type of single that can really take the quintet to the next level, as they channel bands like 30 Seconds To Mars and Thrice. The results are sublime, even as Sykes battles his inner demons: "Who will fix me now?/Dive in when I'm down?/Save me from myself." —Matt Crane
Cancer Bats - "Arsenic In The Year Of The Snake"
The abrupt bombast that kicks off "Arsenic In The Year Of The Snake" is enough to make us forgive Canada for Nickelback. Cancer Bats' first new music in way too long is like a bolt of lightning on the house of whitewashed formula, kicking all the computerized sounds of "too perfect" sounding bands square in the groin. This Cancer Bats track is loud, abrasive, in-your-face and urgent in ways that aren't contrived nor overly polished. It also has a true swing that's missing from all those bands who sacrifice groove in favor of mock aggression. Liam Cormier sounds like he's going to smash through the speakers, screaming over a fist-pumping barnstormer that should quicken the pulse of anyone who listens to Every Time I Die or for that matter, Nirvana. —Ryan J. Downey
Have Mercy - "Two Years"
When any song from an album could land here, you know a band have outdone themselves. Have Mercy's sophomore album will suck you back in to sad-guy emo rock that still remembers the "rock" part. (Plus, it's made for fall.) Frontman Brian Swindle's throat goes from mellow-minded to cracking apart on "Two Years," mimicking the guitars as they fall from chiming to crushing octaves. It's fitting when one of their inspirations makes an appearance a few tracks later (the Early November's Ace Enders). Swindle's lyrics are basic, but they're so hard to say outside a song: "I had a life and I had friends/I miss all of them." —Brian Kraus
Metro Station - "Forever Young"
It has been just over two months since Metro Station announced their unexpected reunion and they've already dropped their new, self-released
Gold
EP, which has plenty of fun songs to dance your face off. Keeping true to their well-known electronic elements, "Forever Young" (which features current tourmates the Ready Set) wastes no time in reminding us how damn catchy these guys are. From the very start, I can't stop thinking about this upbeat song blasting through a club, lights flashing, people dancing—some songs are just too fun to listen to without going crazy and this is definitely one of those. These guys came back full force and I'm sure this EP, especially with tracks like this one, will leave fans eagerly awaiting next year's full-length. Until then, sit back, turn up those speakers and party! —
Nick Major
Rancid - "Collision Course"
It's been reported that thanks to big pharmaceutical companies, America is the most medicated country in the world, with most of the products consumed being used to battle depression. I can't help but think that if everyone on meds would just have prolonged exposure to "Collision Course" from punk lifers Rancid, their lives would be reaffirmed and they'd be heavier in the wallet. Because… Honor Is All We Know, the new album from these lifers, reminds you how much personal salvation you can experience via rock 'n' roll. Check out the other tracks on this clip ("Evil's My Friend" and the title track) and get saved. All you've got to lose is your blues. —Jason Pettigrew
Rosetta - "Soot"
Ready to get yer drone on? How about some shoegaze, some sludge, a bit of prog and a whole lot of noise? Rosetta have it all dialed. Flies To Flame (which came out earlier this month) picks up right where last year's The Anaesthete left off. It's a brooding masterpiece of spacey drone, exploding from contemplative atmosphere into fast drums and dissonant screams in an organic fashion. It's the kind of thing the whole scream verse/sing chorus set would do well to investigate. The label may be calls this four-song slab an "EP," but half of the songs including "Soot" clock in past the nine-minute mark. Thanks to some serious vibe and smart, structured peaks and valleys, this album—er EP—opener never feels long. —Ryan J. Downey
Single Mothers - "Patricide"
It's like Craig Finn fronting the Murder City Devils, and that's pretty much all you need to know, except that "I need God about as much as She needs me" is probably the best lyrical barb in all of punk rock for 2014. —Scott Heisel
Such Gold - "Engulfed In Flames"
Long left from the pop-punk pack, Such Gold cultivate an expanse of wavy riffs on "Engulfed In Flames" to counteract their shredding punk-rock swipes and noodles. They're continuing down the road of Misadventures, now playing as a tight-knit quartet with frontman Ben Kotin on second guitar and welcoming beastly drummer Matt Covey (ex-Shai Hulud) on The New Sidewalk. Recorded at the band's dream studio (the Blasting Room, owned by Bill Stevenson of Descendents, ALL and Black Flag), the track showcases a band unafraid to push an unpopular sect of punk. —Brian Kraus
Wounds - "Dead Road"
The list of things I think of when I hear the word Irelandisn't too long and mostly consists of beer, castles and leprechauns, but now I can add a badass rock band called Wounds to that list. Their debut album Die Young will be dropping on November 24 via Razor & Tie and it features an array of songs ranging from some pretty heavy in-your-face tunes to impressively epic ones like "Dead Road". Its mellow start builds up to a fantastic chorus that will have a room full of people singing along and going crazy. It's the kind of chorus that just pumps you up… imagine some intense slo-mo movie scene of a bank robbery or crazy car chase and this song would be perfect. But for now, I will pretend to be in that crazy car chase as I inch down the jammed Los Angeles freeways. —Nick Major
Xerxes - "Criminal, Animal"
On this track from their latest album Collison Blonde, Louisville, Kentucky's Xerxes deliver a blast of post-punk urgency powered by flourishes of flanged guitar tones and tightened down rhythmic propulsion. Lead singer Calvin Philley delivers the requisite throat shearing that gives Xerxes a sense of menace that makes them stick out of the morass of outfits trying to raise the bar but having problems grasping the damn thing in the first place. If the world is fair and just, we'll be hearing continued greatness from Xerxes for the next 10 years. —Jason Pettigrew
Zookeeper - "Universe Song"
The best thing about the #emorevival is not that Mineral reunited, but that it gave Mineral frontman Chris Simpson a reason to finally put out his new album, Pink Chalk, which had been completed for quite a bit of time. It's a delightfully delicate folk album reminiscent of Jeff Mangum's more fragile works, and "Universe Song" is my favorite track off of it. —Scott Heisel