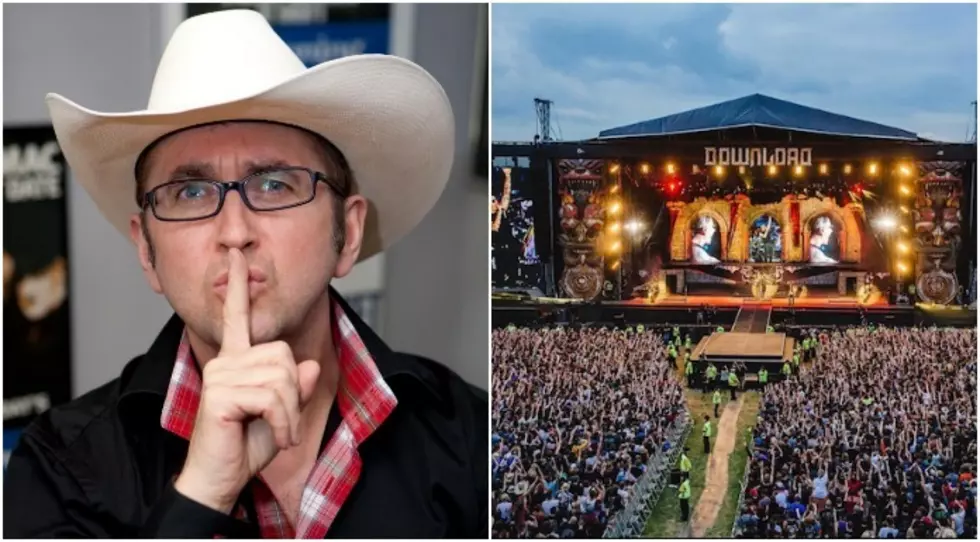 13 things you probably didn't know about Download Festival
Photos provided by Download Festival.
Donington Park's Download Festival is upon us this weekend with a stacked bill of killer artists; including headliners Marilyn Manson, Guns N' Roses and Ozzy Osbourne. Little is unknown about a weekender event that draws characters such as the likes of the Prince of Darkness and Axl Rose.
Read more:  20 DIY goth accessories that will make your friends jealous
We went to visit Download Promoter, Andy Copping, at Live Nation U.K. HQ in London to have a crack at finding out some lesser known facts about the mecca of rock and metal music.
Monsters of Rock v Download Festival
 There were 15 consecutive Monsters of Rock festivals at Donington Park, with the exception of 1989 and 1993. This year will be the 16th Download Festival, and it has never had a year off.
Limp Bizkit – 2003
Floridian nü-metallers Limp Bizkit pulled out of headlining the first-ever Download Festival in 2003, two weeks before the event. One person asked for a refund! In case you were wondering, no, they weren't granted one.
Everest – 2003
The mysterious band billed as "Everest" in 2003 were, in fact, Metallica. They played a 10-song set during the last day on the third stage, which was in a tent. Word of mouth spread like wildfire, and the mob went wild.
Dimebag – 2004


Former Pantera guitarist Darrell "Dimebag" Abbott's final visit to the U.K. was at Download in 2004 with his band Damageplan. Just six short months later, the guitarist tragically lost his life when he was gunned down while onstage in Columbus, Ohio.
The absence of Lars Ulrich – 2004


When Metallica headlined for the first time in 2004, they did so without co-founder/drummer Lars Ulrich. A few hours before the set, the great Dane wasn't feeling too fresh, and thus began a hunt to find some replacements in time for the show. Although a bunch of drummers declined to fill his figuratively large shoes, two stepped up to the plate for a never-to-be-seen again performance; Joey Jordison of
Slipknot
(complete with mask) and Dave Lombardo of
Slayer
.
Ozzfest – 2005


Ozzfest actually paved the way for Download Festival. The year before Download started there was an Ozzfest at Donington Park. The one-da event proved to be tremendously successful and inspired Live Nation to put on a new annual rock and metal festival there. When Ozzfest wanted to come back in 2005, Download embraced it, and the Saturday became the dedicated Ozzfest day with Black Sabbath headlining. This was also the first time that Download had increased from a two-day to a three-day festival.
Society 1 – 2005


Los Angeles-based  industrial metallers
Society 1
broke a world record in 2005 for the longest time performing while "suicide suspended."  Vocalist Matt "The Lord" Zane made history by singing and swinging from two meat hooks in each shoulder simultaneously for the entire set.
Jada Pinkett Smith – 2006


Jada Pinkett Smith has played Download Festival! We shit you not. She actually performed, not once, but twice in the same weekend with her band
Wicked Wisdom
. Her husband, Will Smith, came along for the ride, too. That's right, in the summertime.
Jonathan Davis' Sick Day – 2006


In 2006, the Korn frontman had to take an unexpected sick day just before the band's set on the main stage. Instead of canceling the slot, M. Shadows from
Avenged Sevenfold
, Benji Webbe from Skindred, Corey Taylor from Stone Sour, Dez Fafara from DevilDriver, Jesse Hasek from 10 Years and Matt Heafy from Trivium all stepped up to the plate and provided guest vocals. Some had to learn the lyrics right there and then!
AC/DC – 2009
The legendary AC/DC are the only band to have ever had their very own exclusive purpose built stage at Download. The Aussies insisted on a 65-meter platform featuring a six-ton train, two sets of cannons and a giant bell. The band's fee, rumoured to be £3.5 million (approximately $4.7 million) is the highest-ever
fee paid to a band for a U.K. festival appearance.
The Headliners That Have Not Been. Yet.
Foo Fighters, Pearl Jam and Van Halen have all verbally confirmed to headline the festival, but then subsequently have not played  for numerous different reasons. 2019, guys?
Iron Maiden and Linkin Park
The two bands who have headlined Download the most are tied; Iron Maiden and Linkin Park have laid the coveted slot to waste four times each. The final time that Linkin Park headlined Download Festival with frontman Chester Bennington, they played Hybrid Theory in its entirety from front to back.
This Year's "Secret Band"
The Fever 333! You're welcome.