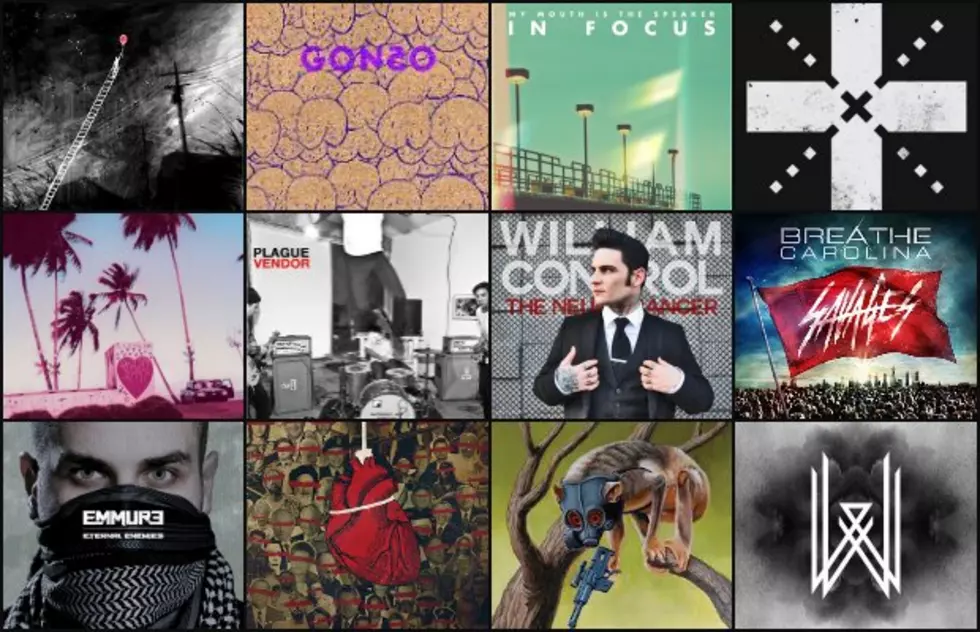 13 New Songs You Need To Hear Before April 2014 Ends
Sometimes the rock world can get noisy, and we don't just mean in decibels or fuzz. Often the signal-to-noise ratio is more noise than signal. But no worries; we read, listen to and watch everything so we can sort it for you. Here are some of our favorite new songs and videos of April 2014.
PAST RECOMMENDATIONS: 

March | February | January | December

 
BREATHE CAROLINA - "Chasing Hearts"


Chalk full of trendy slang, a down-pitched hypeman, tranquil dance beats and melismatic vocals courtesy of BC frontman David Schmitt and the scene's own Justin Timberlake, Issues frontman Tyler Carter, this chill ode to friendship and "kicking it" gives us no viable reason why it couldn't become a refreshing link between Katy Perry and the latest suspenders-pop phenomenon in your local pop station's Saturday night remix chain. —Cassie Whitt
BULLY - "Milkman"


Channeling the jangle-pop sensibilities of Best Coast (but with way less songs about beaches) and taking vocal cues from '90s alt rock acts like the Breeders, Nashville newcomers Bully expand on their debut EP (released last fall) with this new 7-inch. A trained audio engineer and one-time intern of Steve Albini, frontwoman Alicia Bognanno brings an unparalleled bite to the track, which plays out like a nostalgic love letter to classic pop-punk, fused with a modern, lo-fi, anti-pop approach. It's a quick, energetic romp and a sure indicator that Bully are one band you definitely need to keep an eye on this year. —Philip Obenschain
CHIODOS - "Under Your Halo"


Devil , the reconstituted Chiodos' debut for Razor & Tie, is close to perfection, offering vocalist Craig Owens' confident vocal prowess, guitarist Thomas Erak's 1000 horsepower shredding and keyboardist Brad Bell's arrangements. But "Under Your Halo" is that rare thing, a swing toward the fence of mainstream success while still maintaining a personal band dynamic. The song has the resonance of a '70s FM rock hit, while sounding remarkably contemporary. The string section is wonderfully decorative, Owens sings like he's sending belated Valentines Day cards and the cumulative result will have you smiling. That the song is on the same album as the ugly, perverse and cool-as-feck "Behvis Bullock" puts a huge smile on my face. — Jason Pettigrew
EMMURE - "Like LaMotta"


Lyrics about passing out show flyers and demos in an Emmure song? There's always surprise (or outrage) when it comes to this band. It's musically what you'd expect: bipolar, swagged-out spoken word into gut-wrenching screams backed by breakdown-based rhythms. Just like a gym membership, Emmure's swole-inducing soundtrack has to be renewed every year. The video takes a "day in the life approach" as Frankie struts around Astoria lip-syncing the words, rocking a North Face jacket, which definitely isn't the craziest thing New Yorkers see all day. — Brian Kraus
FOXY SHAZAM - "Story Told"


Cincinnati rockers Foxy Shazam pulled a Beyoncé earlier this month when they released their fifth full-length, Gonzo, suddenly and without forewarning. On top of that, the record, which was recorded by the legendary Steve Albini, was made available for free. Gonzo is an important Foxy milestone for a number of reasons: It marks their first independent effort since their 2005 debut; it boasts a sonic deconstruction and minimalism in stark contrast to the group's more bloated recent efforts; and it was recorded live and in order, allowing its direction to be dictated by the songs themselves.Gonzo is the sound of a band finding their direction once again, and the closing track "Story Told" is, perhaps, the best example of Foxy's metamorphosis. An understated, hypnotic, quasi-ballad, "Story Told" alternates between restrained and explosive, serving as a perfect summation of Gonzo's reinvention. —Philip Obenschain
LOSTALONE - "Scarlet Letter Rhymes" 
LostAlone's new album Shapes Of Screams feels like a historical action film accompanied by a 700-person orchestra, and choosing any one of the 12 stylistically varied songs to do the grandiose work justice is an impossible feat. So, I went the easy way—with the band's latest single, "Scarlet Letter Rhymes." (The first single "The Bells! The Bells!" was already featured in our November playlist.) This track alone, which vocalist/guitarist Steven Battelle wrote partially during a dream in which he was the captain of a flying pirate ship, is far from representative of the full album, though. Do yourself a favor andstream the entire thing. — Cassie Whitt
>>>