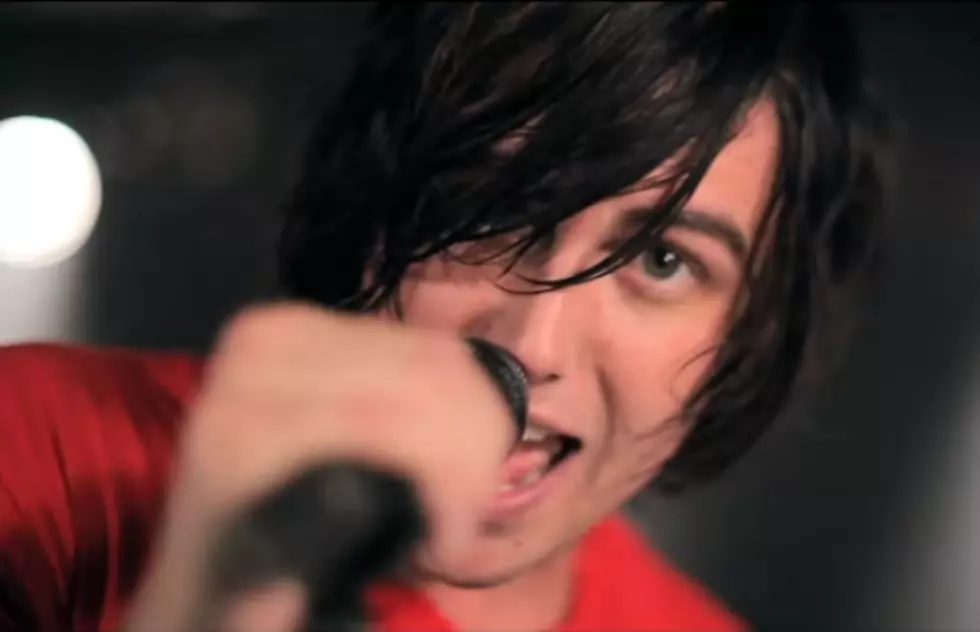 14 New Songs You Need To Hear Before November 2014 Ends
Sometimes the rock world can get noisy, and we don't just mean in decibels or fuzz. Often the signal-to-noise ratio is more noise than signal. But no worries: We read, listen to and watch everything so we can sort it for you. Here are some of our favorite new songs and videos of November 2014.
PAST RECOMMENDATIONS: 

October | September | August | July | June | May | April | March | February | January
AARON GILLESPIE - "Praise Him"
To say Aaron Gillespie has been through a lot since beginning his musical journey would be a severe understatement. From joining Underoath in his early teen years and touring the world, to drumming for Paramore and releasing a worship album, it's safe to say he likes to keep busy. Currently, Gillespie is preparing for the release of his second worship effort, Grace Through The Wandering. Earlier this month, he debuted the record's hook-laden lead single, "Praise Him," which boasts a chorus that will lodge itself inside your head for days. Ultimately, however, the track serves as a testament to Gillespie's versatility as both a songwriter and a musician, proving yet again that he can do far more than beat some heads on a drum kit. —Tyler Sharp
CAVALERA CONSPIRACY - "Babylonian Pandemonium"
Max and Igor Cavalera have been playing music together since, well, since they started playing music at all. The duo formed the legendary Sepultura together, guiding the band from grimy thrash metal, through Slayer-esque refinement, a staunch and defiant identity of their own and the heavy music insurrection that was their most successful album, Roots. Max left the band shortly after. His brother didn't follow for several years, but Cavalera Conspiracy gave the Cavalera family and the world the long awaited reunion. Previous CavCon efforts weren't too markedly different from classic Sepultura or Soulfly, the band Max founded immediately after leaving Sepultura. But this one? Wow. Pure crust, pure grind, pure socially aware/politically provocative bombast. "Babylonian Pandemonium" was recorded rough and raw, with Igor (arguably one of the best metal drummers of all time) bashing his kit so hard that the studio's neighbors called the police. This is a taste of the old school, delivered by two veterans who shaped the genre. 3:15 of pure fury. —Ryan J. Downey
CHUMPED - "Name That Thing"
The fun thing about "Name That Thing"—and any Chumped song, really—is that you could play it for one person who would immediately identify it as a Superchunk throwback, and then play it for another person who would totally pick it as a Cheshire Cat-era Blink-182 song. These four New Yorkers do a hell of a job distilling their influences on Teenage Retirement, with no two songs sounding alike—but all of them sounding familiar. —Scott Heisel
CIRCA SURVIVE - "Nesting Dolls"
I already wrote out my thoughts about the new Circa record much more eloquently than a short blurb here could ever convey, so I'll keep this one quick: Descensus is an incredible record, and "Nesting Dolls" is one of the best Circa Survive songs ever written. Have patience, young listener. It's worth it. —Scott Heisel
FROM FIRST TO LAST - "Dead Trees"
Here it is: the first new From First To Last song in four years, with their new vocalist, Spencer Sotelo (also of Periphery). The song, catchy as hell, still maintains FFTL's patented post-hardcore gloom. Sotelo sings, "You were everything that was killing me, but I survived/Now you're just a memory, stuck in the history of my life." —Matt Crane
GANG OF FOUR WITH ALISON MOSSHART - "Broken Talk"
Guitarist Andy Gill is the only original member of British post-punk avatars Gang Of Four making a fourth-decade run, but this taste from the band's impending album, What Happens Next, leans more toward contemporary grooves than retreading their original noise-funk modus operandi. "Broken Talk" excels for two major reasons: the Kills co-founder/Dead Weather mouthpiece Alison Mosshart delivers a street-smart vocal that completely embodies the textbook definition of "swagger." And post-punk guitar fulcrum Gill deftly wields the treble knife, lopping off a huge swath of listeners' hearing capabilities with textures that sound like modems having unprotected sex. A cool jam for all the noise and girls... —Jason Pettigrew
GRADE - "Unstoppable Force Vs. Immovable Object"
Hello, nostalgia. It's been almost two decades since Grade founded, and their latest pair of tracks are keeping it consistent. Pop-minded melodic hardcore (at one time, the "emocore" label was appropriate) recorded in what sounds like a dumpster behind Tim Hortons. The excitement in "Unstoppable Force Vs. Immovable Object" excuses the means. Here's a band playing sporadic shows and putting out scraps of music in the name of friendship and their niche of fans—it doesn't go unnoticed. —Brian Kraus
ISSUES - "Disappear" (Diamond Dreams)
The grand finale to Issues' debut album was ripe for a reimagining (in other words, don't call it acoustic). Diamond Dreams strips "Disappear" down to its birthday suit, opting for an unassuming release of R&B. The lack of volume isn't a loss; as the lyrical weight is finally felt. Choking up through his early lines, Tyler Carter shines through the darkness—and this just amplifies the need for his solo album. —Brian Kraus
LEVI THE POET - "Chapter One: When Hearts Are Large"
Levi Macallister may not be the only Levi that writes poems—as he often reminds his fans—but that does nothing to detract from the unparalleled poetic ebb and flow that escapes every time he puts pen to paper. He kicks off his latest adventure of an album, Correspondence: A Fiction, with a poem that speaks at the utmost of volumes, while still managing to wade in the waters of simplicity. Macallister leaps from word to word, calm and controlled, yet when joined by an ethereal string accompaniment, he manages to formulate an atmosphere that will soften even the hardest of hearts. "Chapter One: When Hearts Are Large" may only serve as a prologue of sorts, but it sets a quintessential tone for a story that deserves to be heard. —Tyler Sharp
MACHINE HEAD - "Bloodstone & Diamonds"
Full disclosure: This album came out on my birthday, so perhaps I'm predisposed to like it. For the uninitiated, take note: Machine Head's catalog is approaching Iron Maiden and Metallica status, in so much as there's a wide variety of styles, shapes and colors to be found throughout their discography. And all of it is good, some of it is even brilliant. A detour into a small bit of nü metal took them slightly off course, but the records they've made for the last decade have each been, frankly, masterpieces. Band founder Robb Flynn (guitar/vocals), longtime drummer Dave McClain, Flynn's old mate from early thrashers Vio-Lence, Phil Demmel (lead guitar) and new bassist Jared MacEachern have done it again with album eight. The title track, "Bloodstone & Diamonds," is a face-smashing reminder of why Machine Head's influence looms large over the modern metal scene, with plenty of folks in the AltPress metalcore world owing a sizable debt to the Bay Area band, too. Machine Head have taken bands like Bring Me The Horizon, Bleeding Through, Suicide Silence and Throwdown on tour over the years, because Flynn knows what's up. At an ass-kicking 46, he keeps his fingers on the pulse—and the riffs. —Ryan J. Downey
MAJOR LEAGUE - "Montreal"
There's something brilliant about this song's opening line: "Mama, I'm so sorry if this breaks your heart." It piques your interest and indicates that what is coming probably will break vocalist/guitarist Brian Joyce's mom's heart—and yours. While Major League's new album There's Nothing Wrong With Me tackles many personal struggles in a very transparent way, this heartfelt acoustic track takes a serious look at the genetic side of mental illness. This song's message stands out to me, and it is but one of many gems from the album, which you can stream and read about via the band's track-by-track. —Cassie Whitt
MARIACHI EL BRONX - "Eternal"
Mariachi El Bronx guitarist Joby J. Ford has always maintained a disdain for making the same record twice. So when he said MARIACHI EL BRONX III was going to lean on electronics and sequencers to filigree the band's take on indigenous Mexican music, both detractors and diehard fans thought he lost the plot completely. Turns out that Ford is crazy like a fox: "Eternal" couldn't be bested if the original lineup of Los Lobos had a comeback album produced by Brian Eno. The ambient electronic textures perfectly complement singer Matt Caughthran's tribute to a late friend, as the brass section comes out of the ether to lift the whole enterprise toward a heavenly serenity. This track is a testament to both the band's creative foresight and their refusal to stay in a comfort zone of anyone's (theirs, their audience's) design.—Jason Pettigrew
NEW YEARS DAY - "Let Me Down"
Being a kid from a split family can feel lonely as you watch your peers grow up with both parents at conferences, graduations and other milestones in life. This song is among my best for the month because it bravely communicates the inner struggle vocalist Ash Costello felt about her father's absence from her life. "'Let Me Down' is about my dad. He was around until I was about eight, then just completely walked out on my mom and I," Costello told us in the band's APTV track by track. "It's about just watching my relationship with my dad just kind of disappear." Because there are seemingly so few songs addressing this particular subject, it's my hope that this one will help people dealing with a similar situation feel less alone. "The main line in the song is 'Maybe it's for the best you don't come around' because I kind of got to the point where I was like, 'I don't need that negativity.'" —Cassie Whitt
SLEEPING WITH SIRENS - "Kick Me"
Kellin Quinn spits fire on Sleeping With Sirens' first post-Feel cut. "You sick, judgmental fools/I'll bury you six feet deep," he sings, before shouting, "Fuck you and your opinion." Well, take that, haters. It's nice see the band crank up the aggression in this perfect post-hardcore anthem, sounding like something off of the Used's In Love And Death. Good luck getting the pre-chorus—"You don't know shit, shit, shit about me!"—out of your head. —Matt Crane