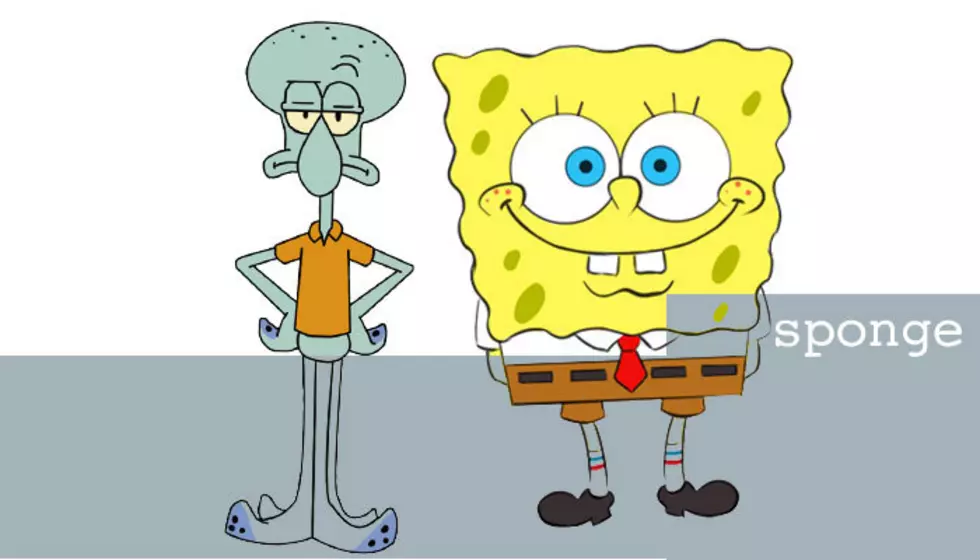 These 15 'SpongeBob SquarePants' album recreations are a sweet victory
It's difficult to ignore the cultural effect that SpongeBob SquarePants has had on generations of viewers over the last 20 years. Unless you've been living in a pineapple under the sea of course. Whether you watch reruns of the series or still think Panic! At The Disco or My Chemical Romance recreated the "Band Geeks" episode over the years, SpongeBob has wiggled his way into our music scene. Between music memes and theme song covers, it's obvious that SpongeBob is easily one of the most relatable TV series to ever happen. You can argue this. We'll wait.
Now, we've uncovered possibly the greatest music and SpongeBob crossover of all time. Conceived by Shawn Ramey and Jon Oliver, Albums Of Bikini Bottom recreate your favorite alternative and metal album covers with SpongeBob characters. Yes, it's as great as it sounds. Strap on those squeaky boots and dive in.
Waterparks – FANDOM
Awsten Knight revealed that for Waterparks' FANDOM artwork, he utilized Sunny D to offset the sliced orange featured in the center of the album cover. However, in the Albums Of Bikini Bottom recreation, you can see a lemon held up by Patrick Star. We're not going to knock points for substituting the tangy fruit, even if "every villain is lemons."
Bring Me The Horizon – Suicide Season
It's difficult to imagine Bring Me The Horizon's Suicide Season without all of the blood and guts spilling out on the cover, but SpongeBob steered clear of that material in the series. It might not be a spot-on recreation, but we enjoyed it nevertheless. Diamonds aren't forever, but maybe sponges are. 
Mayday Parade – A Lesson In Romantics
We'd be "Miserable At Best" without this Mayday Parade A Lesson In Romantics recreation.
Dance Gavin Dance – Mothership
Dance Gavin Dance's Mothership artwork was created by Swedish artist Mattias Adolfsson, who has worked with the band on numerous albums. This recreation captures several artistic Easter eggs scattered throughout the original artwork, including the flying pirate ship.
Fall Out Boy – From Under The Cork Tree
We're so down, down to see Fall Out Boy's From Under The Cork Tree reimagined by Albums Of Bikini Bottom. Maybe FOB can pull some inspiration and title their next album From Under The Sea.
Attack Attack! – Someday Came Suddenly
We're starting to think maybe Attack Attack! learned how to crabcore from Mr. Krabs. Regardless, the simplicity of Someday Came Suddenly is what makes this SpongeBob recreation so perfect.
Circa Survive – Juturna
With Albums Of Bikini Bottom, we're always getting what we want, especially with this Circa Survive recreation.
Silverstein – Discovering The Waterfront
This SpongeBob reimagination doesn't necessarily capture the sadness in Silverstein's Discovering The Waterfront album artwork, but the water is a great tie to the energetic yellow character.
Panic! At The Disco – A Fever You Can't Sweat Out
We didn't think Panic! At The Disco's A Fever You Can't Sweat Out album artwork could get any better until we saw Star's legs hanging from the ceiling in fishnets and boots.
twenty one pilots – Blurryface
What do you think SpongeBob would call himself if he was channeling his inner Tyler Joseph during the Blurryface album cycle? 
Four Year Strong – Rise Or Die Trying
The gang's all here for this Four Year Strong album reimagination, proving sponges are from Mars, and sharks are from hell.
blink-182 – Untitled
Have you ever seen anything more perfect than DoodleBob impersonating the blink-182 smiley face logo? Because we sure haven't.
A Day To Remember – Homesick
The original artwork for A Day To Remember's 2009 release, Homesick, offers many intense visuals as well as a hidden code for fans. Albums Of Bikini Bottom's recreation paid tribute to all of those Easter eggs. We had to do a double take on this one.
All Time Low – Don't Panic
No offense to All Time Low, but Albums Of Bikini Bottom's rendition of Don't Panic may be better than the original.
My Chemical Romance – Three Cheers For Sweet Revenge
We know what they do to sponges like you in prison. Unfortunately, nothing could replace the iconic Demolition Lovers on Three Cheers For Sweet Revenge's cover.