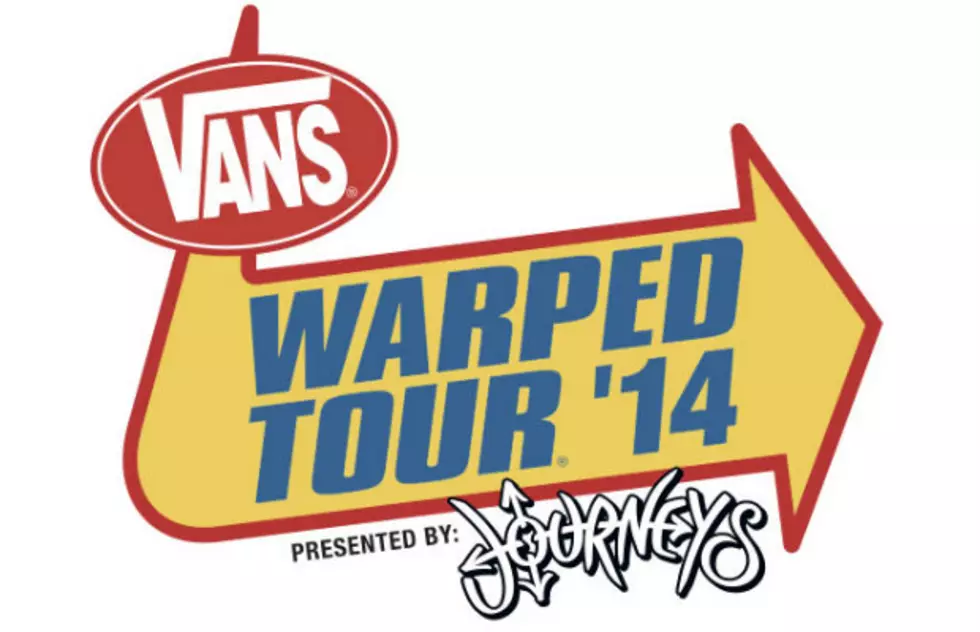 16 musicians share their favorite Warped Tour moments
With the 2014 Vans Warped Tour coming to a close soon, we thought we'd look back at some bands' favorite moments. We spoke with members from the Summer Set, Less Than Jake, the Ready Set, Real Friends and many more to bring you their unique stories from punk-rock summer camp this year. Here are 16 musicians' favorite moments from Warped Tour 2014.
Ben Barlow, Neck Deep

There have been a lot of good moments playing shows. Like, just going out and realizing, "Oh, fuck, there are a lot of people here." Maybe seeing Linkin Park hanging around [during their surprise performance at the Ventura, California date]. That was pretty cool. I saw Chris Cole, who's a famous skater. That was quite a cool moment. But my favorite moment so far: Maybe in Cali—I think it was in Pomona—I just had a moment where I looked out and was like, "Wow, this is what Warped Tour's all about." It was a real good crowd.
Brett Callaway, Close Your Eyes

My favorite thing on this tour was on an off-day. We went cliff diving. It was right outside of Albany, New York. It's this big waterfall that comes over this river, and there are a few different places to jump off, there are ones maybe 15 feet high and some 40 feet. It was so much fun. We were jumping off those cliffs for, like, five hours.
Lauren West, American Pinup

We've only played two dates so far, but yesterday a girl came up, freaking out about seeing us, and she specifically said that she found out about us after we were announced for the tour. So that was one of those things that was really cool. There were definitely a lot of people who never knew who we were before we got announced for this tour, who have now been looking forward to seeing us. Just having your name associated with the tour compels people to look you up. Then if they're into it, they're gonna automatically be stoked to see you.
Brian Dales, the Summer Set

I think it was just Ventura Warped Tour, in general. We closed Ventura, playing at about 8:30 p.m. I live in LA, and so many friends and family were out, and Linkin Park played at, like, 6:00, and I really didn't think anyone was gonna stick around. But we had one of the best shows we've ever had, with everyone I've ever loved watching, which was really cool. It was cool to realize what we were worth—even after Linkin Park had already played.
Joel Pastuszak, Vanna

I could be really stereotypical and say our home show in Massachusetts, which was just mind-blowingly cool, huge and insane. But we played last in New Jersey, and we were kind of nervous, because that's a tough slot. A lot of kids are tired, hot and want to go home. If they haven't heard of you, they're not gonna stick around. We played it, and the show was great. We went to our tent to do a quick signing, and we had a [massive] line. I think everyone who was standing in front of the stage was in line to meet us that night. The venue was shutting down, and security was lined up next to our line to escort the kids out. I was just completely taken away. What we assumed would be kind of a junk show—because it was so late—turned out to be awesome. We had kids come up to us crying, so moved by our set.
Pat Kennedy, Light Years

The catering. Just eating every day for free. Usually on tour, I'm spending all my money on food. And then, I come to Warped Tour, and I get treated like a king for no reason. If I miss a meal, I'm so mad at myself. They have these buttered noodles. I could've eaten two platefuls of them.
Alex Koehler, Chelsea Grin

When we were playing in Indiana, right when our intro started, everything just went absolutely hectic. I saw chunks of the ground getting ripped out by people's feet and, like, launching in the air. People's shoes were flying everywhere. A couple shoes came onstage. It literally went from zero to "holy shit" in a matter of seconds. It was awesome.
Brent Walsh, I The Mighty

The first electric set we played, because we didn't really know what to expect or what kind of crowd we were gonna draw. There were a lot of people going a lot more nuts than we thought they would—moshing and crowdsurfing. And we're not a super-heavy band. Walking up onstage and announcing that this was our first-ever Warped Tour and our first show on Warped Tour, the response we got was really cool. [It's also been cool] just walking around, meeting these people that you look up to and respect. It's been cool meeting Issues and Of Mice & Men, hanging out on busses and just bonding with people.
Chris DeMakes, Less Than Jake

My favorite Warped Tour moment was when I made friends with the hot dog guy in Buffalo, and, over the course of five or six hours, I ate 17 hot dogs. I felt horrible, and, unfortunately, the next day, we were nowhere near a porta john when I woke up. I'll just end the story there.
Michael Barr, Volumes

At our show in Toronto, we didn't expect as many people to be there, and that situation always turns out great. We got there 10 minutes before going on, and we didn't feel like we were gonna have a strong crowd that day. When we walked onstage, there were close to 7,000 people. So, that's probably been the coolest moment so far.
Erik Chandler, Bowling For Soup

Just being on the tour. Hanging out every day with a bunch of new people that we would've never had the opportunity to meet, were it not for Warped Tour. We're the old guys on the tour, and so many of the bands that are out here are so much different than what we do. We would never have the opportunity to tour with these guys. Now, here we are doing this and getting to meet and hang out with everybody everyday. It's punk-rock summer camp, and even the old farts enjoy it.
Kyle Fasel, Real Friends

My favorite Warped Tour moment has happened a couple times. Chris [Conley] from Saves The Day has watched us. My dad is our bus driver, and Chris was watching us, and he pointed at us and gave my dad a thumbs-up. That's pretty cool, because he's one of my musical idols. To have him just give my band a thumbs-up is really cool.
Michael Perez, Plague Vendor

Seeing Every Time I Die and Terror and all those bands that we look up to. [ETID] are on the same label as us. I heard in interviews they were talking about us just from hearing the record. They come to our shows as much as they can, and we go to theirs as much as we can.
Beebs, Beebs And Her Money Makers

Jamming with Mike Herrera every night. We've been having jam sessions with him every night, which has been really fun. I'm a huge MxPx fan, so it's been really cool to get to link up with one of my favorite artists from back in the day and become good friends.
Jordan Witzigreuter, the Ready Set

We played in Indianapolis, which is kind of my home show, and it was one of the biggest ones we've played so far on the tour. Usually, in my hometown, it's kind of weird. It's never really been a massive thing. This was the first time we played it and I felt like it finally connected, and there were so many people. There was so much more passion from that crowd than I ever expected, and it blew me away. Seeing that kind of love from my home state really struck me.
Mike Herrera, MxPx

I love getting to meet people. I love getting to see the kids who come to the shows. But, as a touring musician who's been doing it for 20 years, I really just appreciate the camaraderie. We had this 20-year anniversary surprise birthday party for Warped Tour and Kevin Lyman. All the bands showed up, all the crew—everybody was there—and Kevin didn't know. He comes in, and we're all there, and there's this big cake. Kevin starts telling stories about us and being out with his dad and Ice-T and talking about some other bands. For me, just getting to celebrate that this tour has been so successful for 20 years is a huge thing. Realizing that in the moment and being part of it: That's the best.