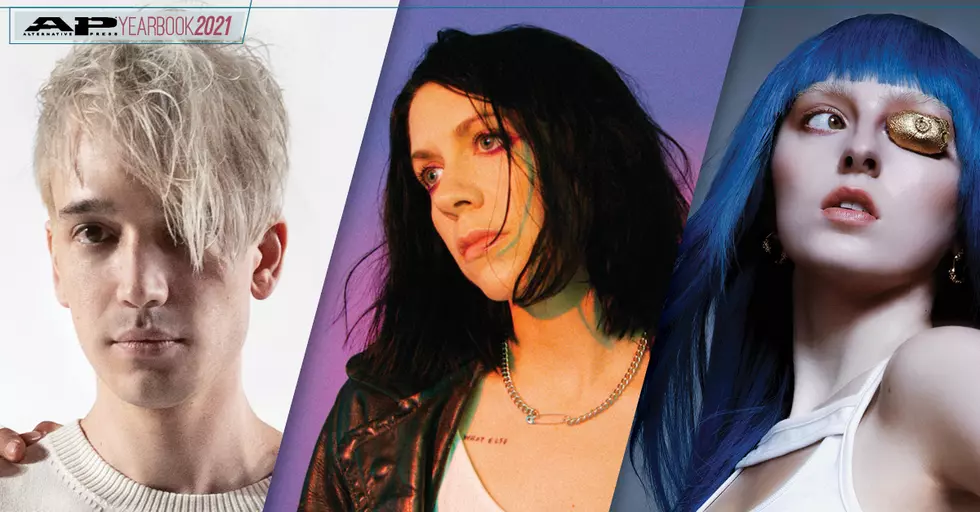 Badflower's Josh Katz, Ashnikko, K.Flay and more give 2022 music recommendations
As we come to the end of 2021, we're also concluding Alternative Press' end-of-the-year celebration. We asked each artist we interviewed for our December 2021 issue to answer two specific questions: What was the best thing you heard in 2021, and who should we look out for in 2022? This final article covers our 2022 music recommendations, offered by artists you know and love.
In the third part of the series, we heard from some of the same artists about who they think we should all be on the lookout for in 2022. In the fourth and final installment, we'll hear from the rest of the artists, including Bring Me The Horizon, Meet Me @ The Altar's Edith Johnson and Wolf Alice's Ellie Rowsell. 
Bring Me The Horizon's Oli Sykes and Jordan Fish
OLI SYKES: POORSTACY, for sure. I think there's definitely a scene revival coming back, with so many kids and younger people making music that feels very reminiscent of the scene that we grew up in. I think rock music in general feels really exciting at the moment. POORSTACY's an example of someone doing something that's just got passion and is raw. It's not rehashing an old sound; it's taking something that's familiar but pushing it. I've met [Carlito Junior Milfort, aka POORSTACY], and he's just such a creative kid. When you've got an imagination like that, the world's your oyster. I can see him going places.
JORDAN FISH: I'm going to pick Oli's wife, Alissic. She's released one single ["Like"], which is really good and is going to release a second, which is also really good, so I think she's going to have a good year next year. Her music has an otherworldly quality in the vein of artists like Björk, though less abstract, and Ashnikko — it's left-field pop music. She's still fairly new to music so is still exploring her sound, but the songs she's worked on are really cool. She has a really unique voice and has a lot of charisma, so is building quite a fanbase.
Josh Katz of Badflower
girl in red. Holly Humberstone as well! Holly is a pretty brand-new artist who I discovered from a random tweet. I don't even know how I saw it, but someone tweeted this video of this random girl, and it was Holly. I watched this video, and I just became a fan immediately. She's got this simple singer-songwriter vibe to her, but she just has a beautiful voice and beautiful lyrics. Everything you want out of an artist.
KennyHoopla
DJ Topgun — that's my good friend. He's an electronic artist, and I feel like he's doing some dope shit with electronic music that was missing. That's my favorite shit, when it can speak to the underground, quote-unquote "the streets," but also be able to balance it with the mainstream.
John Famiglietti of HEALTH
I love this girl named Sierra, who's from France, and she's a really awesome electronic producer. That's probably what I would listen to the most. I just think this is some of the freshest shit and the whole sonic movement attached. It's ultra-dark club music that really translates to people who like industrial music, rock 'n' roll or some goth club. [There's] this 100 BPM thing everyone's liked for a long time, and now it's really crystallized into this sound right now, and it's fucking sweet.
K.Flay
I do obviously my own K.Flay shit, but I write songs for other artists and with other artists. And you know who I fucking love so much? poutyface. She's amazing. So she's definitely one to watch. She's opening up for YUNGBLUD in the U.S. next year. So she'll be out on the road for a bit. She's super young, really talented, really smart, really creative, making badass music.
Ashnikko
chloe moriondo, always and forever! She just opened for me on the American leg of my tour, and her songs make me ugly cry. "Bodybag" and "I Want To Be With You" are my personal favorites. They make me want to sing into my hairbrush in front of the mirror.
LP
Probably some new Post Malone, to be honest. [Laughs.] I'm sure he's going to drop a record fairly soon. I really want to hear what Tamino is going to do next, too. He's one of those people that — I wouldn't call it robbed by the pandemic because I'm sure he'll come back stronger than ever — but he was really hitting a thing when I saw him at The Masonic Lodge. I feel like he got nailed because he just had a sold-out string of things, so I'm curious to see what he does next. 
Awsten Knight of Waterparks
Definitely Zeph. Zeph and DE'WAYNE, actually. [I met Zeph], I think, early 2019. I followed her on Instagram. We had interacted here and there. Then I invited her to the Baltimore show of the FANDOM tour. That's how we became friends. Whenever we were making the album, I was like, "Man, her voice, it sounds so good." So I just texted her.
Edith Johnson of Meet Me @ The Altar
I heard Avril Lavigne is coming out with new songs, and that's pretty self-explanatory. It's Avril Lavigne. I grew up on Avril Lavigne. I love her so much. She has new music coming out really soon, so I'm watching it because I really want to hear how it sounds. Even though I was like 2 when "Complicated" came out, I grew up on it from hand-me-downs from my sister's iPod. It was just the angst [that resonated]. She was still around when I was old enough to understand music. She was a skater girl, and she was so cool, she was a rock star, and I wanted to be that, too.
Lynn Gunn of PVRIS
Honestly, I think I'm torn between a few. First off, I would have to say Bree Runway and COBRAH. I'm really obsessed with both of their production styles, and they both bring pretty iconic energy. Also, I feel like she's already making waves and crushing it, but I think Caroline Polachek is going to reach some new heights in the new year.
Ellie Rowsell of Wolf Alice
I really like Dora Jar. I'm really shocked that her new album [Digital Meadow] isn't the biggest thing ever at the moment. I discovered her because Billie Eilish posted a video of her. She was playing this tiny venue in London, and I was like, "This sounds like something that should be huge," and then I listened to her album, and it was really good.
Jason Aalon Butler of FEVER 333
The bands on 333 WRECKORDS — all our bands. People should go to our website roster, look at those bands and just watch what happens. We can come back next year, a year from today. I want you to be the one that does the interview, and I want to sit back and reflect on that because I promise you people are gonna be like, "Damn, he wasn't playing."
Dana Dentata
I'm the artist to watch next year! I have a lot more songs in the vault. When I was younger, I had an all-girl band called Dentata where I got the name Dana Dentata. We recorded two albums and never released them. I think we were really ahead of our time because it was very strong and progressive feminist music, heavy and badass. I miss that, so I've been talking with the girls, and we all really want to reunite in the summer. We want that time capsule album to see the light of day. I think our aggression was too much 10 years ago. Now not only are people ready, but they really need it.
Bartees Strange
Yves Tumor is the greatest living artist of our generation. Everything they do is amazing. Heaven To A Tortured Mind was amazing. God, and I don't think people really got it still. I know a lot of people were like, "Oh, this is amazing," and I'm like, "No, no, this is groundbreaking, earth-shattering shit." This is like Parliament-Funkadelic. This is like Eddie Hazel shredding before Led Zeppelin. People are going to reference this for decades.