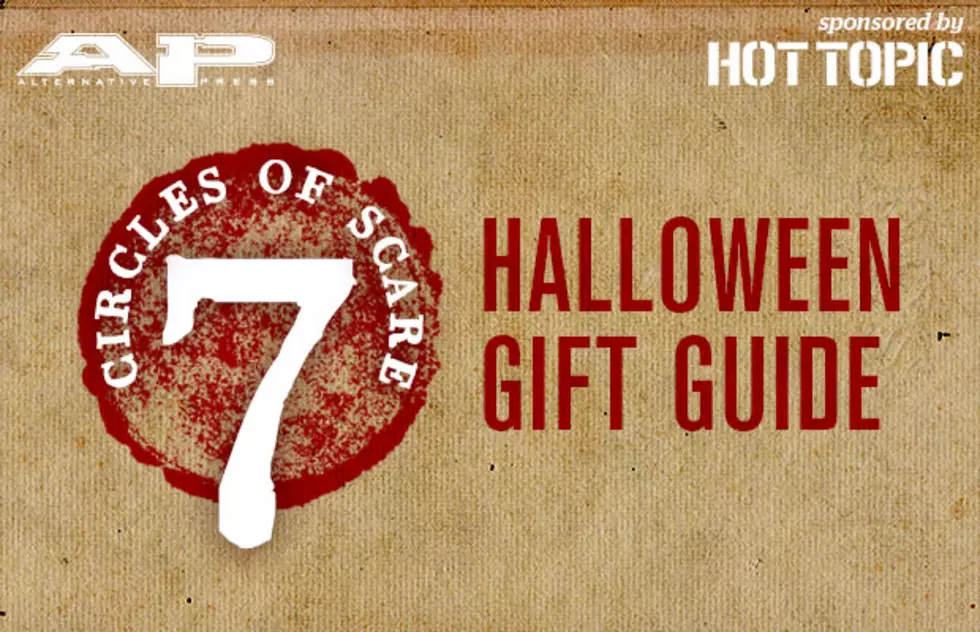 20 awesome Halloween gifts to give this season (Plus: Win a Motionless In White merch pack!)
"Wait, AP. Halloween month? Isn't Halloween just a day?" Psh! No! Halloween and punk rock go together like bloo-… milk and cookies, so we're making a month of it with our SEVEN CIRCLES OF SCARE series, where we'll be bringing you seven new frightful stories in the weeks leading up to October 31.
With just a week until the big day arrives, we were thinking: Why does Christmas get all the fun? The very best gifts are out this time of the year, after all. So, we haunted the interwebs for a selection of 20 creepy, inexpensive gifts for you and your Halloween-loving friends to exchange this season.
BONUS: We're giving away a bundle from Motionless In White's Halloween merch collection to one commenter. Tell us your favorite MIW song in the comments to enter!
Five circles of Scare so far:

Scary Album Covers | Scary Shows And Movies | Haunted Venues | Creepy Songs | Awesome Halloween Gifts
CLOTHING

LOVEsick Cat Garter Tights ($9)




Recently, I traipsed around the city with a friend wearing these exact tights. We couldn't go anywhere without someone gasping, "Oh my goodness! Are those
cat tights
?" Cute, eye-catching and perfect for Halloween!
Red And Olive Green Striped Sweater ($18)




"One, Two, Freddy's coming for you…"
Crown The Empire Limited Edition Pumpkin Skull Tee ($20)




Of the few artists who are releasing limited Halloween merch, Crown The Empire's pumpkin T-shirt might be the most adorable..
AP Athletic Tee ($20)




Okay, so it may not be exactly Halloween-related, but guys, we have new merch!
Blackcraft Goth Brooks T-Shirt ($24)




"The thunder rolls/And the lightnin' strikes/Another love grows cold/On a sleepless night…" Who knew this country singer had such a DVRK soul?
Hot Topic Black Glow-In-The-Dark Skeleton Hoodie ($33)




Whether you're a skeleton-lover, need an easy costume or are simply a member of twenty one pilots' skeleton clique, this hoodie will suit your fancy.
Glamour Kills X New Found Glory Tee + Digital Album Download ($35)




New Found Glory go dark on their collaboration with Glamour Kills. Purchases of the shirt can be bundled with digital downloads or vinyl of NFG's new album Resurrection.
Kigurumi Skeleton Costume ($60)




Friends who own these funny Japanese pajamas all sing praises of how comfortable they are. Also available on the Kigurumi website: black cat, bat, Dracula, Frankenstein's monster, mummies and more.
DÉCOR

Wonderland LA "Viva Vampira!" Exhibition Poster ($10)




The official 24"x36" exhibition poster for Kat Von D's Wonderland LA art exhibition honoring 1950s actress Vampira.
Freaky Friday Curtains ($15)




Are you a fan of haunted houses? Do you want your own home to look more like one? Here you go.
Bat Throw Blanket Red ($20)




Soft, cozy, blood red and covered in creatures of the night.
Too Fast "Tattooed Monster" and "Bride" Shower Curtains ($21)




Impress (or weird out) your guest with the oversized attitudinal countenances of these delinquent monsters.
Misfits Horror Business Pillow ($24)




"Psycho '78!"
FOR FUN

Funko Pop! Vinyl figures ($9)




If you have a favorite horror character, chances are they have a Funko Pop! Movies figure. Hot Topic's online selection includes Jason Voorhees, Freddy Krueger, Billy The Puppet and more.
Gerard Way Haunted iPhone 5 Case ($10)




Remember when Gerard Way's phone was haunted? This phone case is one of the limited edition items featured in the "???" section of Way's webstore, so grab it while it lasts.
Torture Couture Ouija Planchette Earrings ($18)




If your ears are burning when you wear these, it might mean a little more than gossip is stirring around you.
Tokidoki x Hello Kitty 8" Plush: Skeletrino ($25)




The internet loves cats, Halloween loves skeletons. Here's the crossover, and you can hug it! Bonus!
Harry Potter Collectible Wand ($26)




"It's leviosa, not leviosa!"
The Art Of Gothic by Natasha Scharf ($35)




This book features a retrospective look at goth culture through the lens of fashion, art and music, while also paying respect to today's artists with nods to everyone from Bauhaus and Sex Gang Children to AFI, My Chemical Romance and the newest generation, Motionless In White and Fearless Vampire Killers.
ALL OF THE ABOVE

Motionless In White Halloween merch collection ($10-$35)




Comment with your favorite Motionless In White song and why you love it to be entered to win the pictured items!