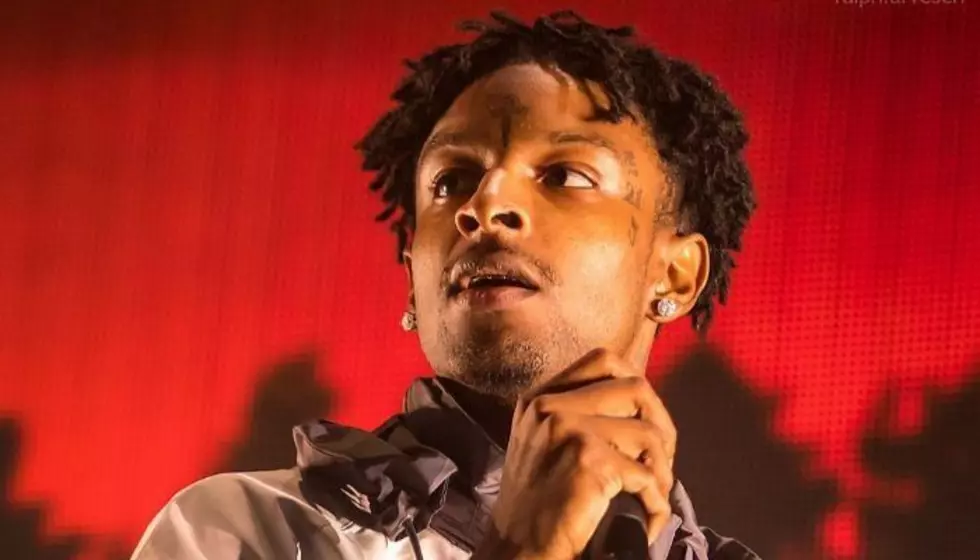 21 Savage granted bond, deportation hearing pending
[Photo via Ralph Arvesen/Wikimedia Commons]
Last week, 21 Savage, whose legal name is Sha Yaa Bin Abraham-Joseph, was arrested by ICE for overstaying his visa. ICE claimed that Abraham-Joseph is originally from the UK.
The rapper's legal team has continued to share updates regarding his status including that he's never hidden his immigration status and a belief he was targeted. Now, it's being reported the rapper was granted bond with a deportation hearing pending.
According to TMZ, the rapper has been granted bond, and his attorneys state he was granted an expedited deportation hearing.
TMZ explains "by all rights, he should have been allowed to bond out the day he was arrested." However, this wasn't the case as the rapper had been held since Feb. 3, and it's currently unclear why he was held for more than a week.
21 Savage's lawyers Charles H. Kuck, Dina LaPolt and Alex Spiro released a statement today, according to WSB-TV Atlanta:
"For the past 9 long days, we, on behalf of She'yaa Bin Abraham-Joseph, known to the world as 21 Savage, have been speaking with ICE to both clarify his actual legal standing, his eligibility for bond, and provide evidence of his extraordinary contributions to his community and society.
"In the last 24 hours, in the wake of the Grammy Awards at which he was scheduled to attend and perform, we received notice that She'yaa was granted an expedited hearing. Today, 21 Savage was granted a release on bond. He won his freedom."
The lawyers also relayed a special message to the rapper's fans, TMZ reports:
"21 Savage asked us to send a special message to his fans and supporters—he says that while he wasn't present at the Grammy Awards, he was there in spirit and is grateful for the support from around the world and is more than ever, ready to be with his loved ones and continue making music that brings people together."
"He will not forget this ordeal or any of the other fathers, sons, family members, and faceless people, he was locked up with or that remain unjustly incarcerated across the country," the statement continues. "And he asks for your hearts and minds to be with them."
21 Savage was nominated with Post Malone for the latter's "Rockstar" at this past weekend's Grammy Awards. The track was up for both Best Rap/Sung Performance and Record Of The Year.
Malone performed the track solo within a medley with Red Hot Chili Peppers. While onstage, the rapper wore a black T-shirt with a simple 21 Savage as a sign of support.
He later clarified that he did indeed wear it onstage and not just before his performance.
Check out the full performance below.
What we know about 21 Savage and ICE so far
According to Complex, 21 Savage's legal team released a statement Feb. 5 regarding his current residency, confirming that the rapper is from the UK. However, the statement refutes 21 Savage's past criminal charges, claiming that ICE may have provided false information to the press.
The statement also shares that Abraham-Joseph was only seven years old when he came to the United States on a legal H-4 visa. However, in 2005, he visited the UK for only a month and then came back.
"Mr. Abraham-Joseph, like almost two million of his immigrant child peers, was left without immigration status as a young child with no way to fix his immigration status," the statement reads. "These "Dreamers" come from all walks of life and every ethnicity."
Additionally, it was revealed that Abraham-Joseph was currently in the process of applying for a U visa, while never hiding his immigration status from DHS. According to the statement, ICE typically recognizes pending U visa applications to delay removal proceedings. Abraham-Joseph's application was filed in 2017.
The statement also points that Abraham-Joseph is not "subject to mandatory detention," as he is not a threat to national or community security. According to his legal team, a bond should be issued on Abraham-Joseph's account.
Because of Abraham-Joseph's family and status in the United States, he will be eligible to seek Cancellation of Removal from an Immigration Judge.
You can read the full statement below:
There has been a great deal of misreporting in the case of She'yaa Bin Abraham-Joseph, known professionally as 21 Savage. Conjecture and misinformation help no one make good decisions and leads to false conclusions. Here are the facts:
Mr. Abraham-Joseph was born in the United Kingdom. Mr. Abraham-Joseph arrived legally in the United states at the age of 7 under an H-4 visa. He remained in the United States until June 2005, when he departed for approximately one month to visit the United Kingdom. He returned to the United States under a valid H-4 visa on July 22, 2005. Mr. Abraham-Joseph has been continuously physically present in the United States for almost 20 years, except for a brief visit abroad. Unfortunately, in 2006 Mr. Abraham-Joseph lost his legal status through no fault of his own.
Mr. Abraham-Joseph, like almost two million of his immigrant child peers, was left without immigration status as a young child with no way to fix his immigration status. These "Dreamers" come from all walks of life and every ethnicity. Mr. Abraham-Joseph has no criminal convictions or charges under state or federal law and is free to seek relief from removal in immigration court. ICE provided incorrect information to the press when it claimed he had a criminal conviction.

Mr. Abraham-Joseph has three US Citizen children, a lawful permanent resident mother and four siblings that are either US Citizens or lawful permanent residents. He has exceptionally strong ties in the United States, having lived here since he was in the first grade. Because of his length of residence in the United States and his immediate relatives, Mr. Abraham-Joseph is eligible to seek Cancellation of Removal from an Immigration Judge.

Mr. Abraham-Joseph was placed into deportation proceedings AFTER his arrest, he was not in deportation proceedings prior to this detention by ICE. DHS has known his address since the filing of a U visa application in 2017. He has never hidden from DHS or any of its agencies.

Mr. Abraham-Joseph is not subject to mandatory detention under federal law and is eligible for bond. By statute, bond should be granted by ICE when there is no flight risk or a danger to the community. ICE has the ability to set a bond and conditions of release on cases exactly like this. ICE routinely grants bond to individuals in Mr. Abraham-Joseph's circumstances, specifically individuals who have overstayed a prior valid visa and have relief from deportation under federal law. There is no chance that Mr. Abraham-Joseph is a flight risk. Mr. Abraham-Joseph is not a "danger" to the community as his acts of philanthropy and good will, as well as his music, continue to improve the communities from which he comes.

Mr. Abraham-Joseph has a pending U visa application with the USCIS. This U visa was filed as a result of being the victim of a deadly shooting in 2013. That visa was filed in 2017 and remains pending. When granted, the U visa will afford him lawful status in the United States. Generally, ICE has recognized a pending facially valid U visa as a basis to delay removal proceedings and release individuals from custody.


There continues to be no legal reason to detain Mr. Abraham-Joseph for a civil law violation that occurred when he was a minor, especially when people in his exact situation are routinely released by ICE. Many have speculated as to possible ulterior motives for his arrest and detention, including that he released music five days prior to his arrest by ICE, which included new lyrics condemning the behavior of immigration officials for their detention of children at the border. We are unaware of why ICE apparently targeted Mr. Abraham-Joseph, but we will do everything possible to legally seek his release and pursue his available relief in immigration court.
[envira-gallery id="194356"]