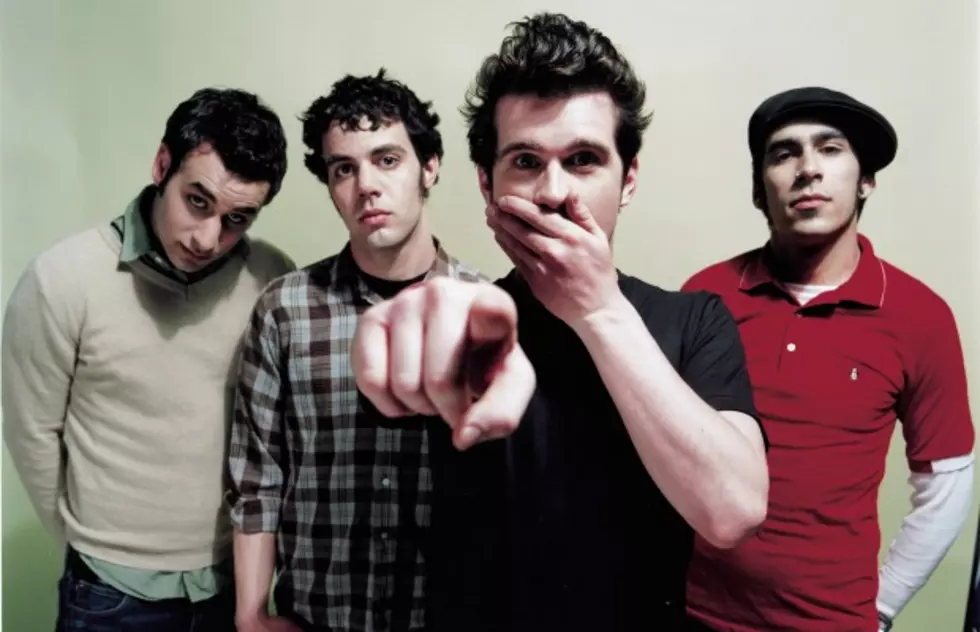 300 Bands We Told You So—The best of AP's "100 Bands You Need To Know" special
Every year since 2001, AltPress has made it our mission to introduce you to 100 up-and-coming bands, and looking back, we got it right at least a couple times. We recently scoured our back-issues for some of the artists who have since made the most impact.
Take a trip through AP history with these artists about whom we can definitely say, "Told you so!"
Which artists from our 2015 issue do you think will make waves? Let us know in the comments!
100 Bands You Need To Know In 2001

At the Drive In

Black Rebel Motorcycle Club

Bright Eyes

Coldplay

Death Cab For Cutie

Godspeed You! Black Emperor!

Good Charlotte

Idlewild

Mindless Self Indulgence

Oneida

Rainer Maria

Ryan Adams

Sigur Ros

The Faint

The Shins
100 Bands You Need To Know In 2002

AFI

Dashboard Confessional

The Distillers

Hoobastank

Interpol

Lightning Bolt

Mates Of State

Okkervil River

Phantom Planet

Pretty Girls Make Graves

Saves the Day

The Hives

The Icarus Line

The Lawrence Arms

The Mars Volta

The Movielife

The Walkmen

Thrice
100 Bands You Need To Know In 2003

A Static Lullaby

Against Me!

Animal Collective

Atreyu

Azure Ray

Brand New

CKY

Devendra Banhart

Evanesence

Finch

From Autumn To Ashes

Glassjaw

Hot Hot Heat

LCD Soundsystem\

Minus The Bear

Norma Jean

OK GO

Reggie and the Full Effect

Rilo Kiley

Simple Plan

Sugarcult

Taking Back Sunday

The Black Keys

The Kills

The Libertines

The Used
100 Bands You Need To Know In 2004

Acceptance

Atmosphere

Battles

Bear Vs. Shark

Broken Social Scene

Coheed And Cambria

Eisley

Every Time I Die

Fall Out Boy

From First To Last

Funeral For A Friend

H.I.M.

Kevin Devine

Killswitch Engage

Lucero

Mae

Mastodon

Metric

Motion City Soundtrack

Murder By Death

Plain White T's

Saosin

Say Anything

Story Of The Year

Straylight Run

The Early November

The Format

These Arms Are Snakes

TV On The Radio

Yellowcard
100 Bands You Need To Know In 2005

Action Action

Anberlin

Arcade Fire

Armor For Sleep

As I Lay Dying

Big D And The Kids Table

Bloc Party

Cartel

Circa Survive

Circle Takes The Square

Comeback Kid

Copeland

Death From Above 1979

Dresden Dolls

Explosions in the Sky

Futureheads

Gatsbys American Dream

Halifax

Hawthorne Heights

He Is Legend

Hellogoodbye

I Am The Avalanche

Matchbox Romance

Mewithoutyou

Nightmare Of You

Silverstein

Streetlight Manifesto

The Academy Is…

The Loved Ones

The Matches

Torche

Underoath
100 Bands You Need To Know In 2006

Aiden

Architects

Arctic Monkeys

Bullet For My Valentine

Cute Is What We Aim For

Hit The Lights

Panic! At The Disco

Paramore

Rock Kills Kid

Set Your Goals

The Hold Steady

The Number 12 Looks Like You

We Are Scientists

Wolf Parade
100 Bands You Need To Know In 2007

All Time Low

Band Of Horses

Bomb the Music Industry!

Boys Like Girls

Cancer Bats

Cold War Kids

Devil Wears Prada

Envy On The Coast

Escape The Fate

Fucked Up

Hot Chip

Mayday Parade

Misery Signal

New Years Day

Polar Bear Club

Silversun Pickups

The Almost

The Dear Hunter

The Horrors

The Knife

The Spill Canvas

This Moment in Black History

Tokyo Police Club
100 Bands You Need To Know In 2008

3OH!3

A Day To Remember

August Burns Red

Baroness

blessthefall

Ceremony

Crystal Castles

Enter Shikari

Forever The Sickest Kids

Foxy Shazam

Future Of The Left

Katy Perry

Man Man

Manchester Orchestra

Maps & Atlases

MGMT

Off With Their Heads

Pierce The Veil

Portugal. The Man

The Rocket Summer

Sea Wolf

Shocking Pinks

Sonny Moore

Suicide Silence

The Cab

The Gaslight Anthem

The Maine

The Swellers

Vampire Weekend
100 Bands You Need To Know In 2009

A Rocket To The Moon

The Airborne Toxic Event

Attack! Attack!

Emarosa

Family Force 5

Glasvegas

Motionless In White

Noah And The Whale

Passion Pit

Titus Andronicus

You Me & Everyone We Know

You Me At Six
100 Bands You Need To Know In 2010

Andrew Jackson Jihad

Cheap Girls

Cold Cave

Cymbals Eat Guitars

Florence & The Machine

Free Energy

Here We Go Magic

Hey Monday

Hurricane Bells

Japandroids

La Dispute

Lights

Miss May I

Neon Trees

Never Shout Never

The Big Pink

The Cab

The Downtown Fiction

The Menzingers

The Ready Set

The Summer Set

The Wonder Years

The XX

Title Fight

We Are The In Crowd
100 Bands You Need To Know In 2011

A Great Big Pile of Leaves

Balance And Composure

Best Coast

Black Veil Brides

Chiddy Bang

D.R.U.G.S.

Daytrader

Fences

Funeral Party

Gideon

Grouplove

Hellmouth

I Fight Dragons

I See Stars

JEFF the Brotherhood

letlive.

Man Overboard

O'Brother

Pomegranates

Pulled Apart By Horses

Texas In July

The Limousines

The Naked And Famous
100 Bands You Need To Know In 2012

Anamanaguchi

Awolnation

Bad Rabbits

Breathe Carolina

Candy Hearts

Cloud Nothings

Joyce Manor

Now, Now

Pianos Become The Teeth

Sleeping With Sirens

The Color Morale

The Ghost inside

Theophilius London

Tonight Alive

We Are The Ocean

We Came As Romans

Xerxes

Young Statues
100 Bands You Need To Know In 2013

A Lot Like Birds

Air Dubai

Citizen

Code Orange Kids

Creepoid

Crown The Empire

Departures

Echosmith

Fearless Vampire Killers

Foxfires

Modern Baseball

New Politics

On My Honor

The Front Bottoms

The Mowglis

The Neighbourhood

The Relapse Symphony

The Smith Street Band

The Soft Moon

The Story So Far

Twenty One Pilots

Walk Off The Earth
100 Bands You Need To Know In 2014

Adventures

Beartooth

Cayetana

Cheatahs

Cut Teeth

Daisyhead

From Indian Lakes

Ghost Town

Issues

Knuckle Puck

Krewella

Mallory Knox

Marmozets

Electric Century

Miss Fortune

Myka, Relocate

Neck Deep

Northlane

Nothing

Perfect Pussy

Plague Vendor

PUP

Radkey

Real Friends

SECRETS

Sleepwave

Souvenirs

Speedy Ortiz

State Champs

The Color And Sound

The Hotelier

This Wild Life

Tiny Moving Parts

Touché Amoré

Turnover

Twin Forks

War On Women