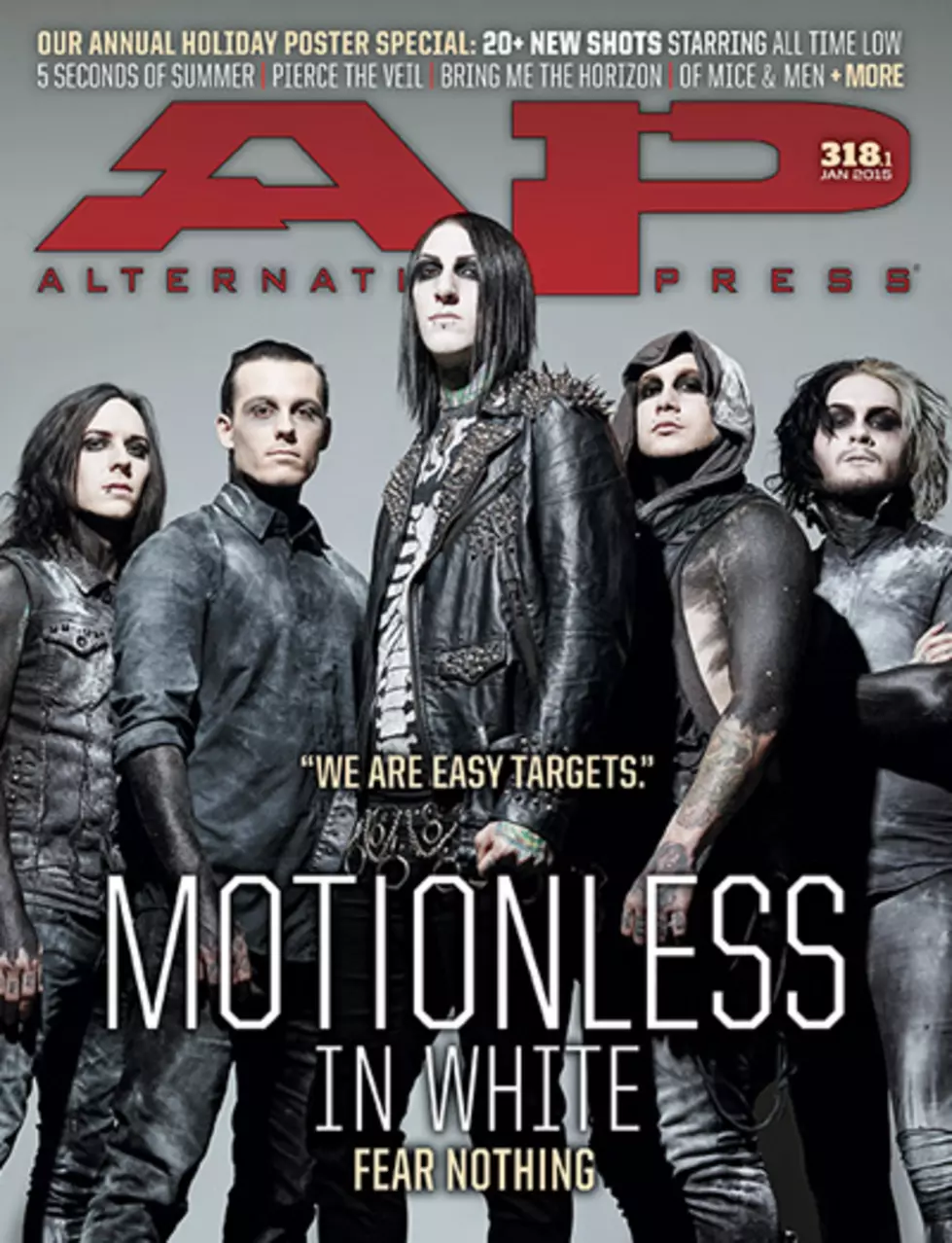 Motionless In White
#318 -  2014
Motionless In White fear nothing; Circa Survive regain control; Angels & Airwaves rebuild the future; Attila get polite (sort of) and more!
MOTIONLESS IN WHITE

Interview by Ryan J. Downey 
// Photos: Douglas Sonders


America's premier industri-metal goth-core outfit are self-made men, ready and willing to take both the credit and the blame. Wake up and smell the napalm.
THE YEAR IN PHOTOS

If a picture is worth a thousand words, then this special is worth 20,000 or so. Your bedroom walls can thank us later.
ANGELS & AIRWAVES

Written by Ryan J. Downey 
// Photos: Adam Elmakias


Tom DeLonge has stood on the cutting edge of music and culture for so long, he should've cut his toes completely off by now. Instead, he just dreams bigger.
ATTILA

Written by Phil Freeman
// Photos: Gaëlle Pitrel


The key to success: killer riffs, offensive merch and enough politically incorrect jibber-jabber to bum out crack dealers.
YOU ME AT SIX

Written by Andrew Kelham
// Photos: Luke Copping


Having conquered their homeland, this British pop-punk contingent are eyeing up the colonies. It's okay, put down your musket…
CIRCA SURVIVE

Written by Tim Karan
// Photos: Keeyahtay Lewis


It should surprise no one that one of America's finest bands possess similar levels of both genius and darkness.
APCONNECT

Mail, photos, pAParazzi, the AP Poll and more.
AP: DIY

Unsigned bands, stories and advice from NECK DEEP, FINCH and others.
AP RECOMMENDS

KNUCKLE PUCK, CUT TEETH, THE SMITH STREET BAND and more.
REVIEWS

New releases from COPELAND, THE SMASHING PUMPKINS, FRONT PORCH STEP, OWEN, ALCOA and more.
10 ESSENTIAL 

Albums of 2014, as chosen by AP's editors