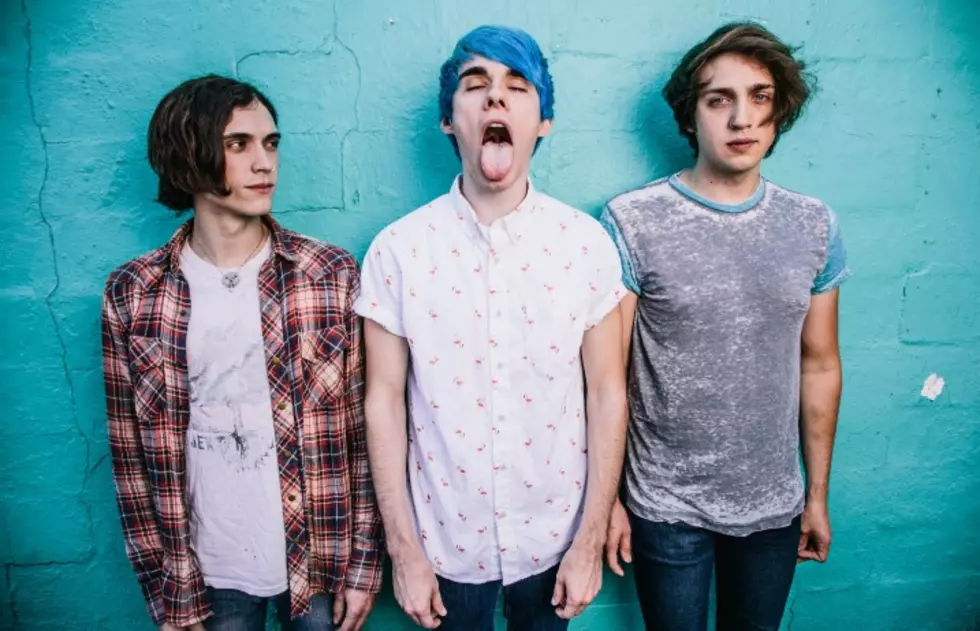 5 things you should know about Waterparks before they get big
In a world where next-gen pop punk has penetrated the mainstream and created an even higher demand for Manic Panic hair dye (looking at you, 5 Seconds Of Summer), it would be easy to shrug off Waterparks as just another attempt to fit this seemingly ever-growing, ever-popular mold.
However, the Texas-based trio are developing their own creative zone—a place free from rules and expectations—where dreams and reality coexist, being yourself is celebrated and pizza and Go-Gurt are on the menu. That is the true essence of pop punk after all, isn't it? Perhaps. But for these 20-somethings, it goes beyond pre-show rituals of getting hyped to Rae Sremmurd's anthem, "No Flex Zone." Waterparks call all the shots in their "zone," where a rejuvenated, hyperactive no-holds-barred attitude is making big things happen.
THEY ARE FRESH
When AP caught up with Waterparks, the young band had released their latest EP Cluster that day, recently scored their very first tour van, were only two days into their first "real" tour (alongside Never Shout Never, Metro Station and Jule Vera), and at that very moment were in the process of bleaching their videographer's hair.
"He trusts me," says electric-blue haired frontman Awsten Knight,. "But I'm actually not that good, so I just bailed out to do this [interview] while he fends for himself." Knight, in true pop-punk fashion, is not shy to talk about how he is spending his day—in his skivvies, no less. "I'm sitting here in my underwear and enjoying looking at what people are saying about the EP online," he says with a jovial demeanor. "It's going very well so far, I think."
THEY HAD AN EP BEFORE THEY WERE A BAND
Waterparks first formed in late 2011, with Knight handling everything for the development of their first EP, Airplane Conversations, before even having a band in place. Enter guitarist/vocalist Geoff Wigington and drummer Otto Wood, but the band decided to skip a bass player. "We like being a three-piece," Knight explains. "We like the dynamic that we currently have because I think if there was another opinion thrown in the mix or another personality, it might not work as well as it currently does."
Having signed with Equal Vision Records on Nov. 6, they are set to release their first full-length, studio album this year, but so far, they have less than a handful of EPs in their repertoire—2012's Airplane Conversations, 2014's Blacklight and their most recent effort, Cluster. "We wanted to wait for an album until a label was involved and we felt like we were in a place to where people would care," Knight says with a laugh. "I wouldn't want to put out a 15-song album and then [have only] 20 people be like 'Cool!'"
MIKEY WAY RECORDED BASS FOR THEM #SQUADGOALS
It's no doubt the rookie pop-punkers already have a solid backing, having enlisted the help of Benji and Joel Madden, who co-produced Cluster, producer Courtney Ballard (5SOS, State Champs, the Used) and former My Chemical Romance bassist Mikey Way, who picked up the bass duties on Cluster. But, how exactly did Waterparks become Good Charlotte's new favorite band?
GC GIVE THEM MOM-LEVEL COMPLIMENTS
Let's flashback to November 2015. The pop-punk veterans had just announced their highly-anticipated reunion show and billed Waterparks as the sole opening act, leaving many begging the question: who are Waterparks? A mere 14 days later, the virtually unheard-of Texas trio took the stage of Los Angeles' famed Troubadour ahead of their long-time idols.
"No one is as nice to us as them except, like, our moms. They were saying stuff where'd I'd be like 'Dang. That's in competition with my mom," Knight recalls, still in disbelief that the Maddens would call Waterparks "fucking great." Since that first meeting, Waterparks travelled back and forth between California at least once a month for recording and shooting music videos before receiving an unforgettable phone call that went something like this:
"So, we're doing a reunion show and we're going to have you open up."
"Fuuuccckkk."
"That was insane. That was the coolest thing," Knight recalls. "We're all looking at each other like 'Is this real life right now?'" But what makes Waterparks so special? Well, you will have to ask someone else, like the Madden brothers (or each band member's respective moms,) because you won't hear it from Waterparks themselves. "It's kind of hard for me to sit here and be like, 'This is why I'm unique and this is why I'm better than everyone else,'" Knight insists. "Me? I'm going to be like, 'Hey, I think we're pretty good. I like what we do. We try and throw in a lot of curveballs. We don't want it to be like 'Here's a pop-punk EP. Here you go.' We try and do different things in the music people might not expect, especially from a band some people consider pop punk."
KNIGHT IS BASICALLY A HAIR STYLIST
"I gotta check on my friend's head," Knight says. "He's been sitting there with bleach on his head for a minute. I'm really good at dying hair. I'm not amazing at bleaching it." For his own locks, Knight concludes that the next hue will be the "most neon green ever" or pastel purple.
"It's still kind of up for debate."