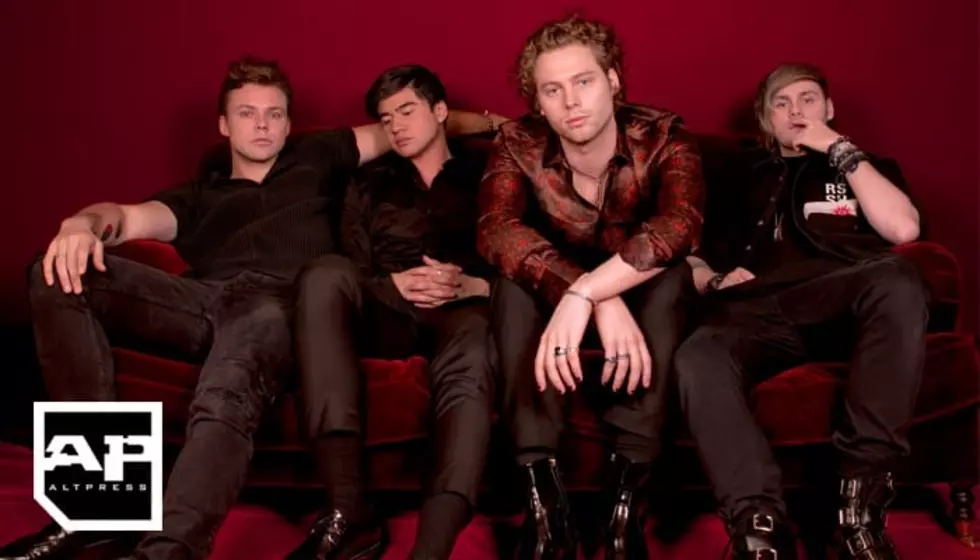 5SOS fans support Ashton Irwin following the Chainsmokers tour backlash—UPDATED
[Photo by: Giselle Dias]
UPDATE: FEB. 12, 10:22 P.M. EST
For fans that are worried about Irwin's mental health, an Instagram comment from his sister, Lauren Dawkins says he is doing fine.
A fan apparently reached out to Dawkins on a photo asking how he was holding up regarding all of the backlash from 5SOS's tour announcement with the Chainsmokers.
"He's perfectly fine," Dawkins says. "
The hate doesn't get to him, he's stronger than you think."
ORIGINAL POST: FEB. 12, 8:26 P.M. EST
After announcing their forthcoming tour with the Chainsmokers earlier today, 5 Seconds Of Summer have come under fire. Additionally, 5SOS drummer Ashton Irwin has allegedly been urged by "fans" to relapse with self-harm following the tour announcement.
After receiving a plethora of nasty comments on an Instagram post shared yesterday, Irwin opted to turn the comments off. However, according to a 5SOS update and fan account, the drummer had pretty good reason to do so.
In a series of tweets, the user alleges that other followers were telling Irwin to relapse. While much of the fandom does not support the band's decision to go on tour with the Chainsmokers, they have now denounced potentially toxic behavior within the community in regards to Irwin's mental health.  
"
I was just notified that fans were telling him to relapse because of this," the Twitter user says.  "YOU SHOULD BE ASHAMED OF YOURSELF. It is absolutely DISGUSTING to tell ANYONE that. and ASHTON of all people don't deserve it. I actually feel sick to my stomach. I am ashamed to be part of the same fandom."
Additionally, Irwin has also
struggled with alcoholism
and various family issues in the past. According to tweets, some of the harsher critics are also rehashing those demons.
However, Irwin is now receiving an outpouring of support following the alleged comments. Since Irwin turned off the comments on his Instagram post, the hashtag "#WeStandWithAshtonIrwin" has begun trending on Twitter in the United States.
Check out a few of the supportive tweets below.
Originally, many fans were angered over the band's decision to tour with the Chainsmokers because of duo's rocky track record. That said, many fans dug up old interviews and articles involving the Chainsmokers that documented instances of racism or misogyny.
Additionally, 5SOS recently recorded a song with the Chainsmokers. You can listen to "Who Do You Love" below.
If you or someone you know is struggling with mental illness, there is help to be found. Please consider these online resources and talk to your regular doctor about your symptoms:
MentalHealth.gov – Get Immediate Help
ImAlive – Online Crisis Network
International Association For Suicide Prevention – Resources
The Anxiety And Depression Association Of America
The National Alliance On Mental Illness
American Psychiatric Association – Finding Help
National Institute Of Mental Health
American Psychological Association – Psychologist locator
[envira-gallery id="199143"]