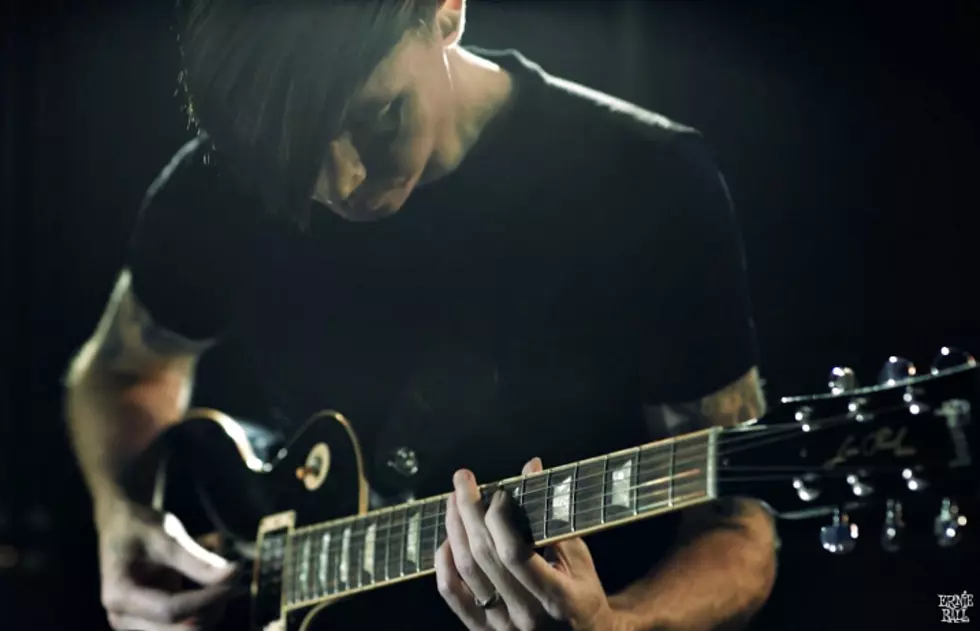 AFI's Jade Puget: "Even if people don't like where you're going, you still have to go somewhere"
Ernie Ball's String Theory web series explores the sonic origins of some of music's most innovative players. In their latest episode, Ernie Ball artist Jade Puget of AFI gives an intersting look at how he cut his teeth as a guitar player in the '80s punk scene as well as the continual evolution of AFI while maintaing a signature sound. 
Read more: Tom DeLonge sets the record straight in new documentary
It all started when Puget was in high school, he got mono and was stuck at home for over a month. There happened to be a guitar lying around, and during that time is when he started learning to play.
Puget, who was a self-taught player, was a punk and a skater who at first was more focused on creating a feeling with music than showing off his technical skills. In the episode, he talks about how that was colored by the rivalry between punks and metalheads during that time.  
"To us, [metal] was the antithesis of punk because it was all about shredding and how you looked and how good you could play," he says, "and to us, looks didn't matter and playing wasn't important."
That deterred him from learing to be a more technical player when first he started. "I almost resisted being a shredder and learning stuff because that put you in the other world, that kind of put you in the metal world," he says, "whereas punk was just about aggression and simplicity." 
That technical element eventually found its way into his writing and playing as time went on and he learned that he like to shred, and he couldn't help but learn scales and riffs. "I kind of was at war with myself: Am I a simplistic player? Is it punk? Is it Hardcore? Or do I want to dip into this world and learn how to play arpeggios and learn technique," he says. "I always kind of trod that line. And still to this day."
Punk and hardcore remain a very important part of AFI and that will always be a part of their sound, he says, but it's important to continue to evolve as an artist. 
"You have to push forward always," Puget shares. "Because when you start becoming stale and start repeating yourself, then what's the point? You can't even attempt relevancy at that point."
The band could easily play loud and fast like they did on The Art Of Drowning again, but that wouldn't be a progression. "Artistically there's no merit to that, so even if people don't like where you're going," he says, "you still have to go somewhere." 
Check out the full interview and a list of dates when you can catch AFI on the Blood Tour below. Here's a link to Ernie Ball's YouTube page, which includes previous Ernie Ball: String Theory episodes with Metallica's Kirk Hammett, Eagles of Death Metal's Jesse Hughes, Tool's Justin Chancellor and more.
All of AFI's upcoming tour dates:
APR 08    WHEN WE WERE YOUNG FEST    SANTA ANA, CA

MAY 05    ALEXANDRA PALACE W/ DEFTONES LONDON, UNITED KINGDOM

MAY 06    O2 APOLLO W/ DEFTONES MANCHESTER, UNITED KINGDOM

MAY 07    SECC W/ DEFTONES GLASGOW, UNITED KINGDOM

JUN 02    THE NATIONAL    RICHMOND, VA    

JUN 03    STAGE AE    PITTSBURGH, PA

JUN 04    BUNBURY MUSIC FESTIVAL (JUNE 2-4)    CINCINNATI, OH

JUN 06    THE NORVA    NORFOLK, VA

JUN 07    THE WEBSTER THEATER    HARTFORD, CT

JUN 10    DOWNLOAD FESTIVAL UK (9-11 JUNE)    DERBY, UNITED KINGDOM

JUN 15    FIREFLY MUSIC FESTIVAL (JUNE 15-18)    DOVER, DE

JUN 17    LUPO'S HEARTBREAK HOTEL    PROVIDENCE, RI

JUN 18    STARLAND BALLROOM    SAYREVILLE, NJ

JUN 20    HOUSE OF BLUES    CLEVELAND, OH

JUN 22    AURA    PORTLAND, ME

JUN 23    MONTEBELLO ROCKFEST (23 - 24 JUNE) MONTEBELLO, CANADA
*** check festival website for date of band's appearance