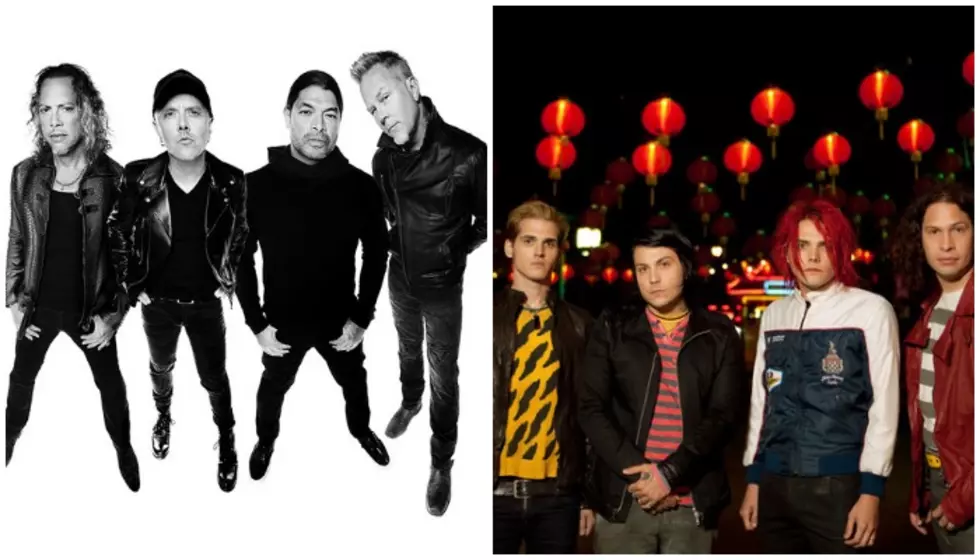 Aftershock postpones until 2021 with MCR and Metallica still headlining
[Photos via Metallica/Spotify, My Chemical Romance/Spotify]
Due to the coronavirus pandemic, Aftershock is postponing its 2020 festival until 2021. Despite this setback, however, the festival has confirmed that headliners My Chemical Romance and Metallica are returning for next year's festival.
Aftershock Festival 2020 was scheduled to happen on Oct. 9 - 11.
Aftershock follows a slew of festival postponements this year. Glastonbury, Reading & Leeds, SXSW and Coachella are just a few of the festivals that are no longer taking place in 2020.
On Friday, the cancellation of the 2020 festival was announced. However, headliners My Chemical Romance and Metallica are confirmed for 2021.
"After all the harm caused by COVID-19," the statement says. "There is nothing that we wanted more than to be celebrating Aftershock with you for what was going to be a monumental weekend. We waited as long as we could but, unfortunately, the recent spike of cases now requires that we reschedule this year's sold-out Aftershock to 2021."
The 2021 festival is now taking place from Oct. 7 - 10, 2021. As well, an additional day has been added for next year's event.
"We are excited to announce that, thanks to our friends at Jack Daniel's, we are adding a fourth night to Aftershock 2021, as an epic celebratory evening to kick-off the return of California's favorite rock festival."
Metallica also confirmed they are still playing two headlining sets in 2021.
My Chemical Romance also released a statement regarding the postponement.
"It is a bittersweet moment looking at the 2020 calendar," they say. "And watching all the incredible experiences we planned on sharing with each other and our fans this year slowly slip away. However, knowing that the world is historically changing for the better. And that those experiences are simply postponed until next year for the safety of all involved, and not canceled, is a comforting and welcomed feeling. Our hearts go out to everyone affected by this terrible pandemic and we support every effort to keep every human being safe and healthy."
Besides My Chemical Romance and Metallica, no other acts for next year's Aftershock have been announced. The festival's full lineup announcement is happening in October.
For information regarding ticket refunds and more, head here.
Are you excited to see My Chemical Romance and Metallica headline next year's Aftershock Festival? Let us know in the comments below.