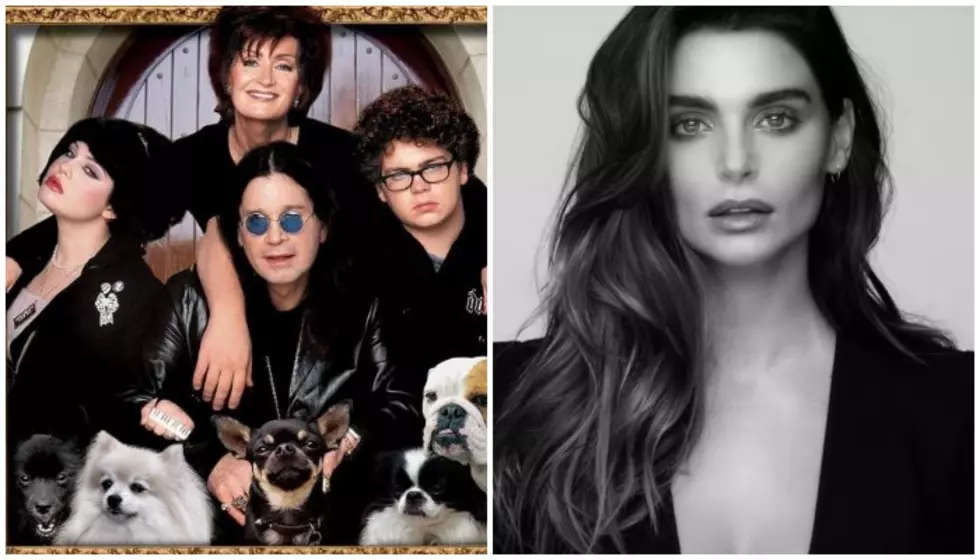 Aimee Osbourne has a good reason for not appearing on 'The Osbournes'
[Photos via The Osbournes/MTV, Aimee Osbourne/YouTube]
We first fell in love with The Osbourne family back in 2002 when their hit reality show aired on MTV. However, the series didn't include the entire Osbourne clan. Ozzy and Sharon's eldest daughter Aimee Osbourne did not take part in her family's reality show.
Now, Aimee is revealing why she decided to not appear on The Osbournes.
The Osbournes aired on MTV from 2002-2005 and helped pave the way for the reality TV we know today. The series starred Ozzy, his wife Sharon and children Jack and Kelly. Although Aimee had the opportunity to join the series, she had a good reason for deciding not to.
In a new interview with New York's Q104.3 radio station, Aimee says that she didn't want to grow up in front of the camera. For her, having Black Sabbath's frontman as her father was enough.
"To me, I'd grown up around having a pretty well-known dad anyway, and I always really valued my privacy within that family," she says.
She further shares that by not being on The Osbournes, she was able to grow up in her own way.
"For me personally," she continues. "For who I am, as far as morally, and also just to give myself a chance to actually develop into a human being as opposed to just being remembered for being a teenager, it didn't really line up with what I saw my future as."
Aimee acknowledges that the reality series "definitely worked great" for the rest of her family. In order for her to grow, however, she knew the show wasn't right for her.
"I just knew it was never something that I would have been able to consider realistically," she says.
Last month, we learned that Sharon, Ozzy and Jack are returning to television for a new paranormal series. The Osbournes Want To Believe premiered Sunday, Aug. 2 on the Travel Channel.
In the series, Jack shows Sharon and Ozzy various clips pertaining to paranormal activity. Some of the clips include footage of poltergeists, haunted dolls, UFOs and unidentifiable beasts. As Sharon and Ozzy are both skeptics, this new series is bound to be entertaining and perhaps even eye-opening.
As well, Osbourne's new documentary The Nine Lives Of Ozzy Osbourne arrives on A&E this summer. Produced by Jack Osbourne, the documentary shows the Black Sabbath vocalist's life and career throughout the years. The film will also show his struggles with his Parkinson's diagnosis and previous health issues. Directed by Greg Johnston, The Nine Lives of Ozzy Osbourne is the first documentary to be released about Ozzy in over ten years.
In July, Sharon gave an update on Ozzy's health. She also revealed that he is currently working on a new album.
Aimee Osbourne's full interview is available to watch below. In the interview, she also talks about her new music under the project ARO. She just released her first music in four years with "Shared Something With The Night."
Were you a fan of The Osbournes? Let us know in the comments below.