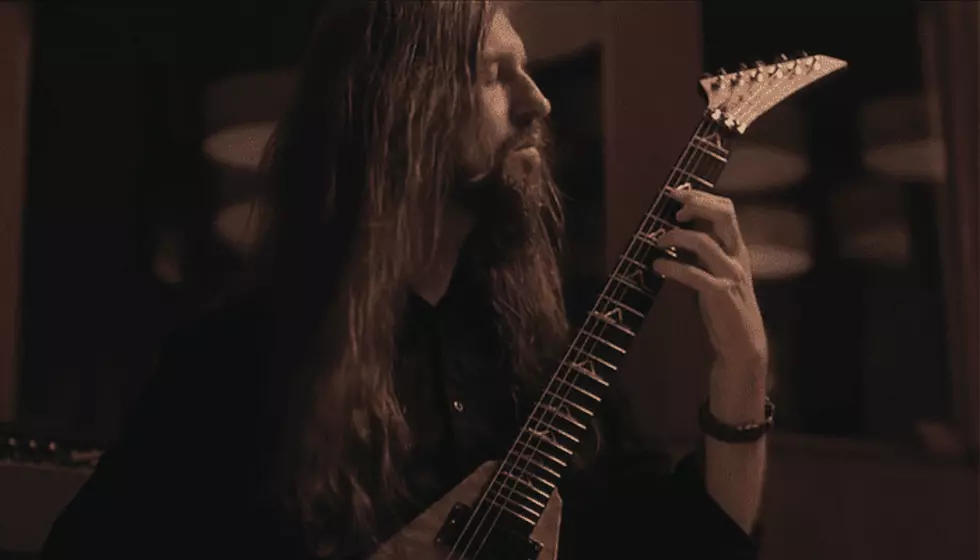 All That Remains' Oli Herbert memorial service announced
[Photo via Instagram/allthatremains]
All That Remains guitarist and founding member Oli Herbert died at the age of 44 last month. The band made the announcement Oct. 17 with little information at first, and it was later revealed to be an accident.
Today, it's revealed a public memorial for Herbert will be held later this month.
The memorial service will be held Sunday, Nov. 11 at the Worcester Palladium in Worcester, Massachusetts from 2 to 5 p.m., as stated on the official event page.
The service will honor Herbert's life with a special video presentation including personal photos, music clips and artist tributes. Fans can also share their own photos of and with Herbert by sending them to his publicist at suzanne@suzannepenley.com. Submission must be received by Nov. 8 at noon.
All That Remains are asking for videos of Herbert. "Oli Herbert was an incredibly talented musician and guitarist," they tweeted. "Help us honor his legacy by submitting your All That Remains guitar covers and live moments of Oli."
here
The service will be open to the public, and is based on a first come, first serve basis for the first 350 people. An optional $10 donation will benefit the 14th Hour Foundation, which is described as a charity that's very important to Herbert. Each donator will also receive a raffle ticket for door prizes to be given away during the service.
The site describes the foundation's mission as "honor[ing] and support[ing] individuals and their families that have served and sacrificed to protect the American Homeland." The memorial event page also points out that 14th Hour Foundation founder Kris Paronto appears in All That Remains "Madness" video.
The service will be live streamed on Herbert's Facebook page for fans who are unable to attend beginning at 2:15 p.m. Nov. 11.
All That Remains first announcement
All That Remains announced Oct. 17 that Herbert passed away at age 44. Their full statement was as follows:

"We were devastated to learn that Oli Herbert, our friend, guitar player, and founding member of All That Remains, has passed away.
Oli was an incredibly talented guitarist and songwriter who defined Rock and Metal from the Northeast. His impact on the genres and our lives will continue indefinitely.
No further details are available at this time. The band and family request that you please respect their privacy and remember Oli by celebrating the great music he made."


Herbert's widow, Beth, later took to his Facebook page to thank fans for the kind words.
"Hello everyone this is Beth, Oli's widow. Thank you all for the kind thoughts and words. I don't want to go into what happened until we have a complete picture, but as soon as we do there will be a statement from the family on this page. In the meantime, please respect our privacy as there are still relatives being informed of Oli's passing. Thank you."
She also stated no details were currently available and a formal statement would be released within the next few days.
However, Billboard reported that Herbert was found dead in a pond near his Connecticut home Tuesday, Oct. 16 around 5 p.m. Connecticut State Trooper spokesperson Tanya Compagnone stated he was reported missing, which led to officers searching the area.
Officials stated nothing appeared suspicious about his death, and an autopsy to determine the cause was scheduled for Wednesday, Oct. 17. No further information on the cause of death has been revealed at this time.
We extend our deepest condolences to All That Remains and Herbert's family and friends at this time.