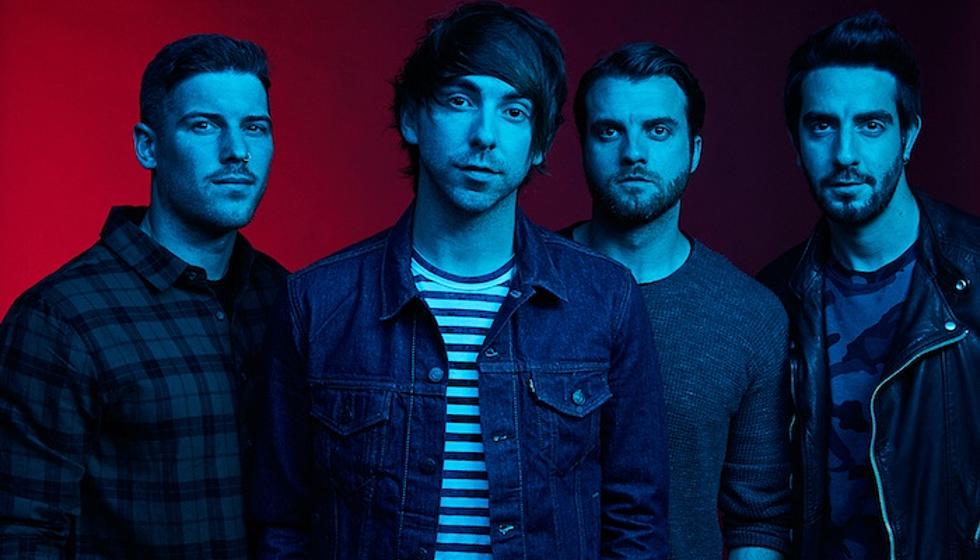 All Time Low launch beer collab with perfect throwback-inspired name
[Photo by: Jimmy Fontaine]
All Time Low is teaming up with Full Tilt Brewery to create a new beverage called Beer Maria Count Me In!
This isn't the first time the band has ventured into the world of food and beverage. Last March, ATL frontman Alex Gaskarth made a sweet investment with the company.
Full Tilt founders Nick Fertig and Dan Baumiller originally opened the brewery using Peabody Heights Brewery's facilities in Baltimore six years ago. While it was efficient, they wanted a place of their own. Thanks to Gaskarth's and others' contributions, that dream finally came true.
With his involvement in the scene between ATL and Simple Creatures, Gaskarth thought it was something he should do.
"Seeing how those worlds collide so often, I felt like it was important to get involved," he says.
Guitarist Jack Barakat has also been involved with Baltimore's The Rockwell and Los Angeles-based The Riff.
Now, ATL and Full Tilt are coming together to have a night of music and fun. On New Years Day, the company announced online that All Time Low would be making an appearance at the brewery as guest bartenders and would also have their own performance.
The event will be held at Full Tilt Brewery in Baltimore, Maryland on Jan. 20. It's strictly 21+ and there is no ticket required for entry. For more information, check out the Facebook event
here
More on All Time Low
On top of beer collaboration ATL are certainly up to something. The band's social media, as well as all the members including Alex Gaskarth and Jack Barakat, recently posted a cryptic video. We know All Time Low are recording a new album but is this the first tease?
In a now deleted tweet, the iconic Panda from the "Birthday" video and he lights a barrel on fire that contains a pretty significant item.
In the video the panda walks into an empty warehouse. Old theater piano music is playing in the background. We see the panda light a match and toss it into a barrel. The panda walks out and the camera zooms in on the barrel, which now has a raging inferno inside. Inside the barrel appears to be an iconic jacket representing All Time Low's last LP Last Young Renegade.
In addition to all of All Time Low posting the video into their feeds, they also all blacked out their profile pictures.
Does it mean new music? Is the panda going to be a new member? Who knows? All we do know is that All Time Low is sure getting our blood pumping and our minds racing
What do you think of All Time Low's and Full Tilt's Beer Maria collaboration? Let us know in the comments down below!
[envira-gallery id="195007"]