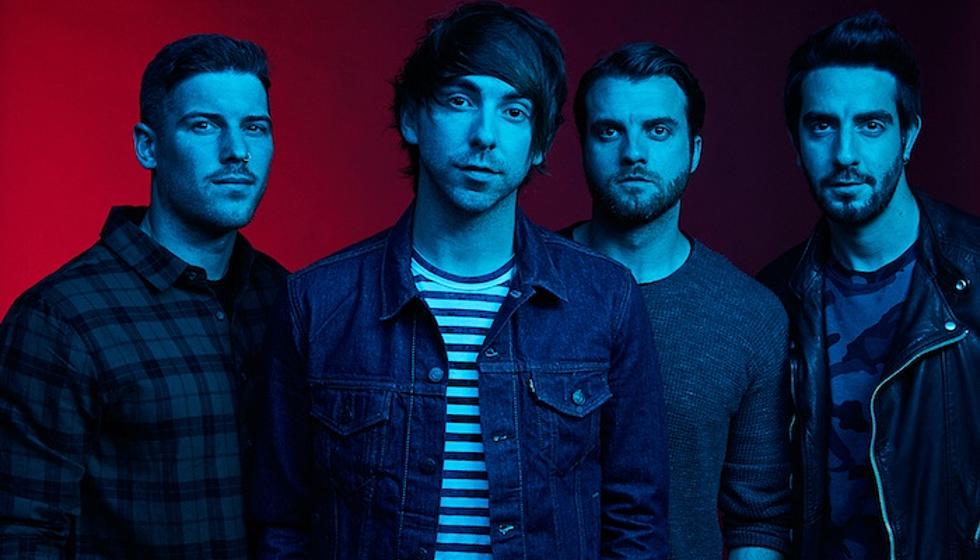 All Time Low unveil their own wine with perfect track-inspired name
[Photo by: Jimmy Fontaine]
All Time Low are now pairing your favorite jams with the perfect adult beverage. The band revealed 'Everything is Wine,' a Cabernet Sauvignon made exclusively for ATL fans.
Check it out below!
Vinted and bottled by E2 Family Winery in Lodi, California, 'Everything is Wine' is the perfect pairing to your favorite All Time Low song.
"Wine and Music are distant cousins," the website stats. "Products of the heart and soul woven together: complex, none the same, each telling a unique story: They anchor us to our memories. Close your eyes and recall the feeling; a song takes you back to a first love, a lasting heartbreak, or just a damn good party... It's a powerful magic, like an invisible string pulling you back in time, rooted in the ambiance of the moment, stirring at the bottom of your glass like a familiar melody stirs up forgetten emotion. It is with that in mind that we present you with 'EVERYTHING IS WINE,' a Cabernet Sauvignon that we hope you'll share with friends, family and loved ones on the nights that memories are meant to be made. Throw on your favorite record and raise a toast to the moments that will live on forever at the bottom of this bottle."
You must be 21+ to order 'Everything is Wine.' Bottles are $24.99 each with a minimum order of two. You can snag your bottles here.
The announcement comes shortly after the band revealed their 'Everything is Pride' merch in collab with Pride Month. All proceeds from the T-shirt and hoodie benefit The Trevor Project.
You still have time to snag yours before the limited run is over!
To grab yours, visit All Time Low's merch store.
Will you be grabbing a couple of bottles of 'Everything is Wine'? Sound off in the comments below!
[envira-gallery id="194483"]