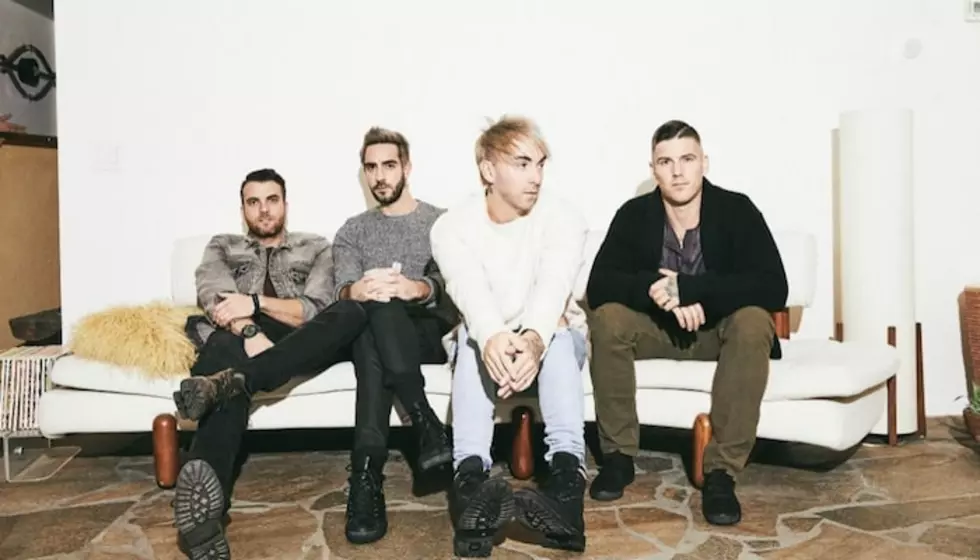 All Time Low panda demands "Getaway Green" release after kidnapping
Rian Dawson of All Time Low has been kidnapped by the infamous "Birthday" panda. The crime occurred on Sunday, March 15 during an Instagram Live video hosted by Alex Gaskarth.
Dawson joined Gaskarth but they were interrupted by knocking on Dawson's door. Dawson went to answer and was replaced by the panda, with a ransom note telling the band to release a new song from Wake Up, Sunshine called "Getaway Green."
This isn't the first time the panda has made an appearance in this new era of All Time Low. In one of the first teasers for Wake Up, Sunshine a video was released of the panda entering an old warehouse and burning a Last Young Renegade jacket. The video was deleted shortly after but is kept alive on fan accounts. 
A few weeks later, All Time Low announced the new album and we haven't heard from the panda since. Until now. 
Gaskarth began an Instagram Live video after announcing it on Twitter.
Dawson joins the video from his own end and is soon kidnapped by the panda who enters the frame, holding a sign that says "release getaway green if you want to see rian again." 
All of Dawson's social media accounts show the panda with the sign and the rest of All Time Low doesn't know what to do. They announced Dawson's kidnapping on Twitter but said they do not negotiate with pandas. 
It has come to our attention that Rian has been kidnapped by a panda. Although Rian is a great drummer, we do not negotiate with pandas. We will not #ReleaseGetawayGreen before the album drops for any reason. ⁃All Time Low #FreeRian
Jack Barakat also chimed in on his thoughts regarding the situation.
"Getaway Green" is the third track on All Time Low's upcoming album. They've previously released  "Some Kind Of Disaster" and "Sleeping In." Wake Up, Sunshine is due out on April 3. We have a pretty strong feeling we'll get to hear "Getaway Green" before that though.
The full album is available for preorder with all of the fun bundles and merchandise here. The full tracklist is below.
Wake Up, Sunshine Tracklist
1. "Some Kind of Disaster"
2. "Sleeping In"
3. "Getaway Green"
4. "Melancholy Kaleidoscope"
5. "Trouble Is"
6. "Wake Up, Sunshine"
7. "Monsters" feat. blackbear
8. "Pretty Venom (Interlude)"
9. "Favorite Place" feat. The Band CAMINO
10. "Safe"
11. "January Gloom (Seasons pt. 1)"
12. "Clumsy"
13. "Glitter & Crimson"
14. "Summer Daze (Seasons pt. 2)"
15. "Basement Noise"
Do you Rian Dawson will be okay? Will All time Low release the song and free him? Only time will tell.
You can read All Time Low's first interview on Wake Up Sunshine featured in Issue #380 with cover stars Palaye Royale.
[envira-gallery id="194483"]