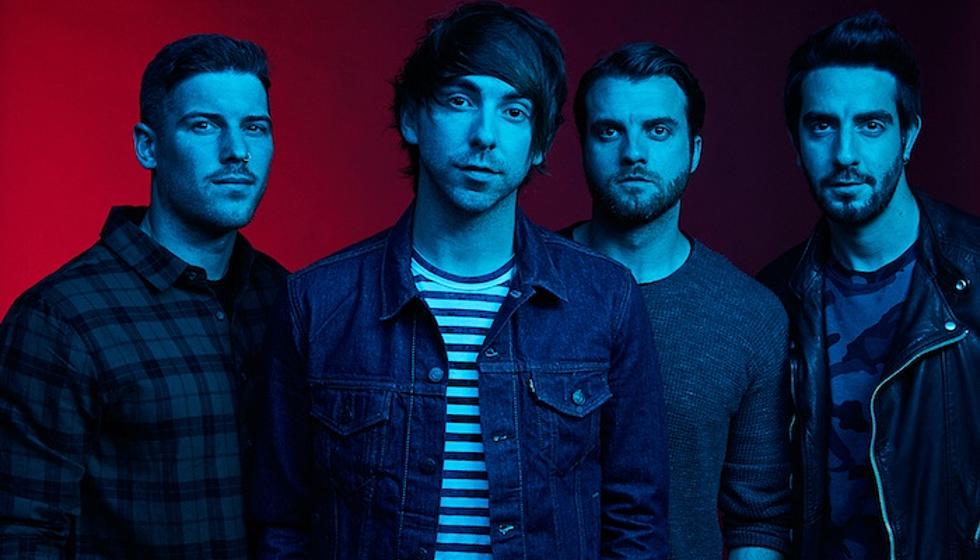 All Time Low symbol-filled teaser video sparks new era theory—UPDATE
[Photo by: Jimmy Fontaine]
All Time Low are certainly up to something. The band's social media, as well as all the members including Alex Gaskarth and Jack Barakat, posted a cryptic video. We know All Time Low are recording a new album but is this the first tease?
We see the iconic Panda from the "Birthday" video and he lights a barrel on fire that contains a pretty significant item. Get more details below.
Last Young Renegade. . 
In addition to all of All Time Low posting the video into their feeds, they also all blacked out their profile pictures.
Exactly what this means can't be confirmed yet. Does it mean new music? Is the panda going to be a new member? Who knows? All we do know is that All Time Low is sure getting our blood pumping and our minds racing less than one day into the New Year.
All Time Low confirmed the end of the Last Young Renegade era in July 2018, following it up with a few singles, "Everything Is Fine" and "Birthday," (as promised) later that summer. As 2019 kicked off, frontman Alex Gaskarth revealed the band would be taking "a bit of a break" this year, which in turn allowed time for his side project with Mark Hoppus, Simple Creatures, and guitarist Jack Barakat's WhoHurtYou.
In March, the band confirmed the break was done, with plans to have new music out "definitely by 2020." All Time Low also revealed they started working on some demos that will take what they learned with Last Young Renegade "and maybe make it a bit more upbeat." Gaskarth admitted this past summer was a "nice window" to dig into the demos together.
They debuted a new track, "Getaway Green," live at Slam Dunk in May, and while there's no confirmation that this will appear on their forthcoming album, we've got our fingers crossed for another update soon.
UPDATE: JAN. 2, 2020, 4:01 P.M. ET
Approximately 24 hours after posting their panda teaser video, All Time Low have deleted all traces of it.
While the band's profile pictures remain an empty black image like yesterday, the video of their "Birthday"-starring Panda setting fire to the Last Young Renegade era jacket has been deleted.
Fans noticed the missing clip around 1 p.m. ET, which has sparked even more questions than before. Check out some of the reactions below.
While the band and each member deleted the video, fans uploaded the clip originally titled "panda_1120.mp4" to their own accounts shortly after posting, which you can see below.
What do you think the now missing video means? Let us know in the comments below.
More All Time Low 
All Time Low celebrated the end of the year with a slew of Nothing Personal 10-year anniversary shows. The band hit the Starland Ballroom for the third time Sunday, marking their final stop of the mini run. Adding to an already electric evening, the four-piece appropriately covered a classic My Chemical Romance track while in the latter's hometown at a venue they've played multiple times.
All Time Low kicked off their Nothing Personal shows in mid-December in Los Angeles at the Fonda Theatre. The gig marked the first time they played two tracks off the 2009 LP, "Hello, Brooklyn" and "Walls."
While reflecting on the album earlier this year, frontman Alex Gaskarth explained why the band hadn't played "Hello, Brooklyn" live before.
"There's definitely things that I probably wouldn't do now on a song that I did then," Gaskarth states. "I was trying things and wanting to make stuff work. And other things were a little bit of a lack of knowledge of how to correctly write songs."
"I probably wouldn't chant the names of a bunch of cities again if I was being honest. [Laughs.] But that song was fun actually because we, so "Hello Brooklyn," we've literally never played live. That's one we really had to dig in on and get right as we played it again for this rerecord."
Now, All Time Low are solidifying another first for this run of shows by playing a cover of MCR's "I'm Not Okay (I Promise)." However, this isn't the first time the band have covered MCR. Last December at a Good Things Festival after-party, Gaskarth joined Palaye Royale for their "Teenagers" performance.
My Chemical Romance made their big return with "I'm Not Okay (I Promise)" Dec. 20 at the Shrine making the ATL cover all the more special.
Check out clips of All Time Low's "I'm Not Okay (I Promise)" performance and Sunday evening's full setlist below.
What do you think this cryptic All Time Low teaser means? Sound off below.
[envira-gallery id="194483"]