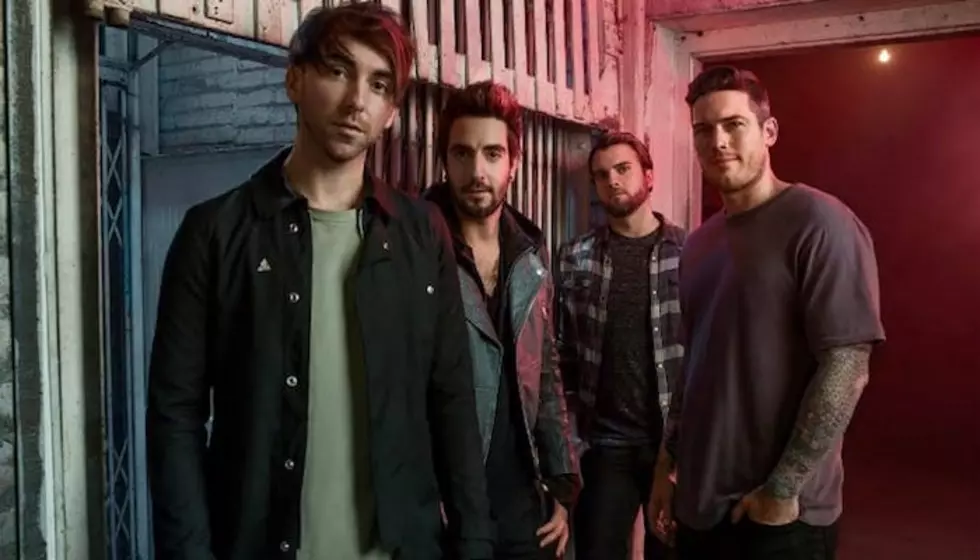 All Time Low third teaser clip has fans speculating new logo release date
All Time Low are at it again with a new cryptic teaser and it has some fans believing a new logo reveal is coming soon.
On Jan. 8, the band uploaded a mysterious panda-filled video and then deleted it the following day. With blacked-out profile pictures for the band account and each member, they first shared a video of the "Birthday" music video panda setting fire to a Last Young Renegade jacket, suggesting the end of their most recent era started in 2017.
Exactly one week later, the band uploaded a second video that sparked even more theories concerning a possible new era.
Nothing Personal
each member has inked
Future Hearts
Now, again exactly one week later, ATL dropped yet another teaser video much like the last one.
Like the previous clips, the video is captioned with its release date, but as if it's a file on your computer: "011520.mp4." It also features the logo from Future Hearts glitching out to the spade from thier 2017 LP Last Young Renegade.
Another fan believes it's an extension of the
Young Renegades
If they keep the trend going, it looks like they will be giving us another clue (if we're lucky, maybe a full announcement) on Wed. Jan 22.
More on All Time Low
All Time Low confirmed the end of the Last Young Renegade era in July 2018, following it up with a few singles, "Everything Is Fine" and "Birthday," (as promised) later that summer. As 2019 kicked off, frontman Alex Gaskarth revealed the band would be taking "a bit of a break" in 2019, which in turn allowed time for his side project with Mark Hoppus, Simple Creatures, and guitarist Jack Barakat's WhoHurtYou.
In March 2019, the band confirmed the break was done, with plans to have new music out "definitely by 2020." All Time Low also revealed they started working on some demos that will take what they learned with Last Young Renegade "and maybe make it a bit more upbeat." Gaskarth admitted this past summer was a "nice window" to dig into the demos together.
They debuted a new track, "Getaway Green," live at Slam Dunk in May 2019, and while there's no confirmation that this will appear on their forthcoming album, we've got our fingers crossed for another update soon.
Have any ideas what the new All Time Low teaser means? Let us know in the comments down below!
[envira-gallery id="186695"]