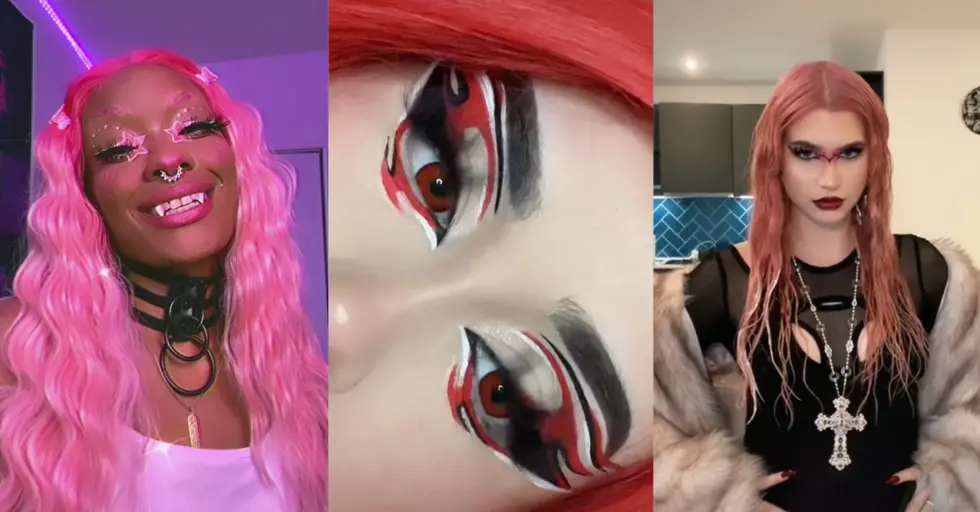 5 beauty products taking over #AltBeautyTikTok
It's strange how short of a decade ago, you'd have to loot every CVS drugstore in a five-mile vicinity just to find a sorta OK-ish dark eyeshadow that you'd also have to use as a makeshift lip tint and contour while blacking out your nails with Sharpie. Among the gloss and glitter, the beauty industry, from high-end to drugstore, had always fallen short when alternative makeup lovers needed a sturdy lipstick and eyeliner combo darker than their soul (and one that wouldn't smudge while they cried along to Mayday Parade's "Miserable At Best" in the back of their mom's Toyota Corolla on the way to middle school).
Read more: Glam Goth Beauty is transforming alternative beauty standards—here's how
In the height of a 2000s alternative revival, TikTok has become the epicenter for breaking trends in alternative fashion and beauty. Now with the integrated shopping feature, it couldn't be easier to find the perfect products to achieve a look that makes you stand out from the rest.
NYX Jumbo Eye Pencil
Do you want nose contour that makes you look like one of Tim Burton's creations? Or a cute pop of brightness in your pink kawaii look? The jumbo eye pencil is a beloved treasure among all realms of alternative beauty. Its creamy texture, generous amount and budgeted price point make it a sustainable, wallet-friendly option that can be used on the eyes, nose, lips and cheeks.
wet n wild has a similar eye pencil that seems to also do the trick! 
Good Dye Young
When you think of iconic hair colors in the 2000s, Hayley Williams is a name that rings every bell. Who would know what good hair dye is like someone who probably had to dye their hair in the bathroom with a tiny mirror and missed a few spots? Williams' co-owned brainchild, Good Dye Young, is hailed among TikTok creators and consumers as the best dye around. 
From "Rock Lobster" to "PPL Eater," there's a color for every aesthetic (and yes, they do black, and it's emo AF).
25mm Lashes
From pastel goth to e-girl, or trad goth to emo, it seems that a concurrent theme among all fans of alt makeup is lashes so long, they can help you fly away. Need some shade from that pesky sun burning you in your all-black outfit? Pop on a 25mm lash — it might help. 
Wet Liners
As the late '90s to early 2000s industrial rave styles find their way back to the mainstream, graphic cut eyeliner is back with vengeance. Wet liners and small artist brushes are a great way to achieve this look.
One brand, in particular, praised tremendously for its consistency and long staying power is Glisten Cosmetics. It has a vast range of colors, used for your eyes or eyebrows.
Palettes — but which one?
What palette hasn't gone viral on TikTok? Unlike what feels like the dark ages but was only some decades ago, there's now a bountiful range of palettes that cater to every skin type and texture. Some of our favorites include...
Glam Goth Beauty's Dark Renaissance Palette — three words: buttery, rich, stunning.
HipDot x My Chemical Romance — is there a better way to relive your emo youth? If so, we don't want it. We want this.
Trixie Cosmetics — nobody can paint to the backroom and beyond like Mattel. Her line is a cult favorite on TikTok, and for good reason.
wet n wild x Sanrio – though impossible to find now, who can forget when this collection dropped? It quite literally broke the internet.
There are lots of choices. Here are more outstanding palettes from growing and glowing brands that we discovered from TikTok.