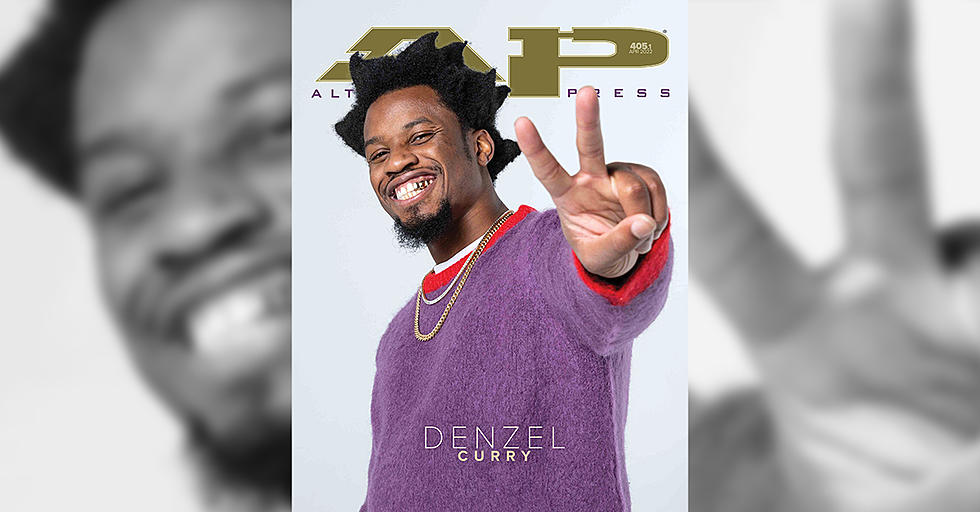 Denzel Curry remains unpredictable, but now he's taking off the mask
It's another new month, which means it's time for the next issue of Alternative Press. We're thrilled to present our April issue (#405) with cover star, and hip-hop trailblazer, Denzel Curry. Check out a preview of the story below.
Within the pages of the new issue, Curry is joined by a slew of exciting artists, including THE BLSSM, Bloc Party, State Champs, Stand Atlantic, Orville Peck, Melody's Echo Chamber, Fontaines D.C. and more.
Denzel Curry cover story
Denzel Curry is one of the most inventive MCs in hip-hop. From debut Nostalgic 64 to 2020's Unlocked, the artist prides himself in being hard to pin down. It's one of the many qualities that make his new record, Melt My Eyez See Your Future, so alluring.
In our cover story, Curry walks us through its creation and influences. He reveals that he saw the album as a trilogy at one point, but ultimately, his aim was to "stop trying to please everybody, just stick to what I know or stick to what I like."
Additionally, the album hosts a wide range of collaborators, from Thundercat and T-Pain to Rico Nasty and slowthai. By pulling more people into his orbit, Curry has put out his most boundary-pushing material yet — and it's all part of a greater plan.
"My whole thing is to trick people," Curry explains. "I'm not trying to give people the same thing every time. If people had the choice of making my music for me, they would make [2018 album] TA13OO 20,000 times. If they have the choice of making my music for me, they would make Imperial 50,000 times. So that's why I take it upon myself to switch every time. They'll never know what to expect. My greatest attribute is being unpredictable. But it's also very scary that I'm unpredictable because you never know what you're gonna get."

Read an excerpt from the cover story below, written by Brenton Blanchet.
Skipping the album is near impossible. Melt My Eyez is full of surprises, just as he intended, from a slick feature from Florida icon T-Pain to some love from Rico Nasty and JID to an entire song produced by modern-day funk disruptor Thundercat. Throughout his career, Curry has been almost bashful when it comes to asking other artists to join him on songs, he admits. He tries not to shoot too high, sometimes thinking other artists may not even know him, and usually sticks to those within his inner circle with whom he already has a personal, and creative, relationship. 
But after sharing a Bonnaroo stage with T-Pain a few years back, Curry tossed a couple of tracks to the Rappa Ternt Sanga, one being what he looks at as the album's biggest potential hit in "Troubles." Following some back and forth, and a few months of silence, Pain ended up messaging the verse Curry's way like a buzzer-beater, which made his mom and brother excited for the new batch of material. 
"I already had two verses on it. It was already ready to go," he says. "They knew it was the hit before T-Pain got on that shit. And then when I was going to Muay Thai class, I get a text from T-Pain like, 'Yo.' I hit him back like, 'Yo.' Nothing, didn't answer me back. The next day, I randomly get another text from T-Pain, and it's a Dropbox folder. I was like, 'What the fuck do you send me?' I didn't think he sent me a track. And then I play it, and it's "Troubles." His verse comes on. And I started jumping on my seat because I'm like, 'Oh shit.' It totally slipped my mind that he did that because it's so far removed. He killed it."
Other features on the record — Thundercat in particular — happened pretty casually. Curry and Cat were connected through Flying Lotus, and from there grew a friendship based around a shared love of anime and those nerdy traits that help fuel Curry's music. Thundercat once even let Curry and his girlfriend crash at his crib during a fire drill, to catch up on some Naruto. 
But creating the track "Smell of Death" was the result of Thundercat showing Zel some material he worked on for Kendrick Lamar's Grammy-winning LP To Pimp A Butterfly and toying around with a few other ideas he had in the vault. One idea featured a Fist Of The North Star sample. Needless to say, Curry was immediately sold.
"I just took all the shit that I like, and I had to put it in a way that was interesting," he says of piecing Melt My Eyez together. "I didn't make it super corny. I kept all the lyrics real — I kept everything real. But when you hear those beats, the beats was more important than the lyrics. Especially nowadays, people be like [mumbles], but that beat is knocking. The beat is what's gonna hypnotize you. And that's what I knew was important. So just blending all these influences. I knew they all had to be cohesive in a way, but different."
You can read the full cover story in issue 405, available here or above.
Also in Issue #405:
Orville Peck:

The masked artist reveals how he went from nearly quitting music to conquering the sophomore slump with his new album,

Bronco

.

Bloc Party:

Six albums in, Bloc Party remain one of the most exciting acts in alternative rock. Their new album,

Alpha Games

, is the culmination of all four members synchronizing and contributing.

Stand Atlantic:

For their third album, Stand Atlantic created songs that amplified their suffocating dread and anxiety. The result is

F.E.A.R.

(short for "Fuck Everything And Run"), and it's their fiercest record yet.

State Champs:

With a new wave of artists championing

pop punk

, the genre is soaring high, and it feels like everyone wants to join in on the fun. On their new album,

Kings Of The New Age

, elder statesmen State Champs show us how it's done.

Ghost: Tobias Forge is one of the most formidable visionaries in metal, crafting intricate albums and equally elaborate stage setups. Here, the man behind Ghost discusses new record

Impera

and why his band refuse to be a nostalgia act.