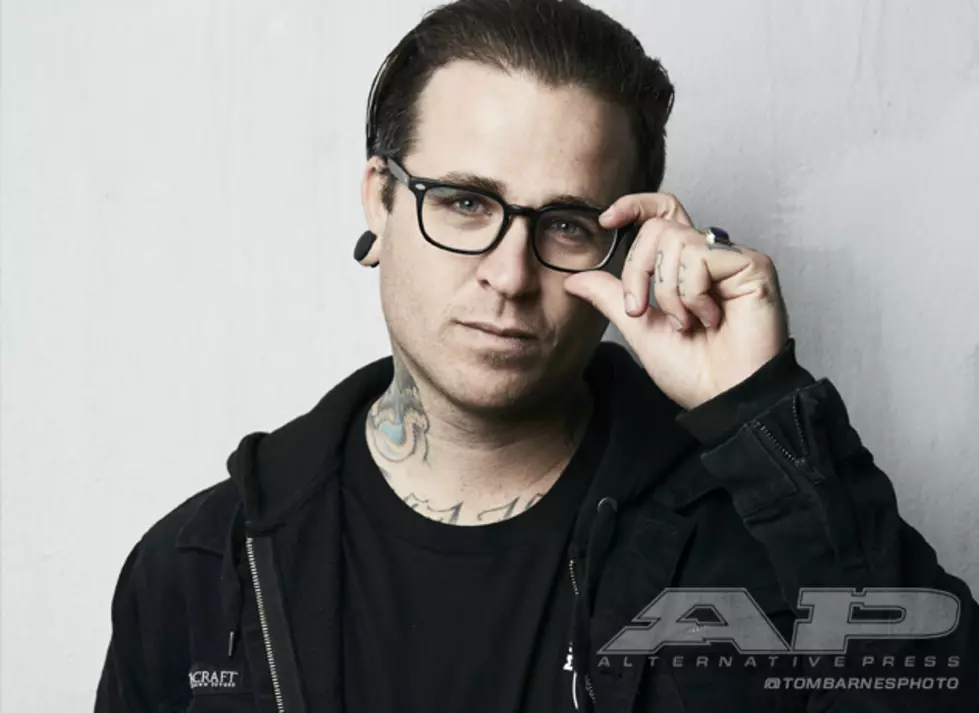 Amity Affliction frontman opens up about descent into depression, addiction in new interview
There are few records that paint a more vivid picture of a descent into depression and alcoholism than the Amity Affliction's This Could Be Heartbreak. Having tracked the record in the throes of this deterioration, vocalist Joel Birch did not understand how catastrophic this was until hearing the completed record back. Listening to lines such as "All the panic, depression/the hurt and regret/lying to myself/'I don't think of death'" (from "All Fucked Up") and the chorus of "Tearing Me Apart"  ("Oh, it's tearing me apart/all this pain inside/liquor in my veins/panic on my mind") forced him to face his demons. Since entering Alcoholics Anonymous, he has turned his life around.
That Birch has always been so upfront and candid about the issues plaguing him over the years has motivated many fans facing similar issues to contact him, sharing their stories. "A lot of people will get in touch saying 'I got through [what I was going through] thanks to your music,' and that's great, and a lot of people it helps them day to day," he says from his home on the Queensland coast. "I empathize with them, because I too turn to music, and I firmly believe that it can drag you out of some really dark circumstances and situations, because you really project your life onto the song." He also is very much aware how isolating such issues can be, even from loved ones close by, something he touches on in "Some Friends." Lines such as "Talking to myself/pushing everyone away/they can't see it in my eyes/but I need them to stay" communicate this, and he has always been touched by those who feel they have no one else to turn to, often replying and trying to help. However, with many fans reaching out from a point of real despair, he has had to try to pull back for the sake of his own recovery. "I have stopped responding, because I just started getting really overwhelmed and feeling physically affected by it at times. I had to reel in for myself. I've not ruled out returning to it, but I need to sort my own head out."
He does, however, hope that This Could Be Heartbreak may help break some out of a similar cycle that he was trapped in, for despite its bleakness, it demonstrates that there is light at the end of the proverbial tunnel. "For 45 minutes you go into my soul, and the real hopefulness in the record is that I'm on the other side of it."
Though Birch admits he found it hard to connect with anything other than himself while caught up in the throes of addiction and depression, he has since very much re-engaged with the wider world. Coming from a hardcore background, he has a longstanding and keen interest in politics.
While it's difficult to escape the endless political storms in the States, he makes it clear things are not much better in Australia right now. "People are really losing faith in big parties, and we nearly had another hung parliament, which would have been fairly disastrous," he says, sighing. "We've got this woman who's a complete racist and has two seats in the senate and is going to have a say in the policy that affects everyone in the country. Then there's the [investigative journalism] show Four Corners, which aired a special on youth detention and violent sexual assault by prison guards on teenagers. These teenagers were getting stripped naked, strapped to chairs with shirts over their heads and having their necks tied to the chair and handcuffed. Then our Prime Minister refused to broaden the spectrum of a royal commission that got started the next day [after that aired]."
Very much aware of the "bigger picture," Birch is not the first person to suggest the whole western world is "in a state of flux." But while some despair, he finds positivity in how such events are polarizing and galvanizing people into action. Having always been drawn to the rebellious spirit inherent in hardcore, he feels revitalized by how empowered many are becoming.
"In America, you're seeing the Bernie Sanders supporters who are really disenfranchised by the whole system, and they are rising up and saying, 'Well, fuck: We want to be heard now, as well.' Then you've got all the disbelief at the utter shit show that the Brexit [referendum in the U.K.] was, and then in New Zealand as well, they're having issues over the conservative government, and they're sort of shrugging off the indigenous poverty issues. But poorer people are becoming more educated because they're seeking it out online, where they can find it for free, and the more that happens then the more shit is going to go down before something major happens. With social networks and phones with cameras in them, everyone now has the ability to really start making the people in power accountable, and everyone seems to be doing it, which is great."