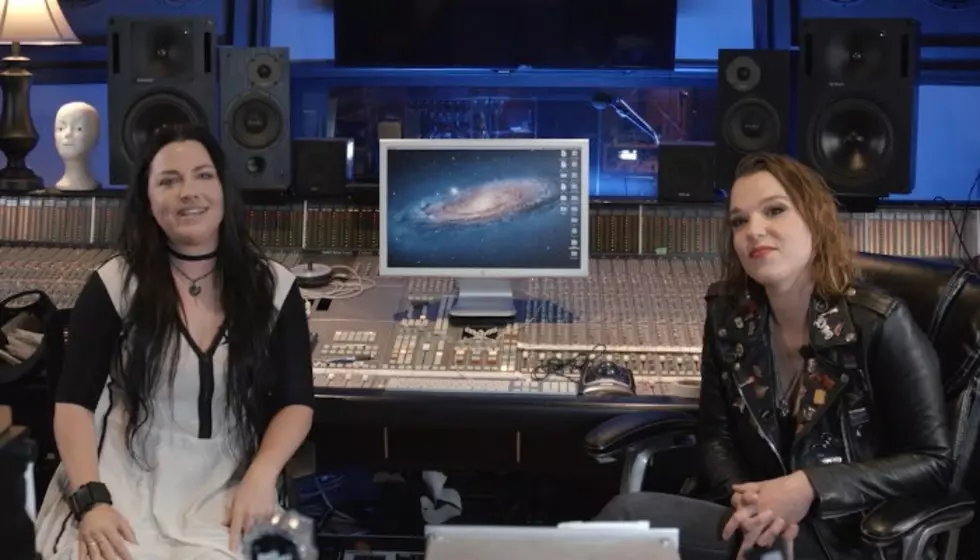 Amy Lee and Lzzy Hale discuss the joys of touring with your friends
[Image via YouTube]
Evanescence and Halestorm's tour, launching Nov. 5 from Portland, Oregon, is rapidly approaching. During the run, the bands will be joined by PLUSH and Lilith Czar on select dates, crossing the U.S. along the way.
The tour is a welcome sight for many reasons. It signals an opportunity for the artists to get back on the road following the disruptions of the past year-and-a-half. It is also significant as a tour led by women artists, something that has been sorely lacking in the music industry these days. Of course, for fans of each performer, it marks a chance to finally get out and see their favorite artists.
Ahead of the run, Amy Lee and Lzzy Hale chatted with Alternative Press about the tour and more. The pair spoke about the significance of getting back on the road following the COVID-19 shutdown. They also took us behind the scenes of their recent projects, including Evanescence's recent The Bitter Truth and Halestorm's single "Back From The Dead" along with their upcoming album.
More than that, the pair captured the significance of the tour on a personal and social level, an opportunity for friends to reunite and continue to spread the word for great music and inclusivity in the rock world.
If that wasn't enough, the duo also offered AP readers a first look at a video taking viewers behind the scenes of their recent recording projects. Their convo also reflects their friendship as well as their passion for making music. Watch the video and read our interview with Lee and Hale below.
One of the many things that is really exciting about this tour is the fact that you're both artists fronting a major tour at a time when the industry hasn't been exactly perfect about platforming women. Does that add any significance for you?
AMY LEE: It does. We love supporting each other. Lzzy and I were talking about this recently, and I'm going to steal [her] answer a little bit. Just talking about it feels really good to blast the stereotype that women can't support each other and get along. It's just really untrue. We need each other. Every strong woman has a friend helping her get through it and process. In the rock industry, obviously there are less women than men. So we're looking at that and going "Hey, we want more of us. We support each other." The whole point really isn't about women versus men. It's about music is for everyone. Rock is supposed to be a place where you can be your real self and let it all hang loose. Don't be ashamed of that! Be proud of exactly who you are, and if it's different than the majority of the people standing around you, that's cool! 
I would say, No. 1, we'd like to support the other great musicians and people that work hard. That's everybody involved in this. I don't love Lzzy because she's a girl. She's awesome at what she does. [Halestorm] is great to work with. Same thing with PLUSH. We haven't worked together yet, but we've been in communication, and I'm so excited about them. We made a decision to lift up women to be openers for this tour just because I think it's an awesome fit. It's empowering to see people standing together in general.
LZZY HALE: Like Amy said, we talk about this quite a bit. If you really want to dig into the girl thing, there's a certain power that comes with the women who have literally crawled and snuck in the back door and been sticking it out, regardless of the sexism and the people that don't even assume that we're in a band because we're girls. I know I got that a lot when I was growing up. I literally would be carrying my equipment into a club.
LEE: It's like, "Who are you with?"
HALE: Oh yeah. "Who are you dating? My girlfriend never does that for me." There's something regardless of the fact that we've overcome a lot of that. We carry that with us. When we hit the stage, it's not because we were given this. We had to fight for it. There's a certain regality and power that comes with being a woman musician who fronts the band. Like Amy said, I think that it's important for us to show that we support each other and to show that we did it. We're up here doing what we love [for] all these little girls you mentioned. PLUSH, this is going to be their first tour. We all still go through so much and have to either turn a blind eye or just cover our ears and keep moving forward. The fact that we're doing that and they can see, that is extremely important.
In addition to the social significance, there's also a more local level to this tour. I wanted to ask specifically about the personal dynamic between you two. I know you're friends and collaborators. Does that add to the appeal of this tour?
LEE: It's just great to be around people you like to be around. We operate similarly as far as just running the show and wanting it to be a family. You only get so much time in life, and you want to spend that time with people that you want to be around. Find a way to make your crew, team, band get along and hang out together. Lzzy and I met by going on tour together, and then right away, I think [I] realized "Wow, we have so much in common. Let's hang out!" It's just icing on the cake. It's been cool to know somebody that does what I do well. I didn't have a close friend before that I can think of off the top of my head. I don't really know how to answer it. Why do I like you? You're awesome.
HALE: Why do I like you?
LEE: I meet you in a professional capacity, but then it was like when you just get somebody. It doesn't happen every day.
 HALE: We both live a busy and touring life and all of that. It seems like regardless of how much time has gone by, we just pick up where we left off. Amy is such a cool person to be around. I think that, especially because of all the shit that we've had to go through over the past two years, the last thing that I want to do is have my first big tour be with somebody I don't like. Come on, life is too short!
LEE: We may only get to do this one more time before the world literally blows up! It better be, "Let's go have fun!" Let's just go do exactly what we want to do before the world blows up. 
I'm glad you mentioned that because I've talked to a bunch of artists about COVID-19. Some people were like, "This is fine. I can totally focus on my work," and other people felt extremely stifled. Getting back on tour after all that, I was curious how it feels to be hitting the road after all you went through up to this point?
LEE: It's new for me. I mean, Lzzy's done it a little bit. They've played a few shows, so maybe you're a little bit less worried than I am. It's a big responsibility. It's a new world. We're all finding our way through for the first time that there's no set precedent for. We're doing everything we can to make everybody extremely safe. We just do our best to make the best that we can. That's what it is. It's like, "OK, we've made the plans. We've booked the tour, and the rules are happening." Now it's like, "I need to focus on the music." It can be a little bit hard for me to tune out the fears, but the music has always been my place to pour into like that. I'm grateful that the music is what it is, especially with the new music. It was written out of this time that I can really just be my honest, real and true self in the words. With what we're about to do, it's new, scary and a little bit different.
HALE: It's equal parts scary and exciting. You get like, "I just can't wait to hit this stage!" I would say normal life is what's actually weird. When you get onstage, that's where everything makes sense. But like Amy said, we're walking into unknown territory here. Also, we're the bosses. We have to make sure that everyone's safe and behaving while also trying to have the time of our lives. It's definitely new.
Amy, I wanted to ask you specifically about the album. You mentioned it, but The Bitter Truth is out. I was curious to hear what it means to complete that record and then tour on it?
LEE: It is our first album of all-original music in a decade, so it just feels really, really good just to have a pure and total representation of exactly where we're at and who we are right now. We've been touring — not for the last two years obviously. But the songs evolve and grow with you. It's not like we weren't ourselves onstage before, but now it's just really present. The losses in our lives, the way that we process now, the way that I think and the things that we've been through in the recent years. To be able to express that and look forward to expressing that live and being an even more realistic picture of myself onstage, if that makes sense.
Having the music during this time during the pandemic, political warfare and everything that's been going on has been just the most incredible refuge. The hardest times in my life, I feel like the best music comes out because I need it so much. I think we were all clinging to the creation of this music, particularly in the middle of 2020 in lockdown, not knowing when it was ever going to end. To look forward, focus and just to grab the next section of rope one hand over at a time. It really gave us something wonderful to believe in and put ourselves into. We all love our album a lot. The No. 1 thing that I think we've all been doing to prepare for tour is listen to it and live in it. Let it be our life and our soundtrack so that when we get up there, it's just who we are and we know exactly what to do. I hope it's that easy! I need to actually start practicing the piano parts. That's coming after this interview.
Lzzy, you have new music out in "Back From The Dead." It just hit No. 1 on the Mediabase active rock chart. I know you're also recording an album. I was curious about your thoughts on diving headfirst into making music?
HALE: It's such a relief to actually put something out after so long. We didn't realize how far up on the chart that was going to get in such a short time. We're in the 11th hour of this record. We're just sewing up some loose ends and putting some intro outro stuff. Just the icing on the cake and we'll be done [soon]. We're not in music for the career or fame or whatever you want to call it. We're in it for the music.
During this time of writing this record, same with what Amy said. We were forced to trust that music and have that be our savior, our North Star. Putting these songs together, there was no way around all of those emotions, fear, self-doubt and the unknown future. Also, just trying to pick yourself up and look at yourself in the mirror. I literally had to face myself and be like, "I'm Lzzy fucking Hale. I can do this!" Because there wasn't a stage to do so or even a future to look forward to, I had to put all of that into the music. I'm really excited for everybody to hear this. Now, I just have to be patient and wait for a release date. That's always difficult for me, and it's even more difficult during these times.