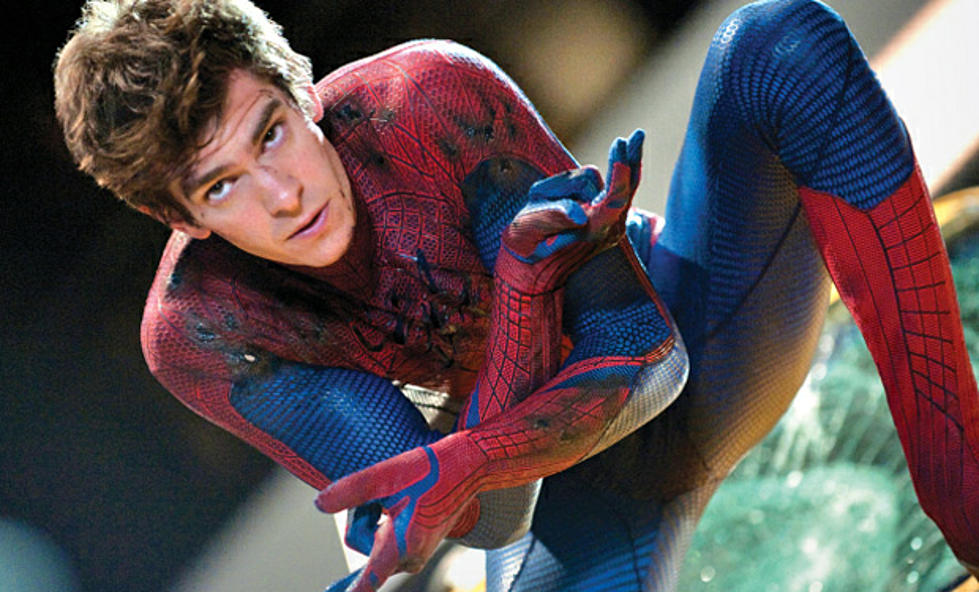 Andrew Garfield suggests gay Spider-Man: "What if MJ is a dude?;" plus first look at Electro
Andrew Garfield, star of The Amazing Spider-Man (and its upcoming sequels), in an admittedly philosophical discussion with Spider-Man producer Matt Tolmach, has proposed the question of whether Spider-Man could be gay or bisexual, and whether the character of MJ could be male, according to Entertainment Weekly.
Garfield on his unique character idea:
"I was kind of joking, but kind of not joking about MJ, and I was like, 'What if MJ is a dude?' Why can't we discover that Peter is exploring his sexuality? It's hardly even groundbreaking!…So why can't he be gay? Why can't he be into boys?"
According to EW, Garfield has even floated his idea to director Marc Webb, and has gone so far as to suggest a male actor for the role of MJ:
"I've been obsessed with Michael B. Jordan since The Wire. He's so charismatic and talented. It'd be even better—we'd have interracial bisexuality!"
Of course, it's highly unlikely that we'll actually be seeing a gay Spidey this time around. The part of MJ was initially granted to actress Shailene Woodley, before being cut from the film entirely to leave more room to develop Peter Parker's relationship with Gwen Stacey (played by Emma Stone). Who knows what future films will bring, however, as MJ is expected to be introduced in the third installment of the franchise, and Spider-Man's other love interest, Felicia Hardy (a.k.a. Black Cat) has also been rumored to show up. Neither character has officially been cast (or gender specified).
In further Amazing Spider-Man-related news, EW has also provided a first look at Jamie Foxx in his role as the villain Electro. Check out the Spider-Man-themed Comic-Con preview cover below:
The Amazing Spider-Man, starring Andrew Garfield, Emma Stone, Jamie Foxx, Dane DeHaan, Paul Giamatti, Sally Field, Chris Cooper, Colm Feore, Chris Zylka, Marton Csokas, and Felicity Jones will hit theaters on May 2, 2014