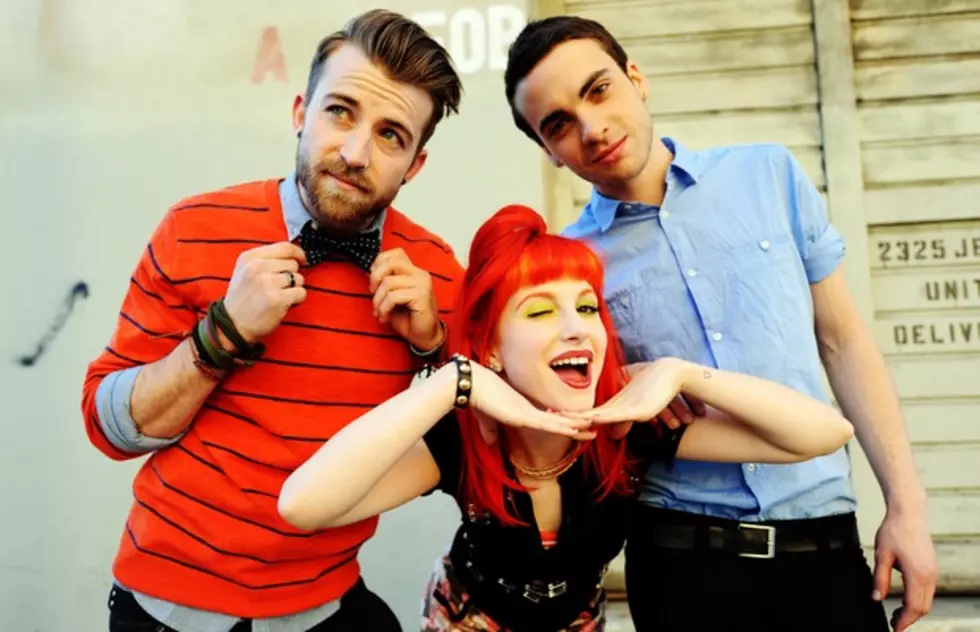 AP #282 Bonus Material: Paramore talk Hayley Williams' Cosmo cover
AP #282, which features Paramore on the cover, is still in stores—but not for much longer! Don't delay in picking up a copy! (If you can't find it in brick-and-mortar places, you can always order one right here.) For a taste of the kind of things you'll see in the magazine, check out this exclusive interview outtake, in which Hayley Williams discusses her Cosmo cover and coming to terms with being "the girl in Paramore," while Taylor York and Jeremy Davis talk about why they're completely fine not being the center of attention.

Interview: Annie Zaleski
Hayley, I was reading some of the Paramore diary/blog entries from this year. There is a theme of rebirth in what you were talking about—like when you were discussing how you were on the cover of Cosmo earlier this year. You were saying things like, "I'm going to accept my role" within Paramore.

Hayley Williams: I still think about that. Being on Cosmo is not something I've ever strived for. I never was like, "I want to be a Cosmo girl." I don't know if you know me, but I don't typically care about things like that—even [though] as a girl, I love fashion magazines, I love beauty products. That was a weird thing for me to go through, because I did have to accept, like, "Dude. Cosmo magazine just came to me and they were like, "You know what? Your band's kickass, we like you. Come be on our cover." What other band band are they even talking to? Other than a pop singer like Rihanna, all the rest of the cover girls this year have been actresses—I remember right before me was Olivia Wilde. [They were] just gorgeous, beautiful women—and I will never put myself in the ranking of those women. It's not like I have super issues with myself—I definitely am like any other person, I'm self-conscious a lot of times—but I will never put myself on a list of women. But Cosmo did.
Holy crap! I still don't accept it, and I still don't feel like it was real, but I accept the fact now more than ever that I am the girl in Paramore, and even though I don't always want people looking at me, sometimes they're going to. And I gotta get over it and stop whining about it. Because we're okay—we weren't okay, and that's probably what made me so kind of insecure about being the singer. But we're fine now, and I don't have anything to prove to [my bandmates]—they know I'm not trying to be, like, [Gestures like she's attention-getting] all the time.
That was a head trip doing Cosmo, for sure. I'll never wear those outfits ever again. [Laughs.]
Jeremy Davis: Anything [published] that looks like she's standing out in front of everyone else in the band, she's always not like that. Even though [Taylor and I are] sitting there—or anyone else—we're sitting there, saying, "It's important to do that." Even music magazines that we do will have her on the cover and not the full band—but the band name is right there. You have to be okay and be confident to be able to do something like that.
Taylor York: That's true. I think probably since the beginning [of the band we] all did have to work through our own insecurities. Now we're at a place where me and Jeremy…[Laughs] We kind of feel bad sometimes, because we like when she gets attention, because we can go places and people don't really know who we are. I'm like, "Oh, we can be normal!" But she's really good at handling her position.
We did have to work through insecurities and become more confident and realize our identity isn't in this band, necessarily. The amount of people that want an autograph or the amount of pictures that we get—that's just not what our identity is. We just love playing music and being in a band. We realized—you know, if Hayley wants to do this shot by herself and we're not in it, well, that's an outfit I don't have to find. [Everybody laughs.] You just have to look at the positives.
But yeah—we don't care at all. People always assume that me and Jeremy are super-bitter, we just hate she gets this attention…
Williams: Yeah, that was always the story.
York: Which has never been the case. It's not important to us. alt