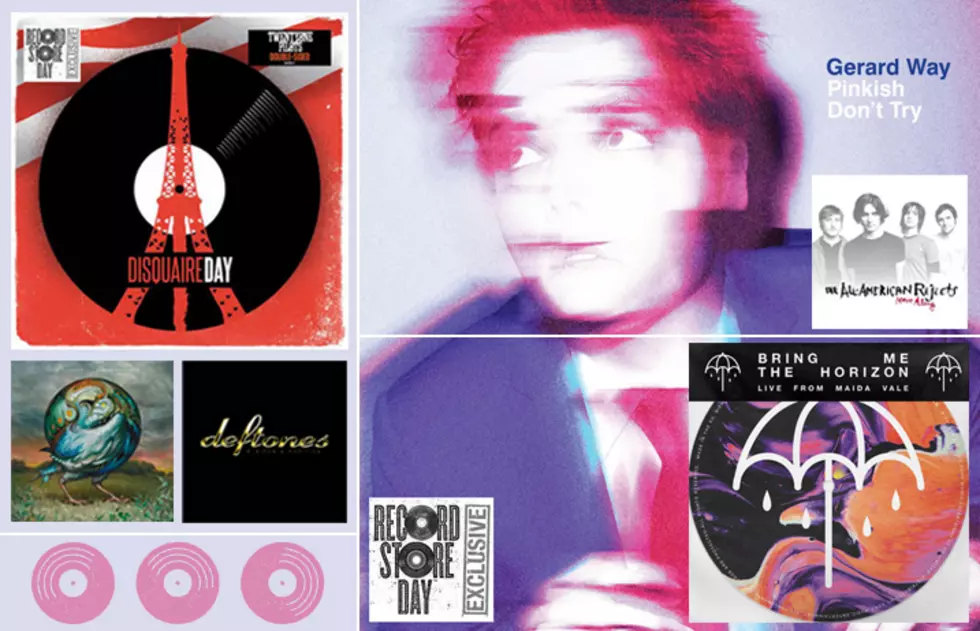 Here are our AP staff picks for Record Store Day 2016
The third Saturday in April means one thing. That's right, it's the ninth annual Record Store Day, where vinyl junkies and discerning collectors (as well as the inevitable POS eBay "flippers") converge upon the nation's remaining record stores to feed their turntables and hearts with exclusive collectable releases. If you're deliberating over trading your external hard drive for a room filled with tangible objects, RSD is a decent day for starting your collection and acquiring a taste for cat food after you've blown your budget. What follows are a list of some of the artifacts AP contributors are lining up for this weekend: Check out all of the titles being offered (along with participating retailers) at RecordStoreDay.com. And check out our record collector special "Turning Points" in the latest issue (AP 334), where dudes from New Found Glory, Rise Records, theCellabration, Real Friends, the Wonder Years and others chat about their vinyl-obsessive adventures.—Jason "Fancy Feast" Pettigrew
TWENTY ONE PILOTS - "A Few Older Ones"/"Doubt"
Label: Atlantic
Format: 7-inch
How many: 7,500
Our favorite arena-filling duo deliver the RSD goods for the second year in a row. (What, you don't have the Ohio-shaped, red vinyl LC LP from last year?) "For our gig at the Fox Theatre in Oakland, California, we brought in some cameras and recording gear and had some of the audio professionally mixed," drummer Josh Dun tells AP. "We chose to release two of them on a 7-inch for Record Store Day because they had better audio [quality] that what we'd gotten during past tours." Fans who caught TOP live last year will recognize "A Few Older Ones" as the mid-show medley featuring snippets of tracks from 2013's Vessel ("Semi-Automatic," "Ode To Sleep," "Screen") and the band's two self-released discs ("The Pantaloon," "Forest," "Addict With A Pen"), while the studio version of the B-side can be found on Blurryface. —Jason Pettigrew
THE ALL AMERICAN REJECTS - Move Along
Label: Doghouse Records
Format: LP
How many: 3,000
This individually numbered re-release has all the classic AAR tracks that got you hooked from the beginning. The clear/smoky look will add some edgy appeal to your vinyl collection, while Tyson Ritter's vocals will bring all the feels. Give "Dirty Little Secret" a spin while you reflect on terrible exes. —Mackenzie Hall
BRING ME THE HORIZON - Live From Maida Vale
Label: Columbia
Format: 7-inch picture disc
How many: 1,500
Want to kickstart your vinyl collection this Record Store Day? Look no further than this Bring Me The Horizon special release. It's one thing to nab your favorite band's studio tracks on a nice seven inch, but it's a whole other ball game to pair that pure sound of vinyl with raw, live recordings. "Live From Maida Vale" accomplishes both—by featuring performances of "Drown" and "Throne," two of That's The Spirit's leading singles, this seven inch picture disc is the perfect addition to any newcomer's collection.—Caitlyn Ralph
CIRCA SURVIVE - "Awake In A Dream"/MEWITHOUTYOU - "Rainbow Signs (Fa So La Version)"
Label: Sumerian Records
Format: Split 7-inch
How many: 2,500 copies
Of course this 45 looks gorgeous—just look at the intricate, fantastical cover art, and orange- and blue-colored vinyl. But the release also features a different version of one of the best tracks from mWY's 2015 album, Pale Horses, and "Awake In A Dream," an unreleased cut from electro-prog titans Circa Survive. —Annie Zaleski
DEFTONES - B-Sides & Rarities
Label: Warner Bros./Reprise
Format: 2 x LP
How many: 3,500
This loaded 25-track compilation is a Deftones collector's dream on RSD. First time on vinyl, stuffed to the gills on two LPs and "limited" to 3,500 copies, meaning this one won't take baller bucks to track down. Some highlights (of mine, yours will differ) include a cover of post-hardcore elder-men Jawbox's "Savory," a nasty-heavy cover of Helmet's "Sinatra," left-field cover of Sade's smooth hit "No Ordinary Love," crushing lost time capsule "Crenshaw Punch/I'll Throw Rocks At You," mellow acoustic space filter on "Be Quiet And Drive (Far Away)" and whatever version of "Minerva" they tossed on the tail end with more self-titled era—that song rules in any form.—Brian Kraus
FOALS - "Rain"/"Daffodils"
Label: Warner Bros.
Format: 7-inch vinyl
How many: 5,000
Arguably one of the British indie scene's most desired acts, Foals dropped the surprise single "Rain" in preparation for this year's Record Store Day. A b-side from the band's latest album What Went Down, the previously unreleased track can only be found in physical format on this special seven inch vinyl. As if that wasn't exclusive enough—"Rain" is matched with a cover of Mark Ronson and Kevin Parker's (Tame Impala) collab "Daffodils."—Caitlyn Ralph
GERARD WAY - Pinkish/Don't Try
Label: Warner Bros.
Format: Pink 7-inch single
How many: 5,000
Wayliens have been salivating for studio versions of these two songs that didn't make Hesitant Alien since their live debuts. "Don't Try," which fans have likened to MCR's "We Don't Need Another Song About California," surfaced during encores of Way's 2015 European tour, and he had promised then that because of the positive response, he would "have to revisit" it. "Pinkish," on the other side, is a fuzzy, fast thrash-attack G described as "probably the heaviest song" written during the HA sessions. The songs are worlds apart and equally worth lining up at 6 a.m. for.—Cassie Whitt
KILLSWITCH ENGAGE-"Define Love"
Label: Atlantic/Roadrunner Records
Format: 7-inch picture disc
How many: 3,000
Killswitch released their seventh studio album on March 11, and for record store day their releasing another taste of Incarnate. This 7-inch picture disc features the track "Define Love," which was recorded during the Incarnate sessions but was unreleased until now. The track premiered at Revolver this week. Side B is silkscreened with artwork by bassist Mike D'Antonio, and the release also includes a Killswitch Engage stencil. Definitely a worthy addition to the collection of any Killswitch fan.—Rabab Al-Sharif
SEX PISTOLS - Never Mind The Bollocks Here's The Sex Pistols
Label: Rhino
Format: 12-inch picture disc
How many: 5,000
This edition of the crucial punk LP "features reverse colors of the U.S. version," but this particular release is a must-have due to the fact that it's one of the most influential albums ever: Chances are, your favorite band wouldn't exist had the Sex Pistols not started a musical revolution first.—Annie Zaleski
THE SHAGGS - "Sweet Maria"/"Missouri Waltz"
Label: Light In The Attic
Format: 7-inch vinyl
How many: 3,000
Cool kids listen to the Shaggs. Formed in 1968 by three sisters in New Hampshire whose father believed they were destined for success, they were some of the original outsiders. Sure, they couldn't really play their instruments, but now that's a time honored tradition. With only one proper album, a new release that features two unheard songs (including a cover of Missouri's state song for who knows what reason) is impossible to pass up.—Ian Benson
TALKING HEADS/ECHOSMITH - "This Must Be The Place"
Label: Warner Bros.
Format: 7-inch vinyl
How many: 3,000
There's no need to talk up the uniqueness of this Record Store Day release. By nature, the Talking Heads/Echosmith split is exclusive: it places two versions of the classic "This Must Be The Place" side-by-side, creating an irreplaceable piece in your collection. Side A features the original track by the Talking Heads while Side B features the track reimagined by indie pop wunderkinds Echosmith.—Caitlyn Ralph
WOLF ALICE - "White Leather"/"Leaving You"
Label: RCA
Format: 7-inch Vinyl
How many: 1,500
Years before Wolf Alice finessed modern grunge on debut album My Love Is Cool, the Londoners released the excellent single "Leaving You." The track is finally being given the physical release it deserves—and what better time than Record Store Day? With the addition of b-side "White Leather" and beautiful artwork by Eden Sailor worthy of hanging on a wall, the 7" is the dark horse of must-have RSD releases.—Kika Chatterjee