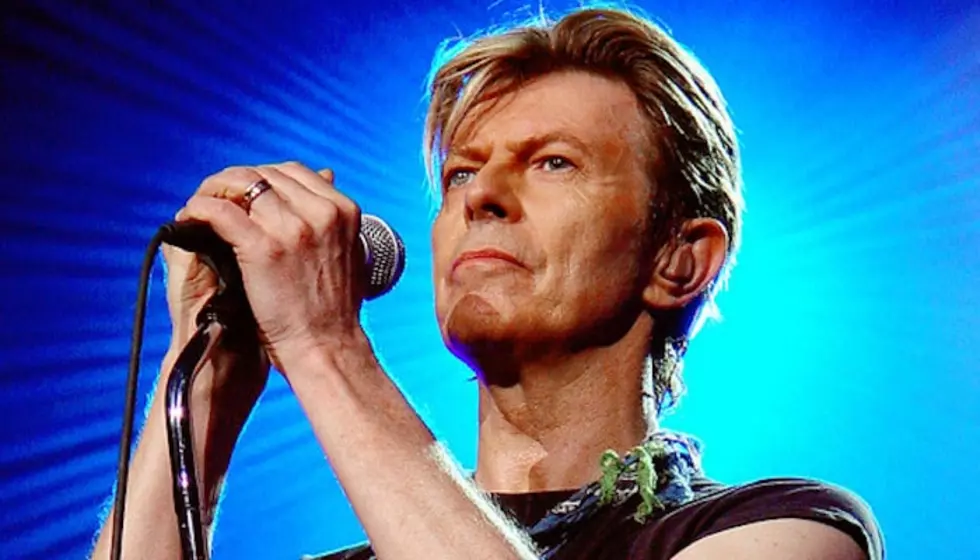 10 alternative artists who were inspired by David Bowie's legacy
[Photo via Spotify]
Nothing's been right since David Bowie died, Jan. 10, 2016. The rise of Trumpism? COVID-19? The Big Bang Theory going off the air? Would any of these things have happened if Bowie was still striding the Earth? Well, probably. But his new records would've acted as a buffer, even if these shitty elements remained intolerable.
For '70s/'80s/'90s/'00s youth, Bowie was a beacon indicating everything was all right. No, you weren't the weird one—they were! Whether "they" constituted your parents, peers or authority figures, his ever-changing persona and music were the warmth and comfort every misfit needed. They were your armor as you ventured forth, a little scared, a little messy, definitely awkward. Consider that "Changes" lyric: "And these children that you spit on/As they try to change their worlds/Are immune to your consultations/They're quite aware of what they're goin' through." He was your cool, eccentric uncle with a wink and a grin, clasping your shoulder, saying you were special, that the world was wrong. Being different is a quality to be cherished, not punished. And if these people couldn't appreciate how special you were? They didn't need to be in your life, anyway.
The musical world owes him greatly, not just the artists he directly served as a patron—Iggy Pop, Lou Reed, Mott The Hoople. Would Madonna's or Lady Gaga's ever-morphing identities/sounds be possible without him? Madonna repaid her debt by accepting his 1996 Rock & Roll Hall Of Fame nomination for him, while Gaga performed a six-minute Bowie medley at the 2016 Grammys. Boy George acknowledged Bowie's effect in the 2016 BBC documentary Boy George's 1970s: Save Me From Suburbia. So much punk and alternative music's impossible without his influence and innovation. Please contemplate these 10 spiritual children of David Bowie.
Sex Pistols
"Bowie was good for a while, but you couldn't really get into it," Sex Pistols singer Johnny Rotten sniffed with typical contrarianism on July 16, 1977, as he guest DJed on Capital Radio's Tommy Vance show. Of course, he said this over the opening chords of "Rebel Rebel." But didn't those vomit-orange spikes suspiciously resemble Ziggy Stardust's earlier thatched mullet? Didn't he sing into a mic Steve Jones stole from the Ziggy farewell gig? And Jonesy clearly owed Johnny Thunders guitar-wise, but those roaring power chords were stamped with a classic Bowie guitarist's tone. "If I've got any 'heroes,'" he told Alternative Press in 1989, "it's Mick Ronson…"
Germs
Many early L.A. punk rockers received their musical education at the English Disco, scenemaker/DJ Rodney Bingenheimer's glam palace. Bowie invested in the club, where Bingenheimer spun all the latest British platform-boot-stompers. Hence, Ziggy's stardust was sprinkled atop most early Hollywood pogo action. '80s OC punk godhead Mike Ness has spoken of Bowie's effect, visible in some of early Social Distortion's glam trappings. But no Tinsel Town rebels worshipped Bowie more than the Germs. Marc Spitz and Brendan Mullen's definitive L.A. punk history We Got The Neutron Bomb indicated his name topped every Germs guest list. Darby Crash suggested Bowie produce their sole LP, (GI). (Fellow Bowie acolyte Joan Jett did the honors, instead.) They even recorded a sloppy cover of Bowie's sloppy cover of Chuck Berry's "Around And Around." Eventually, guitarist Pat Smear bolstered Nirvana's beautiful cover version of "The Man Who Sold The World."
Joy Division
U.K. punk and post-punk is littered with Bowie acolytes. Gary Numan's synth-heavy robot music and stage persona are totally indebted to Bowie's Berlin period. Adam And The Ants stormed the British pop charts like the Spiders From Mars bolstered by jungle drums, down to Marco Pirroni's very Ronson-esque guitar. But Joy Division? Bowie was always nipping at their edges. They were originally called Warsaw, in honor of the Low track "Warszawa." The heavy sense of drama and experimental edge? Pure Bowie. And Ian Curtis listened to Iggy Pop's Bowie-produced The Idiot, the tragic final night of his life.
Bauhaus
Goth totally exists in Ziggy Stardust's shadow, even if the genre reimagines the tale of the extraterrestrial rock star as lensed by Hammer Film Productions. What are the dread-soaked guitar pop, smeary makeup and jacked-up haircuts of Siouxsie And The Banshees and the Cure without Bowie? Or the entire career of Christian Death's Rozz Williams? But Bauhaus? They're practically a death-punk Bowie tribute act! Your Punk Professor wrote in March that Peter Murphy sang "like he swallowed Ziggy Stardust's corpse whole." They paid direct homage, tracking a roaring rendition of "Ziggy Stardust" for a John Peel session. Even The Great Man recognized his DNA: Bauhaus memorably performed "Bela Lugosi's Dead" in the opening credits to 1983's Bowie-starring vampire flick, The Hunger.
The Smiths
"David Bowie is easily the most influential and important artist to come out of the U.K., for so many reasons," Smiths guitarist Johnny Marr wrote in an NME guest blog dated May 2, 2012. "There are musicians who are influenced by him who don't even realize it." Presumably, the man who co-wrote stone-cold standards such as "This Charming Man" is aware. Now think of these Britpop originators' preciousness, literacy and Morrissey's theatricality and alternative sexuality. Moz even contracted Ronson to produce his most celebrated solo album, Your Arsenal. Bowie himself embraced Moz, performing T. Rex's "Cosmic Dancer" onstage with him in 1991, recently released as a single, and covering "I Know It's Gonna Happen Someday" on covers album Black Tie White Noise. The relationship reportedly later grew fractious. 
Suede
Fast forward to the '90s: Large chunks of Britpop were unthinkable without Bowie. Think about his "veddy, veddy British singing"—few U.K. rockers sang in their native inflection prior to him. Now consider Pulp's Jarvis Cocker next to Bowie's Thin White Duke phase. How about Placebo had Ziggy Stardust never existed? But no Britpoppers owed more to Bowie than the band who had to be legally known in America as the London Suede. Singer Brett Anderson, a walking quote machine, told the press in 1993, "I see myself as a bisexual man who's never had a homosexual experience." Doesn't this remarkably echo Bowie's "I'm gay, and always have been, even when I was David Jones" pronouncement in the Jan. 22, 1972 issue of Melody Maker? Now listen to the tunes: "Animal Nitrate," "Trash," "The Wild Ones." The high drama; the epic, sweeping choruses; the anthemic melodies—this is Bowie to a T. The NME recognized this immediately and had writer Steve Sutherland arrange a summit, photographed by Anton Corbijn, for its March 20, 1993 cover.
Scott Weiland
"Barbarella" music video:
"Barbarella" live performance from Late Night With David Letterman:
Even grunge, ever dressed-down and dour, had some Bowie in its DNA. How could it not, as '70s-inspired as it was? Think about pre-Mudhoney/Pearl Jam outfit Green River snotting out "Queen Bitch" or that celebrated Nirvana rendition of "The Man Who Sold The World." But no fuzz-and-flannel-era rocker oozed Bowie-ness more than Stone Temple Pilots singer Scott Weiland. Pipe-cleaner thin and flamboyant as a neon-edged $5,000 bill onstage, he flaunted his hero's influence on his brilliant 1998 art-glam solo disc 12 Bar Blues. Filled with such grand, off-center, playing-to-the-rafters songs as "Desperation #5" and "Barbarella," its mood perfectly crossbred the Spiders From Mars with the high-tech austerity of Bowie's Berlin records. (The latter tune's video, seen above, also felt like a five-minute remake of the Bowie film The Man Who Fell To Earth.) It hardly sold any copies, which is a shame. It's a minor masterpiece.
Nine Inch Nails
Then there's the man's effect on industrial rock, upon its shift into the '90s mainstream. Naturally, the cling-clang of Bowie's German work with Brian Eno appealed to musicians favoring abrasive electronics. But who could've known glam would also be an element? The most direct connection was Nine Inch Nails opening Bowie's 1995 tour. Trent Reznor closed each set singing a few duets with Bowie, segueing into his headlining set.
My Chemical Romance
And '00s punk had Bowie's fingerprints all over it. Fall Out Boy's Patrick Stump spoke with Alternative Press about his fondness for Bowie upon his death and made it concrete by covering "Life On Mars?" for a BBC Radio 1 session. But no band of the era wore their Bowieness more on their sleeve than My Chemical Romance. Like Stump, leader Gerard Way discovered the man as a child via his 1986 cinematic turn Labyrinth. But if he hadn't told us himself, we'd have known through 2006's The Black Parade—working title: The Rise And Fall Of My Chemical Romance. (Hmmm…Gerry played guitar…) Or we could just look at this MCR/the Used collaboration, remaking the Bowie with Queen masterpiece "Under Pressure." 
YUNGBLUD
Hip-hop/punk hybridist YUNGBLUD merely had to walk onstage previously to bring to mind a young Bowie—the spiky, multicolored hair, the faceful of makeup, the onstage theatrics. But then he released his new album, weird! late last year, featuring a track called "mars," based upon the Hunky Dory track "Life On Mars?" And as if Bowie's influence wasn't obvious enough, Dom Harrison faithfully performed "Life On Mars?" this past Jan. 8, what would have been Bowie's 74th birthday, on the livestream tribute concert A Bowie Celebration: Just For One Day. Featuring a backing band of several alumni of Bowie's bands, including pianist Mike Garson and guitarist Earl Slick, NASA played the YUNGBLUD cover as the Perseverance rover touched Martian soil Feb. 18.