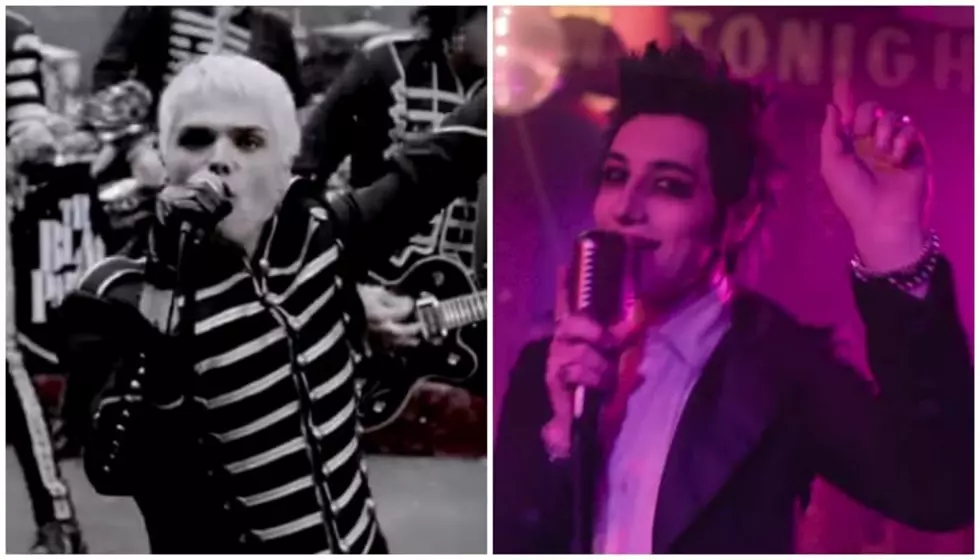 15 artists tell us about the totally epic soundtrack to their youth
[Photo via YouTube]
Being a teenager can be the most uncomfortable stage of our lives—physically and socially at least. Most of us remember our youth more vividly than we'd care to, especially when we're in a store, restaurant or venue and that song comes on. You know that one track in particular or maybe anything off a certain record that brings the memories of adolescence screaming back.
We asked members of Parkway Drive, While She Sleeps, the Faim, Neck Deep, Frank Carter & The Rattlesnakes, Creeper, Milk Teeth, Municipal Waste, Palaye Royale, Cancer Bats, the Bronx, Don Broco, Deez Nuts, Grayscale and PVRIS to tell us what was the soundtrack to their youth.
Lynn Gunn, PVRIS
It's weird. I didn't really listen to albums when I was younger; I listened to movie soundtracks. This is going to sound silly, but the Freaky Friday OST was a big one. It's got Simple Plan and a lot of rock on it. I remember always being in my parents' car with some movie soundtrack on. Because I listened to so many soundtracks when I was younger and they're all pretty diverse, I feel like that played into the music we make now; the latest record goes in a lot of different directions. A lot of the movie soundtracks I listened to are dynamic and are stylistically different.
Becky Blomfield, MILK TEETH
Placebo's Without You I'm Nothing. I got recommended it in high school by my friend's boyfriend, and they burned me a CD, and I was—well, I am still a bit—emo as a teenager, and I used to sit and listen to it and mong out on my floor in my bedroom.
Ben Barlow, NECK DEEP
New Found Glory's self-titled album because that was the first album that me and my brother ever bought a physical copy of. We bought it on CD in a shop with our own money and listened to it to death, so much that we ended up over the life span of CDs—the CD heyday—we went through about three copies of that record because it got played so much. We had the crappy little CD Walkmans, and if you just knocked them slightly, they would just scratch the shit out of the CD, and we would do that all the time. I'm still not bored of it—I'M STILL NOT BORED OF IT! That's the one.
Winston McCall, PARKWAY DRIVE
Bad Religion, Suffer. It brings back me getting into punk rock. It was the first record I listened to which really made me go, "This doesn't have to be music that's just about girls and being a brat and whatever." This was right around the time that blink were blowing up, and they've got songs about whacking off in trees and shit! I'm listening to Suffer and having to look up things in dictionaries. I was like, "Whoa! This is intelligent." That's what it means to me; it was the awakening of a musical passion for me. I still look back, especially at that album, and the memories I have are caring about music. Actually feeling as though music could have a message.
Remington Leith, PALAYE ROYALE
The Black Parade by My Chemical Romance. I grew up with My Chem—that was my childhood. I remember seeing "Welcome To The Black Parade" music video for the first time on MTV, and I was sitting in my bedroom—blew my fucking mind. I took my mom's lipstick and eye makeup, and I tried doing that eye makeup! It really inspired me.
Frank Carter, FRANK CARTER & THE RATTLESNAKES
Adrenaline by Deftones. It reminds me of summer, skating with my friends, wanting to play music, starting to think about playing music, playing music really badly! Covering Deftones songs until I was red in the face and never ever getting too close to being a quarter of the man Chino Moreno is.
Josh Raven, THE FAIM
Californication by Red Hot Chili Peppers. It reminds me of home. I used to listen to it with my brothers driving in the car all the time. They were the first band I really got into because I wanted to be like my big brothers and impress them. The more I was listening to it on my own, I was like, "Wow, I actually really like this." That was the first album I got into. I fell into Californication, for sure. I still listen to it now."