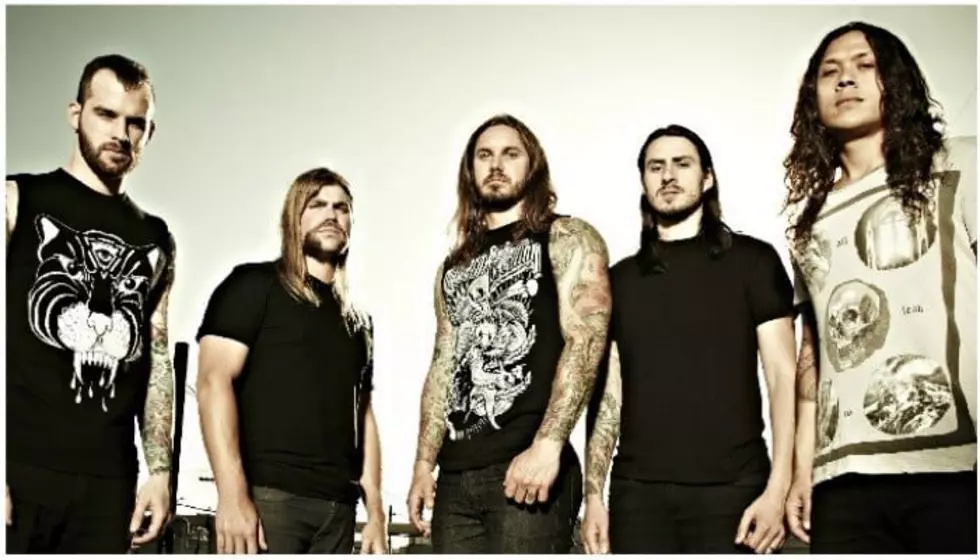 As I Lay Dying removed from festival following backlash
It's been an eventful past few years for As I Lay Dying frontman Tim Lambesis. He served just over a two-year prison sentence for soliciting the murder of his wife and was released early in Dec. 2016. The band announced their return soon after in June 2018.

While they released a new song with the announcement and have already begun selling out many dates on an upcoming tour, it doesn't appear that everyone is as stoked to welcome Lambesis back.


The band were scheduled to perform at Spain's Resurrection Festival in July 2019. However, following backlash from fans, the festival decided to remove them from the lineup, according to Metal Injection.

The festival released an official statement, touching on their decision to remove the band despite many fans requesting the band be added initially.

"Given the controversy after the announcement of As I Lay Dying for next year, we would like to highlight our absolutely condemnatory position against gender violence. At the festival, we are aware that it is a huge problem in society, with which we must have a special sensitivity.
"Like other forms of intolerance or oppression, it has no place within our festival or within the scene of which we are part. Proof of our commitment is that during our 13 editions we have been an example of coexistence, or any other violent act. Furthermore, in the surveys of the assistants during the recent years, we have been given high results in terms of security.
"Resurrection Fest for us is a celebration of music in many of its variants and for the majority of our attendees it is the best week of the year. We still try to make a festival that we would like to attend to as public and where the passion for music and coexistence among all our attendees reigns.
"The decision to include the band As I Lay Dying in this year's edition, the same way many other European festivals will do next summer, is that we believe in social reintegration and in the right of people to rehabilitate after having met a conviction. We understand that this opinion by the organization of the festival is shared by a large part of the festival attendees who requested the band in the polls.
"Given the debate and the division that was created among the attendees, and in order to maintain the prevailing atmosphere of harmony among the entire festival community, we finally made the decision after talking with the band of not including As I Lay Dying in the billing of this edition.
"We hope that everyone understands this situation. Resurrection Fest is an event for all types of audiences regardless of age or social group, and that forces us sometimes to make difficult decisions. Thank you very much for understanding. See you in Viveiro."

As I Lay Dying and Tim Lambesis' past few years
The singer was arrested in May 2013 after being accused of hiring a hitman to kill his estranged wife. After a delay in his trial, Lambesis pleaded guilty to a felony charge of soliciting the murder of his wife of eight years in Feb. 2014.

While he would have faced up to nine years in prison, it was revealed in May 2014 that Lambesis was only sentenced to six years. However, Lambesis received an early release in Dec. 2016. He finally broke his silence in Dec. 2017 with a lengthy statement.

The band confirmed they were returning with their original lineup, including Lambesis, in June 2018 by releasing a new track, "My Own Grave." They performed their first show together since Lambesis' release a few weeks later. The band announced a European tour in July followed by news of a North American one and many dates have already sold out despite venue upgrades.

Check out As I Lay Dying's upcoming tour dates below and pick up tickets here.
North American Dates:
11/02 – Phoenix, AZ @ Club Red
11/03 – Tucson, AZ @ The Rock
11/05 – San Antonio, TX @ Alamo Side Room
11/06 – Dallas, TX @ Trees
11/07 – Lubbock, TX @ Jake's
11/08 – Denver, CO @ Oriental Theater
11/09 – Grand Junction, CO @ Mesa Theater
11/10 – Salt Lake City, UT @ The Complex
11/12 – Seattle, WA @ Chop Suey
11/13 – Portland, OR @ Hawthorne Theater
11/14 – Reno, NV @ Cargo
11/15 – Sacramento, CA @ Holy Driver
11/16 – Chico, CA @ Senator Theatre
11/17 – Riverside, CA @ The Concert Lounge
11/18 – Pomona, CA @ The Glasshouse
* with Within The Ruins, Kingdom Of Giants
European Dates:
12/01 – Bochum, Germany @ Matrix
12/02 – Eindhoven, Netherlands @ Dynamo
12/03 – Antwerp, Belgium @ Zappa
12/04 – Paris, France @ La Maroquinerie
12/05 – Aurau, Switzerland @ Kiff
12/06 – Bologna, Italy @ Locomotive Club
12/07 – Wien, Austria @ SiMM City
12/08 – Munchen, Germany @ Backstage
12/09 – Karlsruhe, Germany @ Substage
12/10 – Prague, Czech Republic @ Futurum
12/11 – Warsaw, Poland @ Hydrozagadka
12/12 – Berlin, Germany @ Musik & Frieden
12/13 – Hamburg, Germany @ Logo
12/14 – Hannover, Germany @ Musikzentrum
12/15 – Chemnitz, Germany @ AJZ