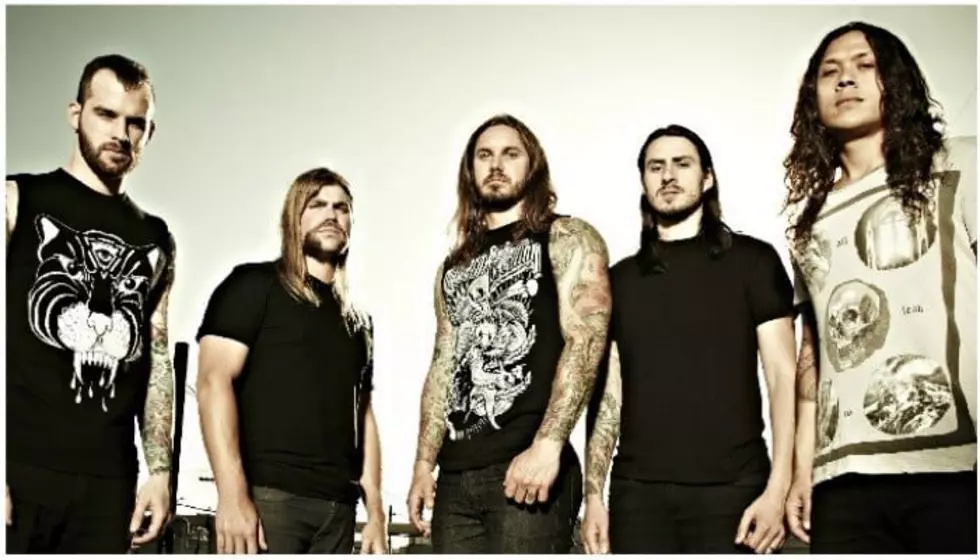 Tim Lambesis publicly reveals he got remarried in prison, controversy ensues
As I Lay Dying's Tim Lambesis has publicly revealed that he has remarried. His second marriage comes after he was convicted of hiring someone to kill his first wife. While the conspiracy was never completed, the metal community has been vocal about Lambesis' current love life.
Lambesis has been married to his new wife, Amanda Dubord, for years now. However, the couple decided to share their story on Instagram in lieu of Valentine's Day.
"She was my source of strength through the hardest 6 years of my life," Lambesis says in the Instagram post. "She loved me at the top before I fell, and she somehow loves me even more now. Different people came and went during those 6 years, but Amanda, our family, and a few close friends were the only ones there the whole time."
Additionally, Dubord took to Instagram as well to tell her side of their journey, revealing that the pair actually got married while Lambesis was in prison serving time for the crimes involving his ex-wife.
"Here are two pictures both from my wedding day. The first is a photo from our wedding celebration that took place a year after our actual wedding. It's was truly a fairy tale," Dubord says. "The second photo holds my heart. Tim and I were married May 2nd of 2015 at CDCR prison. We said 'I do' in front of our parents, a file cabinet and a few inmates."
However, Lambesis' current state does not come as positively to some. Just before Lambesis' big Instagram reveal, ZAO guitarist Scott Mellinger told BREWtally Speaking that Lambesis does not deserve to be in As I Lay Dying.
Additionally, while he seems to respect the other members of the band, he has very little for Lambesis.
"Do I think Tim Lambesis deserves to be in a band? Fuck no," Mellinger says. "That dude wouldn't be in a band if he went through with what he tried to go through. If he ended up not talking to a cop and talking to a real dude, like his [ex] wife might not be here, and it's hard for me to even rationalize or any of that kind of stuff."
"It's just such a hard thing to think about cause, like I said, I love those three guys so much," Mellinger continues. "They're some of the best dudes ever and I want to see them succeed in everything they do. It's just a really big time bummer that they had to get involved with that guy, and Tim to turn into the guy he turned into and now be in the situation they're in."
Recently, As I Lay Dying's show was cancelled in Memphis, TN following community outcry regarding Lambesis' past. In this instance, the Memphis venue decided to replace the show with a benefit for domestic abuse survivors instead.
However, Lambesis soon responded to the show's cancellation.
"While I'm disappointed by the cancellation of our show in Memphis, I understand and accept the resentment some people have towards who I used to be," Lambesis says in an Instagram post. "I stand against that person I became during the darkest period of my past, and it is part of my life's work to prevent others from going down destructive paths."
As I Lay Dying and Tim Lambesis' past few years
The singer was arrested in May 2013 after being accused of hiring a hitman to kill his estranged wife. After a delay in his trial, Lambesis pleaded guilty to a felony charge of soliciting the murder of his wife of eight years in Feb. 2014.
While he would have faced up to nine years in prison, it was revealed in May 2014 that Lambesis was only sentenced to six years. However, Lambesis received an early release in Dec. 2016. He finally broke his silence in Dec. 2017 with a lengthy statement.
The band confirmed they were returning with their original lineup, including Lambesis, in June 2018 by releasing a new track, "My Own Grave." They performed their first show together since Lambesis' release a few weeks later. The band announced a European tour in July followed by news of a North American one and many dates have already sold out despite venue upgrades.
What do you think about Lambesis' public reveal? Sound off in the comments below.
[envira-gallery id="199143"]