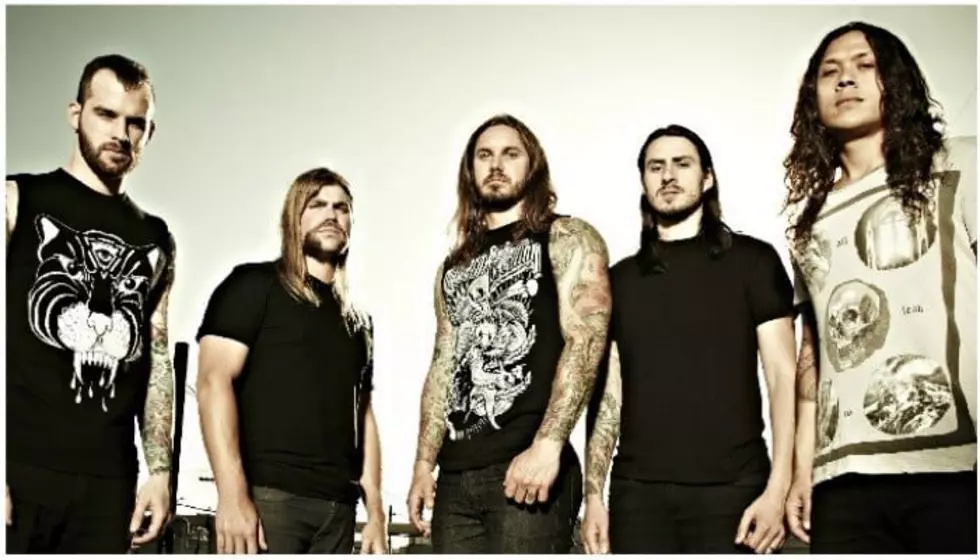 As I Lay Dying announce venue upgrades due to high ticket demand
As I Lay Dying have upgraded some venues on their upcoming European tour due to high ticket demand.
The band are playing Europe and North America this fall for the first time since frontman Tim Lambesis' release from prison.
As I Lay Dying's upcoming tour in Europe appears to be selling well. Today, the band shared on Twitter that some venues have been upgraded due to high ticket demand.
The band are releasing more tickets for their shows in Oberhausen, Germany; Vienna, Austria; Berlin, Germany; Hamburg, Germany; Hannover, Germany; and Leipzig, Germany.
Plus, the shows in Munich, Germany, and Karlsruhe, Germany are sold out.
North American tour dates:
11/02 – Phoenix, AZ @ Club Red
11/03 – Tucson, AZ @ The Rock
11/05 – San Antonio, TX @ Alamo Side Room
11/06 – Dallas, TX @ Trees
11/07 – Lubbock, TX @ Jake's
11/08 – Denver, CO @ Oriental Theater
11/09 – Grand Junction, CO @ Mesa Theater
11/10 – Salt Lake City, UT @ The Complex
11/12 – Seattle, WA @ Chop Suey
11/13 – Portland, OR @ Hawthorne Theater
11/14 – Reno, NV @ Cargo
11/15 – Sacramento, CA @ Holy Driver
11/16 – Chico, CA @ Senator Theatre
11/18 – Pomona, CA @ The Glasshouse
European Tour Dates:
12/01 – Oberhausen, Germany @ Matrix
12/02 – Eindhoven, Netherlands @ Dynamo
12/03 – Antwerp, Belgium @ Zappa
12/04 – Paris, France @ La Maroquinerie
12/05 – Aurau, Switzerland @ Kiff
12/06 – Bologna, Italy @ Locomotive Club
12/07 – Vienna, Austria @ SiMM City
12/08 – Munich, Germany @ Backstage
12/09 – Karlsruhe, Germany @ Substage
12/10 – Prague, Czech Republic @ Futurum
12/11 – Warsaw, Poland @ Hydrozagadka
12/12 – Berlin, Germany @ Musik & Frieden
12/13 – Hamburg, Germany @ Logo
12/14 – Hannover, Germany @ Musikzentrum
12/15 – Leipzig, Germany @ AJZ
As I Lay Dying's comeback:
The band ended their lengthy career back in May 2014, when the band's frontman Tim Lambesis was sentenced to six years in prison for a charge of solicitation of murder after he tried to hire a hitman in a murder-for-hire plot against his then-wife.
Per a report from Metal Injection, Lambesis only served two and a half years of his prison sentence before getting out early 2017.
Fast forward to June of this year, As I Lay Dying released their first single in almost five years, titled "My Own Grave." The band also shared the news that they would be playing their first show as a reunited group.
The band played their first show as a newly reunited group on June 16 at Soma Sidestage in San Diego, California. A day after the performance, the band dropped a video recap detailing the experience.
The band said in a statement: "We are thankful for an environment of love and positivity within and around our renewed relationships. To the family, friends, crew, and fans in attendance at our recent San Diego show, we would like to express our deepest sense of gratitude for making the evening such a meaningful experience."
Additionally, the band posted a video detailing their return and the reasoning behind their decision to return to their "classic" lineup of Nick Hipa, Josh Gilbert, Jordan Mancino, Phil Sgrosso and Tim Lambesis.
As I Lay Dying hasn't released a new album since their sixth studio album, 2012's Awakened.