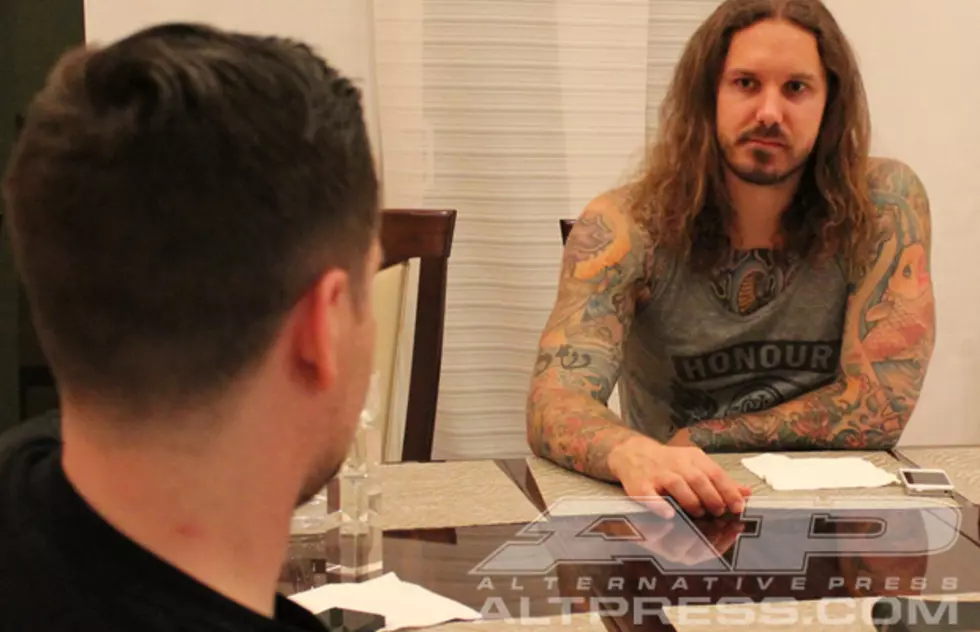 As I Lay Dying's Tim Lambesis sentenced to six years in prison
As I Lay Dying frontman Tim Lambesis was sentenced earlier today (May 16) to six years in prison for attempting to hire a hit man to kill his estranged wife, Meggan. This past February, Lambesis plead guilty to a felony charge of soliciting the murder of his wife of eight years.
Meggan Lambesis and the three children she adopted with Tim were granted ten years protection from the vocalist, Lambgoat reports.
AP has obtained the world exclusive interview with Lambesis (leading up to today's court date), which was published today as the news of his sentencing broke.
Radio.com is reporting that the verdict was handed down while three of the singer's former bandmates—Nick Hippa, Phil Sgrosso and Josh Gilbert—were all in the courtroom. (All members of As I Lay Dying, aside from Lambesis, have moved on to form a new band, Wovenwar, with Shane Blay of the group Oh, Sleeper.) Supporters of Meggan (more than three dozen) were also present in the courtroom. The verdict was handed down by judge Carlos Amour. In court, Lambesis is said to have wept before telling Meggan, "I do feel deep remorse. I want to thank you. For her prayers, which proves you still have the heart that you do." Read a clipping of the Radio's report from when Meggan spoke:
"When Meggan finally spoke, Lambesis turned in his seat to listen but didn't look into her face. The wife and mother of three adopted children, Meggan said Lambesis' behavior changed in the prior months. He had bullied her. He had become "dangerous." Reading a prepared statement, she claimed her life "felt as fragile as a piece of paper that could float away at any moment."
Meggan explained to the court that Lambesis texted her the day before his arrest asking for his children's social security numbers: "He was tying up loose ends," she said. She now believes he was fantasizing about killing her in advance, quoting a favorite line from the Arnold Schwarzenegger's film Total Recall where he shoots his wife and says, "Consider that a divorce." Meggan closed by requesting the maximum sentence and a lifetime restraining order."
Lambesis will receive 48 days credit for his custody already served. He will eventually return to court, facing a civil suit from Meggan, who is looking for $2 million in damages.
Read AP's full interview with Lambesis, and check out a snippet below:
AP: The perception is that you were trying to hang onto your money. You had gotten all 'roided out, vain and into yourself, and your ex-wife had become a nuisance.

Lambesis: I just felt extreme sadness. I was heartbroken. I was hurting. I wanted my kids. The steroids did create an imbalance. I was still having negative effects from the non-testosterone, but then the testosterone system in my body was completely crashed. When a woman is PMS-ing—I'm not a doctor, but imagine whatever that woman is feeling from that imbalance, but multiplied times 100. In my blood tests, my hormone levels were measurably ridiculous. I'm not saying I blame that. But I can 100 percent tell you I was making a lot of decisions I never would have made before or since.