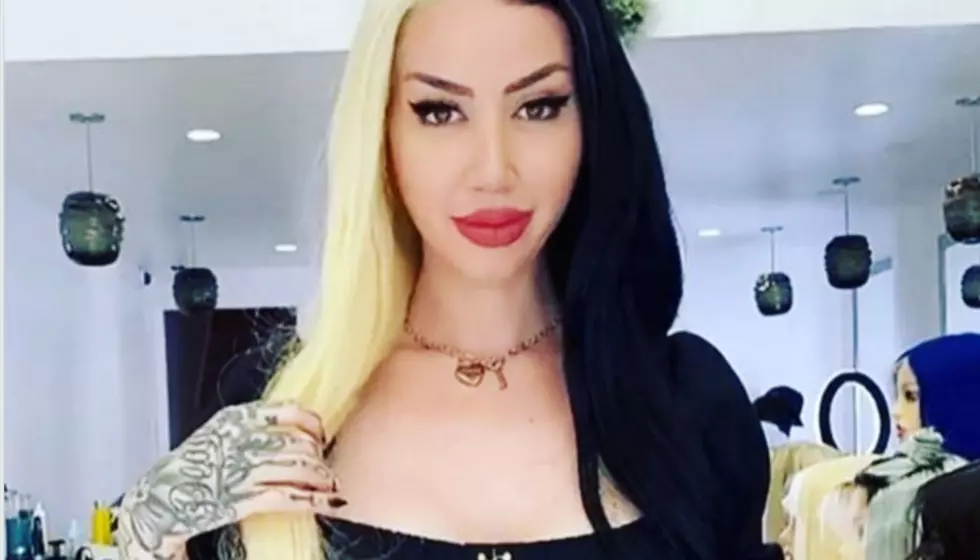 Ash Costello almost missed My Chemical Romance's return
New Years Day singer Ash Costello almost didn't make it to the My Chemical Romance reunion show. But that's not the only thing she talked about during our 10 Topics chat from AltPress 379. From the change in her hair color to how she wants to retire to her preferred talk show theme, Costello is full of insight and hilarity.
I actually got to see the show last minute. I waited in the queue [at the Hot Topic pop-up shop] for a ticket, and I never even got let into the shop. And then two of my friends who got tickets just decided they didn't want to go. If you can believe that. They said, "Well, we know that you and your best friend love them far more than anything. So we want you guys to go." I got to find out the day before that I was going.
I'll be honest with you: It was quite the to-do. By the time I got in, I was in the very back. And it didn't matter to me. I mean, I felt like I was 15 again. I wish you could see my skin right now: I have chicken skin thinking about the moment where I was holding my friend's hand as the curtain dropped, and they started playing "I'm Not Okay."
YOU HAVE A NETWORK TALK SHOW. PICK THE SONG YOU WALK OUT TO.
Rob Zombie's "Living Dead Girl." If I wasn't allowed to write my own and I had to choose from one that already exists in the world, I don't think I could choose a better one.
AN UNLIKELY PERSONAL HERO.
I don't know if this is unlikely, but I was really thinking about it, and the name that kept coming to me was Walt Disney. But now I feel like Walt Disney had a lot of rad ideas. A lot of the younger generations don't really pay too much attention to the actual man behind the Mouse. I feel like everyone is forgetting that he was a real person. Who wakes up and says, "I'm going to create a land, and it's going to be called Ashleyland, and everyone's going to go to it for a hundred years, everywhere"? That's a crazy idea. And you have to be a psycho person to say, "That'll work out." Which I admire.
THE FUTURE OF MUSIC.
That's such a loaded question. Do you watch Black Mirror? There is an episode that's really depressing ["Rachel, Jack And Ashley Too"], and it stars Miley Cyrus, and she plays a pop star. The song she sings is a Nine Inch Nails song, "Head Like A Hole," but they've made a pop version. At first, I didn't know it was a screenshot from an episode. I think that episode pretty much sums up what I hope in my heart is not the future of music. But that Black Mirror episode is what truly haunts me. Really scary stuff.
A QUOTE OR LYRIC THAT'S ALWAYS AT THE FRONT OF YOUR MIND.
Panic! At The Disco's "I Write Sins Not Tragedies." "I chime in with a 'Haven't you people ever heard of closing the goddamn door?'/No, it's much better to face these kinds of things/With a sense of poise and rationality."
A SPECIAL MESSAGE FOR A PERSON WHO DID SOMETHING HARMFUL TO A LOVED ONE.
I forgive you. And that's the thing that kept repeating in my head over and over and over. Because I feel like in the past couple of years I've had, I've turned even more so into a very empathetic person. And I know no one is all good or all bad. I know people have their own stories and versions of things in their heads. And people can be evil and bad, and you'll never know what drove them to do it when they were [in] their minds at the time and how they've changed now.
THE SYMBOLISM OF THE COLOR CHANGE.
So I have had the red-and-black hair for seven years now. We were coming up to 2020, and I really, really felt that I couldn't bring a lot of the past into the next year. I feel like a lot of things have to change for me. Everything has to change. Everything. The way I do business, the way I write music, the way I look at music, where I hear music, the way I approach love, friends and family and the way I approach [my] look. I was starting to feel like I was trapped in one look. And I just wanted to start this new decade changing something. I can never be any one thing: I'll never be fully tattooed. I'll never be fully one color. I'll never be fully one side or the other. So, look, if I can control the one side and change it to any color, the color I always desired was just plain and simple. Black and white, good and bad.
THE LAST TIME YOU TRIED TO MAKE SOMETHING COOL AND RUINED IT. 
That's all the frickin' time. I feel like I'm always experimenting with something, and it doesn't go right at first. You name it: songwriting, painting, making clothes…Recently, I tried to make my own dreads. I fucked it up. I thought I could watch YouTube tutorials and make my own dreads for my new hair color. And I was like, "Oh, this seems super-easy." So I watched the TV tutorials, I bought the supplies and went to do it by myself. I got a couple of pieces in front of me and just thought, "This looks like shit."
WHERE YOU WANT TO BE WHEN YOU COLLECT YOUR FIRST SOCIAL SECURITY CHECK.
In a haunted castle somewhere in the middle of the ocean or an island. The reason why I do anything I do is that I just want to end up in a castle that at least looks haunted. It'll be hard to go to the bank to cash it, though. I'll need direct deposit. And some strong Wi-Fi.
THE PET YOU WOULD LIKE THAT'S COMPLETELY UNTENABLE.
I already have one: It's called Nikki Misery. It's not fun, trust me. ALT
Ash Costello got to make it to the Return, even if most of us didn't. However, the next issue of AltPress features live photos from My Chemical Romance's Shrine gig, as well as more stories and introspection on this century's best band. Check it out here.