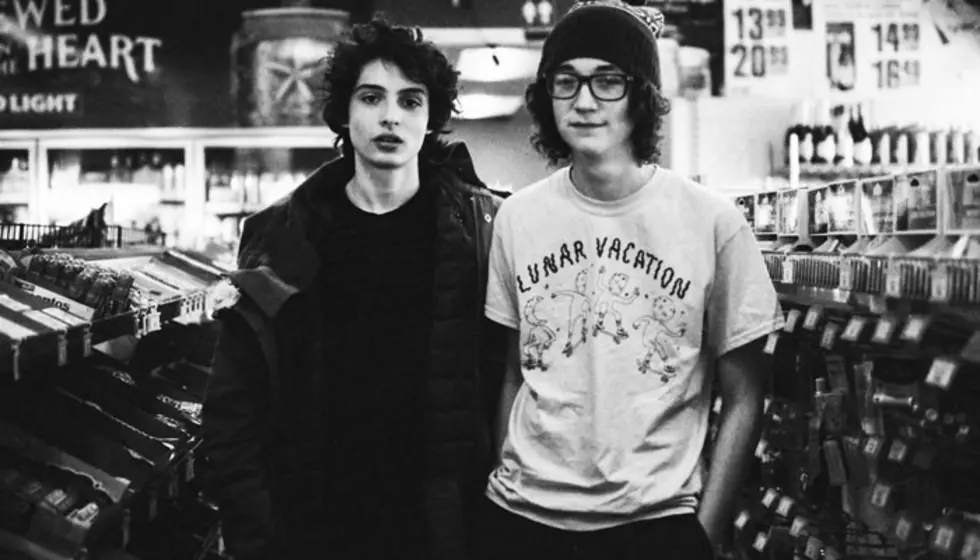 Here's how Joe Keery helped Finn Wolfhard on the Aubreys' new single
Just like all of us, Finn Wolfhard's year was screwed all the way up. The Stranger Things actor and frontman for the indie-rock duo the Aubreys had some big plans before COVID-19 took hold. Fortunately, he and drummer Malcolm Craig made good use of the downtime, and we're all the better for it. The Aubreys will be releasing their new single "Smoke Bomb" Aug. 17.
The track conveys a mid-'90s indie, noise-pop vibe that would've ruled the backpack-and-barrettes hipster landscape. Wolfhard's vocals sound far more attitudinal than previous Aubreys or Calpurnia releases. Which suits him just fine. Because when it comes to the Aubreys, he and Craig are only concerned with what feels right to them. 
Wolfhard exclusively chatted with AltPress about the new song, from its origins to its delivery. He also gave us a brief glimpse as to how he hopes 2021 might shake out as both professional actor (Stranger Things, Ghostbusters) and burgeoning rock dude.
"Smoke Bomb" is pretty awesome. Is the song about a deceiving character who disappears?
I have these friends that have this incredible band from Atlanta called Lunar Vacation. They're great. My best friends Grace [Repasky] and Maggie [Geeslin] are in it. Grace and Maggie live together in this house. People started calling Grace "smoke bomb." You'd be hanging out at night watching a movie [with them], and then all of a sudden, you'd look over and Grace would be gone. She would be upstairs, already asleep in her bed. She just disappears seamlessly. I said, "I'm going to write a song about that." So I did.
I noticed on this one that your delivery sounds kind of snotty, with a bit of swagger to it. It sounds like commentary as opposed to…
A song about someone. 
Yeah, it sounds more snotty and punky, in the old-school sense of the word.
I guess that was just the delivery in the vocals that I was feeling at that time. [Laughs.] The song is just about my friend. It's really funny that it comes off that way.
The word I was looking for was "attitude." I have to ask how you recorded it. Another thing I like about it is how it starts and ends like a demo. You've got this really strong mixed and mastered song, and it's bookended with noise and commentary like the song's over, but your mic was still on.
We recorded that song ourselves in Logic in Malcolm's basement. I played drums, Malcolm played bass and then I played guitar. This is the first track I've ever played drums on that's being released. 
And then we sent it to Joe Keery, who is also from Stranger Things. He has this incredible project called Djo. He released an album last year, and it was incredible. We loved the production and everything. Joe said, "Hey, I've been trying to get better at mixing. If you ever have anything that you want me to mix, I'd love to hear it." So he works with a guy named Adam Thein. Adam and Joe just did incredible things with the song and came up with the demo talk. Joe was like, "Hey, you guys, do this thing. Pretend like it's a demo and we'll add some tape stops." So that was their idea. They're the masterminds behind the track and the mixing. They did stuff with the sound of the song that we didn't think was possible. Mastering was done by Heba Kadry.
What's your schedule like these days? Obviously COVID-19 has done a number on everybody's lives. Are you and Malcolm doing the hard pivot into the Aubreys, or are you doing something else?
It's more of a waiting game to see what exactly is going to happen with my acting stuff. [With] Stranger Things, we were shooting this year, and it got put on hold. We had to go home two weeks into it. Now we're trying to figure out when the best time would be to go back and keep shooting.
Right now, we're recording a lot of demos. Malcolm and I have 20 songs or something like that. We're just stockpiling until the perfect time to record a record.
So there will definitely be a proper Aubreys debut album next year.
That's the goal. We're waiting for the day we get the go-ahead from the world to go and record this record.
How do you think it will shape up? Are you going to keep the melodic aspects? Or do you think you're gonna push the volume a little harder on it? How do you see the band developing?
I think it'll be something in the middle. We've been writing a lot of different things. There are some pretty fast songs, and then there's stuff like "Smoke Bomb."
I've had this model in my head for a long time about the way that I want the record to be. I want tons of friends to come and play on the record and have guests play different instruments. I just want it to be this big friend [thing]. I want Malcolm and I to be "the father" of the record and then have our friends come in and be the godfathers and the godsisters. The sound of the album we won't know until we record. But I want it to be something between melodic… Like the melodic and great acoustic stuff of Wilco meets the anger and attitude of Pavement. I want something right there in the middle.
You've got to make a big statement on the first record, right?
Exactly. You've got to make it count. I've had a lot of time to think about it. [Laughs.]
And Stranger Things is slightly derailed from the pandemic.
Stranger Things is still on the way. We shot about two-and-a-half weeks' worth of footage. It's all really, really incredible. So we're really proud of it. We're just excited to get back to it.
All of the actors and the filmmakers are waiting for Netflix to make the executive decision to see when the start date would be. It's so unpredictable. COVID-19 is in the world, and we shoot in a hot spot. Hopefully in the next few weeks, we'll get something definitive. We're all hoping that we can officially go back.
And then you have Ghostbusters in the spring, right?
Ghostbusters was supposed to come out mid-July. Now it's being pushed to March 2021 because the movie theaters were closed. It gives the filmmakers a lot of time to figure out the edit and maybe add things because they have a lot more time to think about it.
What was the funniest part of the production that nobody caught on camera? Did you have a moment where you laughed so hard you cried?
Oh, man. I think every single production I have that, even if it's a drama, I try to have many of those moments to savor. I've been writing scripts since I met my writing partner on the set of Ghostbusters. He was constantly making me cry laughing. I'm excited to talk more about it when more stuff comes out about it.