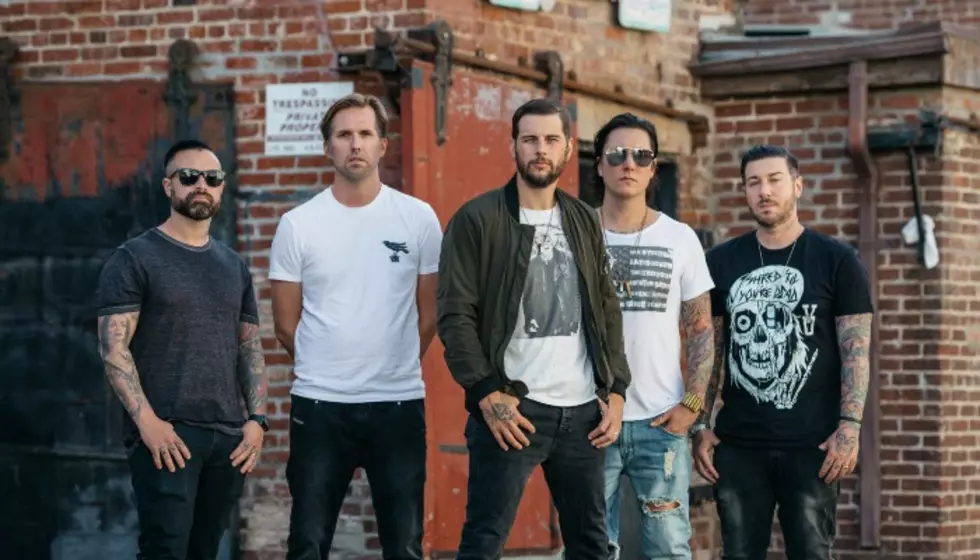 Exclusive interview: Avenged Sevenfold's game-changing Deathbats Club
[Photo via Avenged Sevenfold]
Avenged Sevenfold recently announced the Deathbats Club, a new level of connecting with fans based around non-fungible tokens, or NFTs—digital assets that can't be replicated. After an initial drop of 101 free NFTs to whet fans' appetites, they are ready to release 10,000 via avengedsevenfold.io, with everyone who buys one becoming part of the community.
The band recently previewed the collection, showcasing a number of images of what the final Deathbats might look like. While each actual Deathbat will be a uniquely minted image, these preview images show that the series will be filled with unique characters, ones who reflect the imagery and looks of the A7X community.
[Image via Avenged Sevenfold][/caption]The scale of this collection solidifies Avenged Sevenfold as innovators in the space and industry leaders blazing a trail for how bands and fans will understand the space and its utility in the future. There are real-world, three-dimensional, flesh-and-blood perks available to everyone who gets their hands on one.
As an early adopter of cryptocurrency and a man with an impressive NFT collection himself, M. Shadows knows a lot about the space and sees his mission as, in addition to delivering fans unique experiences, educating them in what he is adamant is the future.
Here, the frontman takes Alternative Press inside the new club with exclusive insights and information.
Many artists have entered the NFT space, but the Deathbats Club is doing it on a scale that no other band seems to have adopted yet.
That's what we're doing. It's been interesting for us to see the reaction of people that are in the space already and understand what's happening, and people that aren't in the space at all. There are different levels of understanding what crypto is, or what blockchain is, and how it can hopefully make something like what we're doing work seamlessly. But there are different levels of "Crypto's a scam!," or "I own some Bitcoin…" Then there are people that are in the NFT space, who are just like, "This is a no-brainer. This is amazing. This is gonna be great!" So, we're dealing with everything on different levels, which has been interesting.
[Image via Avenged Sevenfold][/caption]
While an NFT is by its very nature digital, what you're planning also involves a lot of analogue, real-world experiences.
What I realized with NFT collections, like the Bored Apes, was that they were pulling utility out of thin air. They were saying, "OK, if you buy a Bored Ape, it may go up in value, so buying it can be a speculative play. But, if you have this, you also get exclusive merch drops. You get to go to parties on yachts in Miami. You get to go to parties in Vegas... it's basically your ticket into a club."
I thought, we have a fanbase who want music and access to us. We've had 20 years of building goodwill with our fans, and they always want stuff—Zoom calls, guitar lessons from Syn [Gates, A7X guitarist], giveaways, exclusive merchandise, everything.
I saw what [entrepreneur] Gary [Vaynerchuk] was doing, where he was turning his NFTs not into a collection of art but into entry into his conferences; a token to his time. So that's when it clicked for me.
What does a Deathbats Club NFT entail?
A lot of these things are going to have insane perks. These things are going to cost about 150 bucks, which some people have complained about, but the reality is they'd happily buy a $200 merch box every month. For that $150, you're getting all these things you would never get for anywhere close to that price. Each one has perks like your own line into shows, your own merch drops and discounts.
But there's going to be certain ones that have specific traits. It's like a baseball card with different statistics and values—the algorithm is set so that certain percentages will be created with certain traits, but nothing has been made yet until you mint it. Say you're a fan: You go to avengedsevenfold.io, you put the money in and it gets created on the spot and sent to your wallet. We don't know what you're getting; you don't know what you're getting.
[Image via Avenged Sevenfold][/caption][Some people] have the trait where you get free tickets for life. There's going to be free meet-and-greets for life, care packages airdropped to your house, all sorts of merch you can't get in the store, airdropped to your house twice a year just by owning the NFT. So everyone pays the same price, and you might be the person that gets free tickets for life. It's such a cool thing.
Syn is releasing three tokens where, every year, he's going to send the owner his new custom guitar. So if you own that token, every year, you're going to get a new custom Synyster Gates guitar sent to your house. I play a lot of golf, and I'm going to have three where I take you and your buddies out annually to play. So I'm gonna be doing that three times a year forever. Everybody that's getting in is getting well above what they're paying for. But you may get some things that will just blow your mind. 
If someone loves Avenged Sevenfold and likes the sound of what is on offer but is having trouble fully understanding the space, where do they start?
Well, there are different types of people, and I always suggest different things to people because the information's out there. I had to learn. There's a lot of YouTube videos, and the NFT community is great—if someone goes onto a message board asking what's going on, people rush to help. 
But there's a lot of our fans that are like, "We don't want to watch it. We want you to tell us what to do." So one thing we're doing is creating a bunch of educational videos—me and Syn walking through the steps of what crypto is, what blockchain is, how to buy Ethereum, how to send it to your MetaMask wallet, how to connect to OpenSea, how to mint… There's a lot of steps, and there's a saying in the NFT community, which is: Buying your first NFT is the toughest part. After that, the gates are open, and you're off to the races.
Then there's other people where I would just keep it top level: You're buying a token that gets you into a club, and you don't need to know or care what blockchain is or why it's important. Just know that this token can't be replicated, and it's yours until you don't want it.
[Image via Avenged Sevenfold][/caption]We're going to continue to make music. If you want nothing to do with this, records will come out, and we'll play shows. We're just trying to bring the audience into the future with us. 
For more on A7X's Deathbats Club, stay tuned to AltPress and AltPress.com in the coming weeks for further information and insight from M. Shadows.