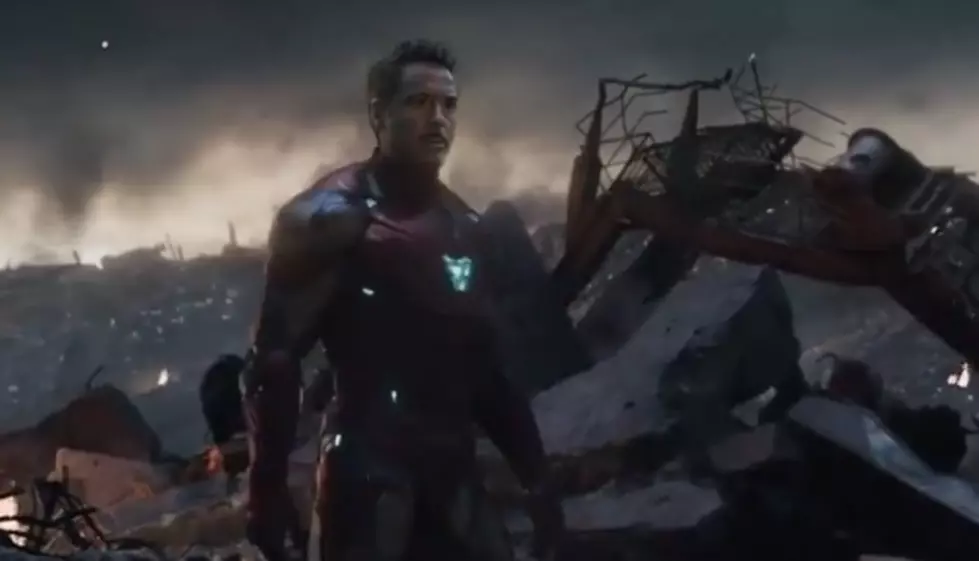 '13 Reasons Why' actress' 'Endgame' scene was cut, here's why
[photo via YouTube]
It was previously reported that 13 Reasons Why star Katherine Langford was going to be in Avengers: Endgame.
However, if you've seen the Marvel movie, you know that she never actually shows up in the film.
Now, the Russo brothers have opened up to fans on the Happy Sad Confused podcast about what her role was going to be, and it's seriously going to break your heart.
If you have not seen Avengers: Endgame, be warned — there are major spoilers ahead that will ruin the movie.
Warning: Spoilers ahead
If you have seen the movie, then you know about the ending that made us cry for several days straight.
We saw Tony Stark sacrifice his own life by using the Infinity Stones to defeat Thanos and save everyone. In the scene, he snaps his fingers and is surrounded by Pepper Potts, Rhodey and Peter Parker.
However, the Russo brothers said that the scene was supposed to have Langford.
It would be similar to the scene in Avengers: Infinity War where Thanos used the stones and ended up in a metaphysical place where he talked to a young Gamora. You can see that scene below if you forgot.
The idea for Endgame was that after Stark snapped his fingers, he'd be in the same place. However, he would've seen a teenage version of high daughter Morgan played by Langford.
Morgan then would forgive her dad and give him peace before his death.
The Russo brothers said the scene was filmed, but it didn't feel right to include in the film so it was left out.
"We realized that we didn't feel an emotional association with his adult daughter," Anthony Russo said. "It wasn't ringing to us (or) resonating with us on an emotional level."
Hopefully, the scene will be released so we can watch it and just sob to ourselves.
Other Endgame news
On the same podcast, the brothers also revealed they almost had a totally different name for the film.
Also, Avengers: Endgame is now the most-tweeted about film ever, beating out Black Panther.. Endgame has been included in more than 50 million tweets. In those tweets, many people used the amazing Endgame emojis.
Also, it was recently  reported that Avengers: Endgame took the spot of second-highest grossing film in the world from Titanic. It made $2.189 billion. Titanic made $2.128 billion.
Outside of the worldwide record, it also beat Titanic domestically with $619.7 million.
The highest-grossing movie ever was Avatar at $2.788 billion worldwide, so we'll have to wait to see if the Avengers can beat that.
Avengers: Endgame has beaten many records since even before its debut. For one, it sold five times as many tickets as Infinity War during its first week of presales. This should come as no surprise with the demand of tickets being crazy enough for fans to spend upward of $15,000 for a pair.
Also, the film broke the record for Atom Tickets' best-selling movie of all time in only 10 days.
Once it premiered, the records only kept coming. It officially had the biggest box office weekend in film history.
The latest Marvel film made an estimated $1.2 billion in the worldwide box office for its opening, according to Disney. It is the only film ever to cross the $1 billion mark for its debut.
It completely shattered records, with the previous film at the No. 1 spot being Avengers: Infinity War which made $640 million its opening weekend.
As far as domestic records go, the film came out on top as well. It made an estimated $350 million this weekend, passing Infinity War which made $258 million.
It was projected to make between $230 and $283 million domestically, which it far surpassed.
Also, it had a worldwide projection of $800 million, which The Hollywood Reporter estimated it would surpass.
It is currently the second-highest rated MCU film on Rotten Tomatoes behind Black Panther.
Even though the film has been out for almost two weeks, people are still attempting to avoid spoilers. A little over a week before Avengers: Endgame hit theaters, footage was reportedly leaked online. Then, when the film came out, one man even got attacked for revealing the end outside of a theater. The Russo brothers have now said that after two full weekends, its OK for people to ruin the ending.
In other news, It was previously announced that Endgame would close out Phase 3 of the MCU. However, Marvel Studios President Kevin Feige revealed he now has other plans.
Avengers: Endgame is monumental for so many ways. For one, it features the final cameo by Marvel legend Stan Lee, who passed away last year at age 95. Then, it was revealed that Marvel actually compiled all of Lee's cameos and behind-the-scenes footage into a video, that they might release with the Endgame DVD.
Avengers: Endgame
is in theaters now. Check out one of the trailers below.
Are you sad Langford's scene was cut from Avengers: Endgame? Sound off in the comments below!
[envira-gallery id="186695"]