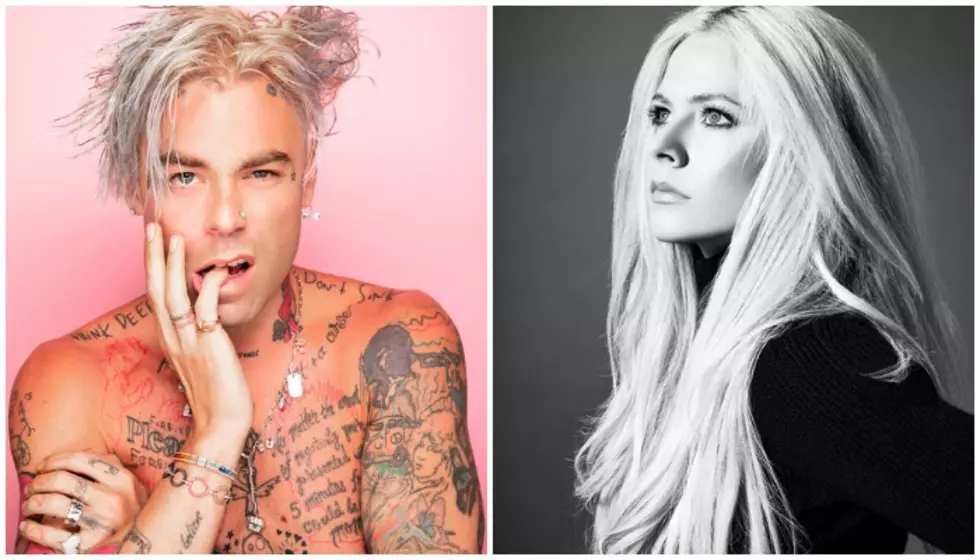 Avril Lavigne and MOD SUN's new collab is arriving sooner than you think
[Photos via Mod Sun/Spotify, Avril Lavigne/Spotify]
It looks like an Avril Lavigne and MOD SUN collab is officially happening.
After dropping various hints over the past few weeks, the duo has confirmed their new collaboration "Flames" is on the way.
Over the past few weeks, Avril Lavigne has been in the studio working on her new album. The Head Above Water follow-up is being produced by John Feldmann. As well, MOD SUN has been writing alongside Lavigne and Feldmann in the studio.
The Goldfinger frontman is not only producing Lavigne's new album, but he also produced MOD SUN's upcoming release. In a recent interview with Wall Of Sound, Feldmann revealed that MOD SUN has been joining in on Lavigne's recording sessions. As well, Lavigne has shared various studio photos alongside both Feldmann and MOD SUN.
 

View this post on Instagram

 
Along with posting numerous photos from the studio, both Lavigne and MOD SUN have been dropping hints a collaboration may be in the works. Back in December, Lavigne even teased on Instagram that a big surprise was arriving the first week of January.
Now, it looks like we finally know what Lavigne meant by a "fun surprise" in January. Over the weekend, MOD SUN confirmed that Lavigne is featured on his new song "Flames." The new collab officially arrives on Friday, Jan. 8 and will be accompanied by a music video.
"'FLAMES' featuring @avrillavigne January 8......ARE U READY YET? pre save now link in bio ? ? by @thatsnathanjames in Los Angeles CA December 2020."
 

View this post on Instagram

 
"Flames" will likely appear on MOD SUN's upcoming album. We've already gotten a few tastes of the LP with his recently released songs "Karma" and "Bones." On Jan. 1, MOD SUN teased that fans will be blown away by Lavigne's vocals on "Flames."
Avril's vocals on this song are so
However, this upcoming collab from Lavigne and MOD SUN may not be the only one we get in 2021. Last week, the duo confirmed that Machine Gun Kelly has also been working in the studio with them.
Lavigne recently shared a few exclusive behind-the-scenes photos in the studio. MGK can be seen seemingly tracking some vocals in the recording booth, hinting that another collab may be in the works.
"So are we ready for new music in the new year or what? Lemme know….."
 

View this post on Instagram

 
Back in January, Travis Clark shared that he was actually working in the studio with MGK and Lavigne. The We The Kings frontman exclusively told Alternative Press that the trio collaborated together on some new music. However, it's unknown if this project will appear on Lavigne's upcoming album.
"[With Avril], she was like, 'Hey, I see that you post pictures with your buddy Machine Gun Kelly. Do you think you would want to write?' And I was like, 'Yeah!' So I texted him. I was like, 'Yo, you want to work on a couple [of] songs with me and Avril for her record?' And he said, 'Absolutely.' So that all parlayed and ended up snowballing into each other. I end up in really cool sessions that I just never thought I would ever really be a part of."
Machine Gun Kelly has shown his love for Lavigne's music over the years. Back in March, MGK posted a video of him jamming out on guitar to "Sk8er Boi." Machine Gun Kelly was even seen hanging out with Lavigne and Clark back in November 2019.
 

View this post on Instagram

 
Head here to pre-save "Flames" before it arrives on Friday, Jan. 8.
What are your reactions to Avril Lavigne and MOD SUN's upcoming collab? What do you think "Flames" will sound like? Let us know in the comments below.