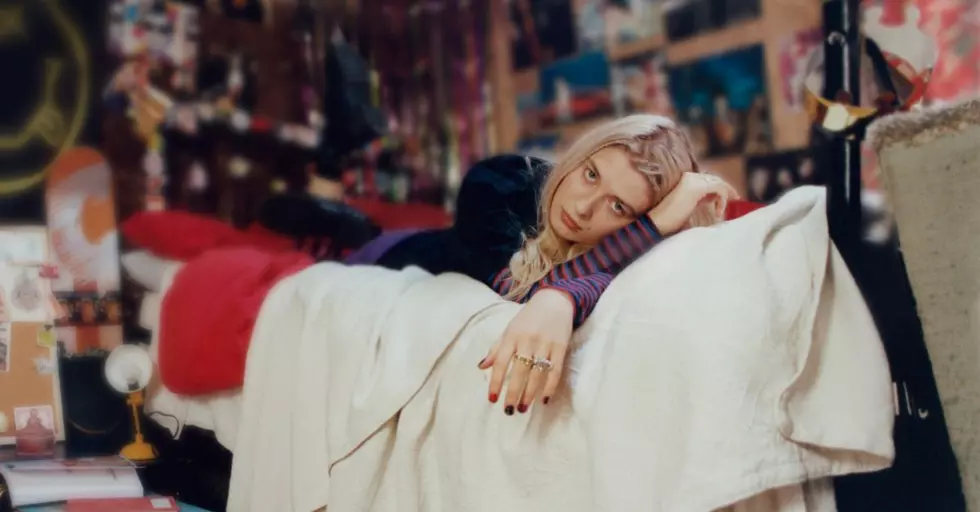 How Baby Queen makes underdog anthems that capture the spirit of Gen Z
[Photo by Jono White]
Baby Queen knows a thing or two about huge, generational anthems. At the end of 2021, she released "Wannabe," a snarling slacker banger that sees the 25-year-old unite "stoners, junkies and loners" while sticking her middle finger up at bullies, people "who think it's odd that I kiss girls" and the pressure to skip dinner to look thinner. Meanwhile, the self-empowering rage of "Nobody Really Cares" has her asking, "How many parts of your identity are you squashing down just to toe the societal line?"
This year, she's already toured with Gen-Z icon Olivia Rodrigo, and now she's supporting Conan Gray on his "Superache" headline run. She also wrote "Colours Of You" for the soundtrack of queer teen romcom Heartstopper, and she recently released "LAZY."
Read more: How Cassyette went from viral megastar to supporting My Chemical Romance

Described by Baby Queen (born Bella Latham) as "a formational song" in the creation of her upcoming debut album, she calls it "a generational slacker anthem" and the spiritual follow-up to "Wannabe" as she twists negative stereotypes into spiky weapons of positivity.
"It's self-deprecating, but it's also about being confident and proud," Latham tells AP from an apartment in Los Angeles a week after her debut American headline show in New York. "I'd describe this upcoming album as looking at what it means to live as a member of Gen Z, and with 'LAZY,' I think we all feel like we're not doing enough. 'LAZY' is an essential part of what it feels like to be young and existing in the world today."
"LAZY" isn't the first song taken from Baby Queen's as-of-yet unannounced debut album, but the song is "a very important moment for me." It's the last track she'll release this year, and it's "essential in starting to unfold the sound and energy of the record."
Latham moved to London at the age of 18, leaving her family and her native South Africa behind in the pursuit of pop stardom. She tried her hand at music college, but her ADHD had her written off by impatient teachers as a distraction, and she soon dropped out and focused on sending demo tapes to as many record labels as she could instead. Her first manager encouraged her to copy the style and sound of already established artists, which caused an identity crisis and a reliance on alcohol before Latham was signed to major label Polydor. There, she was encouraged to be herself, and with 2020's debut EP Medicine and her 2021 Yearbook mixtape, Baby Queen came into her own.
However, those early years left Latham "so cynical and feeling like it was me against the world. I was watching the way the world was changing, seeing these influencers and the way significance was attached to the way people looked or who they knew. It just pissed me off, so a lot of those songs are written from a place of 'fuck you all.'"
She admits she released a few of those early songs before she "had a bird's eye view of what was going on. There are decisions I made that were wrong, but now, having lived it for so long, I really understand the purpose of what I'm doing, what my role is as an artist and how that role might be different to other artists.
"If you can understand what you mean to a group of people, you can really do justice to the whole thing," she continues. "I finally get it. It's taken me a while to understand, but it makes sense now. There's no guessing or fearing. For the first time, I feel very sure of what I'm doing."
While that mixtape reflected "introspection and pain," Baby Queen says her "brash, rocky and psychedelic debut album is definitely more confident" than what's come before. "It's lyrically ambitious," she adds. "I didn't write any songs that anyone else could sing. I'm self-deprecative, but in a funny way as opposed to where you genuinely hate yourself. I feel like I've gotten happier, braver and more confident in what I'm doing."
That confidence comes from time and experience, sure, but earlier this year Baby Queen released "Colours Of You," taken from the soundtrack to Netflix's Heartstopper. The show quickly became a phenomenon with its focus on queer joy and coming-of-age romance, while Baby Queen's lush, beautiful and celebratory "Colours Of You" became a Pride anthem.
"I had a completely different career before that song," she explains. "There's this constant fear with young artists because you're trying to stand out from so many people. I actually wrote a letter to creator Alice Oseman and executive producer Patrick Walters saying how, after Heartstopper, I feel like I can finally breathe. I can just make my music and be proud because I'm not scared of failing anymore. It was completely life-changing."
Latham says she had no idea how big the show would get when she first got involved and had even more uncertainty over the reaction to "Colours Of You": "From the first day it came out, though, it was two months of not knowing what the fuck was going on."
"For so many kids, that show was probably the first thing that felt like a truly accepting space. I'm so happy because growing up, none of us had anything in the mainstream that was as inclusive or made us feel like we're not wrong," Latham explains. Her shows are an extension of that.
Before the excitement around "Colours Of You" had a chance to die down, Baby Queen was off on tour with Rodrigo around the U.K. and Europe. "I'd never been in front of so many people before," Latham says. "It's strange how quickly you get used to it, though. That whole tour was an incredible experience, but it was a lot more difficult than I thought it would be. You realize what it takes. You can't just fuck around."
Latham came away from the tour "more ambitious than before, just because your brain has been opened to what is out there and what's possible. At the same time, though, as beautiful and amazing as that experience was, I'd rather be playing my own show to 20 people who know every lyric. It just inspires you to make your own show better and grow it as much as possible."
Baby Queen has made a name for herself with outsider anthems about not fitting in. Following the successes of the past year, though, "It feels more like 'we' instead of 'I' now. It's definitely not me against the world in the same way it used to be," she explains. "I didn't have access to the community that I have now."
"Baby Queen is the freedom to exist," Latham says when AP asks her about what she wants to represent as an artist. "I'm constantly asking myself how I can be braver. The more honest I can be in my music, the more people can see that and feel like it's OK to be whoever they are. Baby Queen is this invitation to truly be authentic to yourself."
"A lot of it is underdog anthems," she admits. "Anyone who feels like they don't belong somewhere can feel like they belong here.