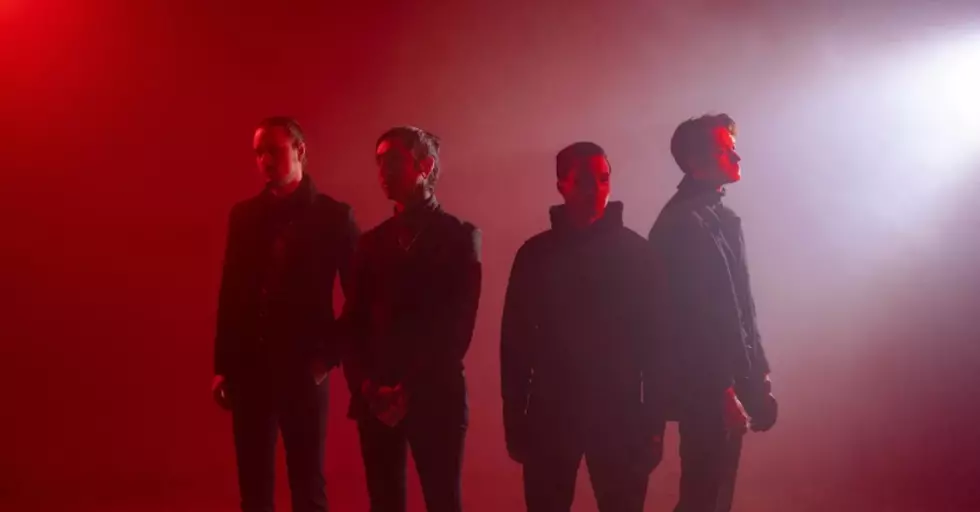 Bad Omens release 'THE DEATH OF PEACE OF MIND'—listen
Bad Omens have released their new album, THE DEATH OF PEACE OF MIND, via Sumerian Records. To celebrate, they hosted a livestream album release event.
According to a press release, the first single, "THE DEATH OF PEACE OF MIND," was created when vocalist Noah Sebastian "[sampled] items around the house, none of which were musical instruments." He explained, "The whole record really details the loss of peace of mind. The lyrics in the title track are a little more specific in terms of the conflict at the heart of something more intimate and personal."
THE DEATH OF PEACE OF MIND Live Release Event took place today (Feb. 25) at noon EST. All four members answered questions and shared stories about the album.
If you missed the event, you can still catch Bad Omens on the Voyeurist North American tour with Underoath, Spiritbox and Stray From The Path. Check out a full list of dates below and grab tickets here.
THE DEATH OF PEACE OF MIND tracklisting
1. "CONCRETE JUNGLE"
2. "Nowhere To Go"
3. "Take Me First"
4. "THE DEATH OF PEACE OF MIND"
5. "What It Cost"
6. "Like A Villain"
7. "bad decisions"
8. "Just Pretend"
9. "The Grey"
10. "Who are you?"
11. "Somebody else."
12. "IDWT$"
13. "What do you want from me?"
14. "ARTIFICIAL SUICIDE"
15. "Miracle"
Voyeurist tour dates
02/26 - San Francisco, CA @ The Warfield
03/01 - Portland, OR @ Roseland Theater
03/02 - Spokane, WA @ Knitting Factory
03/04 - Salt Lake City, UT @ The Complex
03/07 - Minneapolis, MN @ The Fillmore
03/08 - Chicago, IL @ Radius
03/09 - Detroit, MI @ The Fillmore
03/11 - Toronto, ON @ History
03/12 - Cleveland, OH @ Agora
03/13 - Wallingford, CT @ The Dome
03/14 - Boston, MA @ House Of Blues
03/15 - Pittsburgh, PA @ Stage AE
03/17 - Brooklyn, NY @ Brooklyn Steel
03/19 - Philadelphia, PA @ The Fillmore
03/20 - Sayreville, NJ @ Starland Ballroom
03/22 - Cincinnati, OH @ Icon
03/23 - Charlotte, NC @ The Fillmore
03/25 - Atlanta, GA @ Tabernacle
03/27 - St. Petersburg, FL @ Jannus Live
Bad Omens appeared on the cover of AltPress issue #391. Check out the issue here.