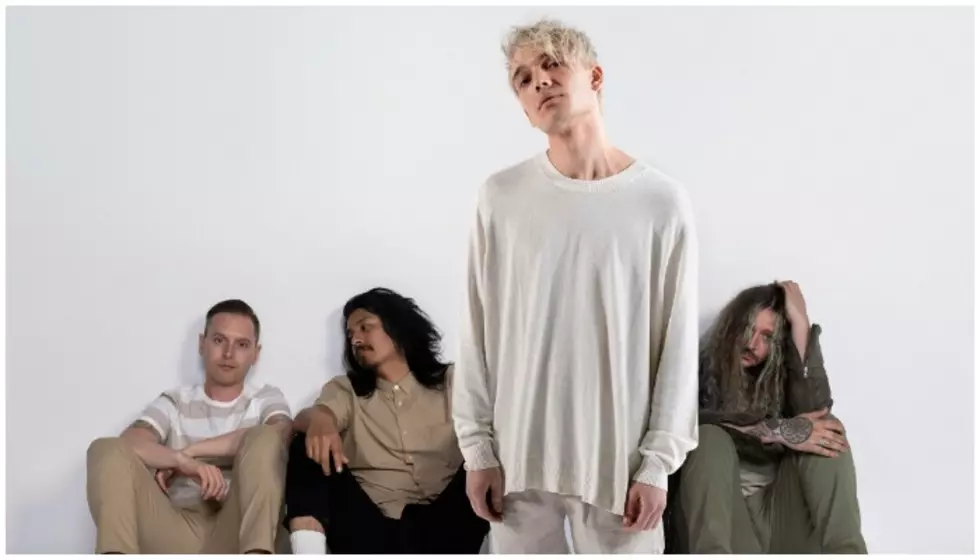 Badflower share new music video and announce sophomore album
[Photo by:Jordan Wolfbauer]
Badflower have announced their sophomore album, THIS IS HOW THE WORLD ENDS, and dropped a new single, "Family." 
Soothing guitar riffs greet listeners and carry them toward lead singer Josh Katz's somber delivery. The first half of the song features little instrumentation other than a steady drumbeat, focusing on the vulnerability of the vocals. Eventually, everything crescendos into a fever pitch, intensifying in tandem as Katz questions, "What happened to this family?" 
"Family" is also accompanied by a heartbreaking music video. Viewers see footage of home videos on the walls of a white room. Katz sits on the floor and sings somberly, growing more and more frantic as the images of his childhood vanish. They are replaced by darker projections, like blood streaming down the wall and tears streaming down Katz's face. Check it out below, and be cautious of flashing lights.
"Family" marks the first piece of new music from Badflower since the release of "F*ck The World" in March. "F*ck The World" is a scathing track that tackles the climate crisis, a topic Katz feels passionately about. 
Katz spoke exclusively with Alternative Press about the inspirations behind the new track and upcoming second album due Sept. 24. 
What was the inspiration while writing and recording "Family"?
I've been growing a lot as a person lately and realizing some uncomfortable things about myself. "Family" was my way of talking about it and trying to understand my feelings and behavior. It was one of those songs I didn't think very hard about. I needed to say the things I said, and I needed to hear myself say it. And by the end, I had a better perspective on some of my most complicated emotions.
What artists were you consuming most while writing and recording THIS IS HOW THE WORLD ENDS?
Not many, honestly. This record literally consumed my entire life, and all I was listening to were these songs. I kept the melodies playing on repeat 24/7. Even in moments when I wasn't physically working—car rides, while I slept, etc. I did take a step back when the Hayley Williams stuff dropped, though, 'cause that was fire.
This song is obviously very personal to you, and you also produced and engineered the track. How did you open yourself up to this stage of vulnerability?
Being vulnerable in music is what I've always done, and that space is typically where [I] feel the most comfortable. It's being vulnerable outside of music that feels impossible to me. And that's essentially what the song is about. Taking responsibility and owning up to my emotional issues is a lot less glamorous than being the victim of someone else's. But that concept alone set the tone for this song and really the entire record.
On this track, you can really hear how much Badflower have developed from your debut album. What lessons have you been able to learn from your debut release and apply to your forthcoming album?
We learned so much from that first record and from playing those songs every night on tour. We finally found our sound and our identity. We followed our intuition completely, and I think it's apparent. We were able to embrace our imperfections as people and as musicians, and I think that's so much more powerful than perfection.
"Family" lyrics:
Tastes bitter on a guilty tongue
It's hard to see I'm the chosen one
Fake friends with a camera phone
Ugly, drunk, cold and missing home

This home of mine, I see it in my dreams
Where everyone looks happy
And everyone still likes me
This home of mine, I miss it all the time

What happened to this family?
What happened to this family?
(Have I let you down?)

Texts, calls, hugs, birthday cards
Being thoughtful can be so hard
First 15 years, I'm the favorite son
Last 15 years, I'm the hated one

This heart of mine, gets blacker all the time
Affection makes me nauseous
Believe me, I don't want this
I hurt my blood tonight
I made my sisters cry
I never say I love you
Even though I want to

I'm just my father's son
My mother's kid
A shitty brother
I'm nobody's friend
This is all my fault
I only make you cry
I don't deserve this family
(You're better off without me)

'Cause I let you down and I lost my fucking mind
Then everything got messy
And everyone got angry
I cursed my blood tonight
It happens all the time
Is everyone against me
Has everyone goddamned me?

What happened to this family?
What happened to this family?
What happened to this family?
What happened to this family?

Don't hate me
Don't hate me
Don't let me drown

I hate goodbyes, so cringey I could die
We only say "I love you"
'Cause that's what we're supposed to
And most families lie, but I meant it every time
Then treat you like you're worthless
I never said I'm perfect
Badflower performance dates: 
07/14 – Cadott, WI @ Rock Fest, Cadott 2021
08/19 – Springfield, IL @ Illinois State Fair
08/20 – Kansasville, WI @ LIVE At 1175
08/27 – Reading, UK @ Reading Festival
08/28 – Leeds, UK @ Leeds Festival

09/03 – Pryor, OK @ Rocklahoma
09/10 – Mansfield, OH @ Ohio State Reformatory
09/19 – Maryland Heights, MO @ Hollywood Casino Amphitheatre
09/23 – Dover, DE @ The Woodlands
09/26 – Louisville, KY @ Louder Than Life

10/07 – Sacramento, CA @ Aftershock
11/13 – Daytona Beach, FL @ Welcome to Rockville

02/19/22 – Hamburg, DE @ Gruenspan
02/20/22 – Berlin, DE @ Astra Kulturhaus
02/22/22 – Copenhagen, DK @ Pumpehuset
02/24/22 – Stockholm, SE @ Fryshuset
02/26/22 – Münster, GE @ Skaters Palace
02/28/22 – Amsterdam, NL @ Melkweg

03/01/22 – Brussels, BE @ Ancienne Belgique
03/03/22 – Tilburg, NL @ Poppodium
03/05/22 – Cardiff, UK @ The Great Hall - Cardiff Uni
03/06/22 – Glasgow, UK @ SWG3
03/09/22 – Manchester, UK @ Albert Hall
03/10/22 – Dublin, IE @ Olympia Theatre
03/12/22 – London, UK @ Roundhouse
03/13/22 – Nottingham , UK @ Rock City
03/15/22 – Paris, FR @ Cabaret Sauvage
03/16/22 – Cologne, DE @ Live Music Hall
03/17/22 – Prague, CZ @ Lucerna Music Bar
03/20/22 – Warsaw, PL @ Progresja
03/21/22 – Brno, CZ @ Fleda Club
03/22/22 – Budapest, HU @ Akvárium Klub
03/24/22 – Graz, AT @ Orpheum Garage
03/25/22 – Solothurn, CH @ Kulturfabrik Kofmehl
03/26/22 – München, DE @ Backstage Werk